Ensuring that people who are working or volunteering with young people have the correct level of safeguarding training is very important. While a DBS check can determine whether someone is suitable for a role, having the right training can determine someone's future actions. It also helps to ensure that young people can have the best experience they can in hockey, safe in the knowledge that the people around them have up to date training.
There are three safeguarding workshops which England Hockey promote, each aimed at different positions within hockey.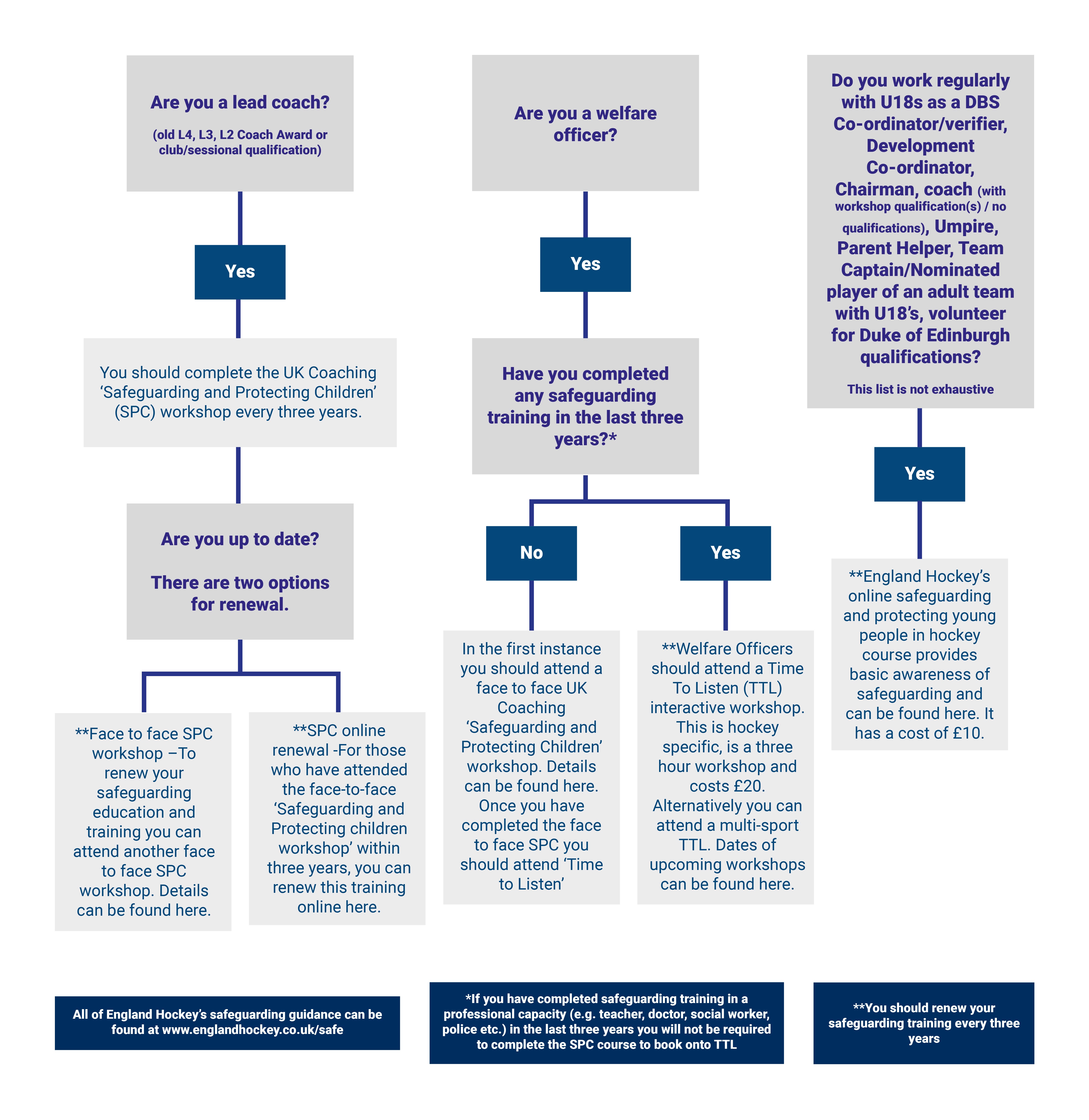 This course introduces users to a basic level of safeguarding training, which includes why safeguarding is important, the different categories of abuse, how to respond to and report concerns and how to implement good practice. This course should be completed by those working with young people in non-coaching roles, such as parent helpers, umpires of young people matches and team captains. The completion of this workshop is a requirement for anyone looking to attend the Introduction to Hockey Coaching workshop.

The course can be found on the Hockey Hub and can be completed online. It is required to be completed every 3 years if you remain in a role where this workshop is appropriate.

SPC delves further into the subjects discussed in the Basic Online Safeguarding Workshop and frames them into specific coaching scenarios. Anyone who is coaching young people, as part of a junior or adult team, must attend this course. It is also recommended that Welfare Officers with no previous safeguarding or child welfare experience attend this workshop before booking onto a Time to Listen course. Usually, this workshop takes place face to face, but has recently been adapted so that it can be delivered using Webex.

To book onto a SPC workshop, please visit the UK Coaching website. This workshop requires renewing every three years, for which UK Coaching have created an online renewal workshop. The renewal workshops should only be completed if you have already completed a SPC within three years and should not be used if you have not attended one before.

TTL is a course designed specifically for Welfare Officers. The course offers guidance on a range of subjects, including introducing the role of the Welfare Officer, how to make a club safer for young people and how to apply safeguarding procedures in a range of scenarios. There is also scope for discussion about things that have happened within sport with a trained tutor and other Welfare Officers.

England Hockey provides hockey specific courses for Welfare Officers. Other sporting organisations also run multi-sport courses that can be attended by Welfare Officers from different sports. England Hockey accepts Welfare Officers who choose to attend multi-sport courses, if they provide a copy of the certificate that they receive at the end of the course.

TTL has recently been amended so it can take place over Zoom as well as face-to-face. Hockey specific courses are advertised and can be booked through the Hockey Hub. Multi-sport courses are also advertised on the Hockey Hub with links to the site where they can be booked. TTL should be attended by Welfare Officers every three years.