UPDATED 9 APRIL: Hockey's first steps back for summer of fun!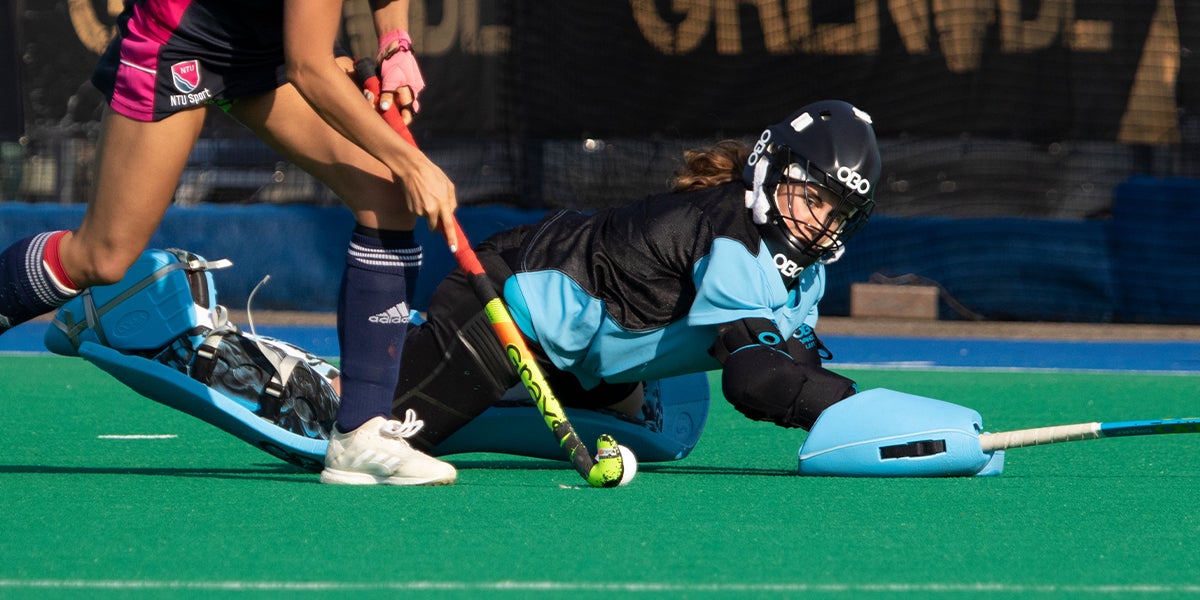 Updated release (09.04.2021)
Following confirmation that the UK can move to Step 2 of the Governments Roadmap from 12 April, England Hockey can confirm that some small changes will be permitted to our sport specific guidance from next Monday.
Changing rooms can be used from 12 April, but we advise they are avoided, or their use is minimised as much as possible.
As expected, outdoor seated hospitality will be allowed, and takeaway services can continue. Organised indoor hockey will be permitted for Juniors (Under 18s). Adults cannot play indoor hockey, except as a single household or support bubble group at this stage.
One change that comes in immediately is around spectators. Although not encouraged, spectators are permitted on public land (e.g parks but not private sports clubs) and must follow legal gathering limits and social distancing rules. The exemption for disabled athletes and safeguarding of juniors still stands in all other settings.
Further to our update earlier this week, it has now been confirmed that disabled access to sport is considered an exempt reason for car sharing. Other than this or sharing with members of your household or support bubble, car sharing is still not permitted for sport.
We recommend everyone keeps following the guidance so that hockey can continue to be played in a safe environment. We are encouraged by the positive comments received from those picking up a stick so far and want everyone to enjoy being back on a pitch safely and responsibly this summer.
Our FAQs have been updated with more detail here. We will continue to review and add to these as necessary.
We do not expect to see any further changes to the guidance until Step 3 of the Governments Roadmap, from the 17 May.
Next steps of the government roadmap
The below table outlines the government roadmap as a guide for coming months. This is indicative of when we expect guidance may be updated to support further changes, but the dates are not confirmed at this stage. As and when further changes to guidance are required, England Hockey will update and reissue our guidance.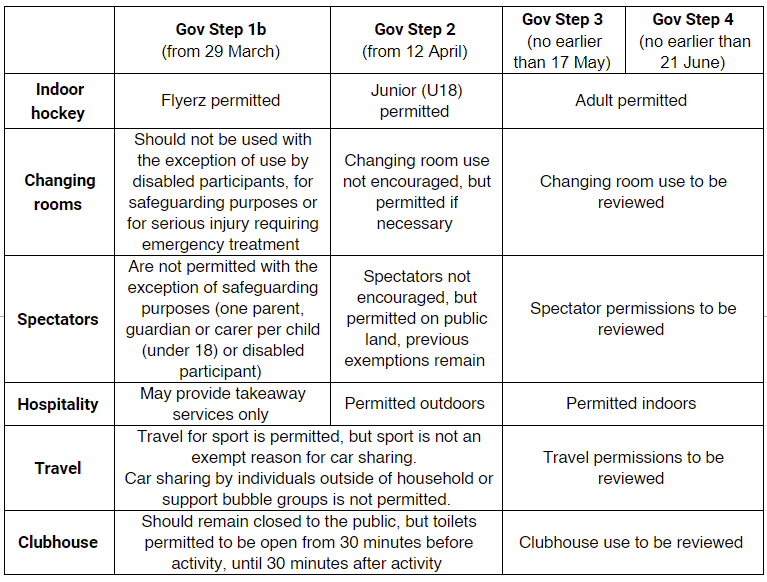 Updated release (07.04.2021)
Following further clarity from DCMS and the Department for Transport, England Hockey can confirm that sport is not an exempt reason for car sharing by individuals not in the same household or support bubble.
Car sharing now is not expected to be permitted for sport until at least Step 3 of the Governments Roadmap, no earlier than 17 May.
With travel being such an important part of making competition accessible and inclusive for so many, England Hockey recommends that Step 4 of our original Covid-19 Roadmap continues to be followed. We will review this position and are hopeful of transitioning to Step 5 to coincide with the further easing of travel restrictions.
In the meantime, training and local friendlies can continue in line with our full guidance. We have been delighted to see so many picking up a stick and returning to play in a safe and responsible way.
The next Step of the Governments Roadmap takes affect from 12 April. England Hockey will review the guidance for any changes that may be possible to implement from next week. We will continue to update our FAQs.
Original release (25.03.2021)
As the government roadmap out of lockdown progresses and the official guidance for grassroots sport is now available, we can now confirm more details of the Return to Play plans for hockey.
England Hockey's full guidance has been simplified where possible and should be used by Covid Officers and key role holders at clubs and organisations alongside the wider supporting guides for specific roles in hockey as well as the supporting infographics and FAQs. This is all available on the Covid Support page of our website, which will be regularly updated.
The good news is that hockey can return from 29 March straight to the 'Play - Step 4' phase of our original Covid-19 roadmap. This allows local hockey to take place including activities like summer leagues or local matches.
We recognise that not all players will be ready to return straight away and we encourage all providers to ensure that their processes, communication and behaviours all contribute to creating places that all players can be comfortable participating within. Further to the briefings held last week England Hockey encourages the focus to be on safe, fun and friendly activity initially to support welcoming people back.
As the roadmap progresses over the coming weeks, restrictions are expected to lift, and the extent of activity clubs can offer will extend. These are mostly related to issues outside of play such as hospitality and changing rooms. As of the 25 March we are still waiting for the government safer travel advice to be updated that will inform on travel issues such as car sharing.
The updated government advice means it is now possible to undertake the following activity. England Hockey expects that all involved in any activity will follow the guidance.
Outdoor hockey can resume from 29 March:
Training can start once organisers ensure all guidance is in place.
England Hockey recommends a maximum of 30 people in any one group, but more than one group can use a pitch as long as social distancing can be maintained outside of play and between the groups.
Matches (both 11-a-side and small sided) can resume once organisers can ensure all guidance is in place. Multiple matches can take place at the same venue as long as social distancing can be maintained between groups outside of matches.
England Hockey will continue to follow government and Public Health England advice. Timings of any changes to the circumstances for hockey will always be led by government advice during the Covid-19 restrictions.
Whilst these are now significant steps forward in terms of returning to play, we would encourage everyone to firstly consider the health of themselves and others as they return to play.
If you have any issues or questions regarding the guidance please read our FAQs or contact clubs@englandhockey.co.uk.