Team of the Year 2020 - Part 1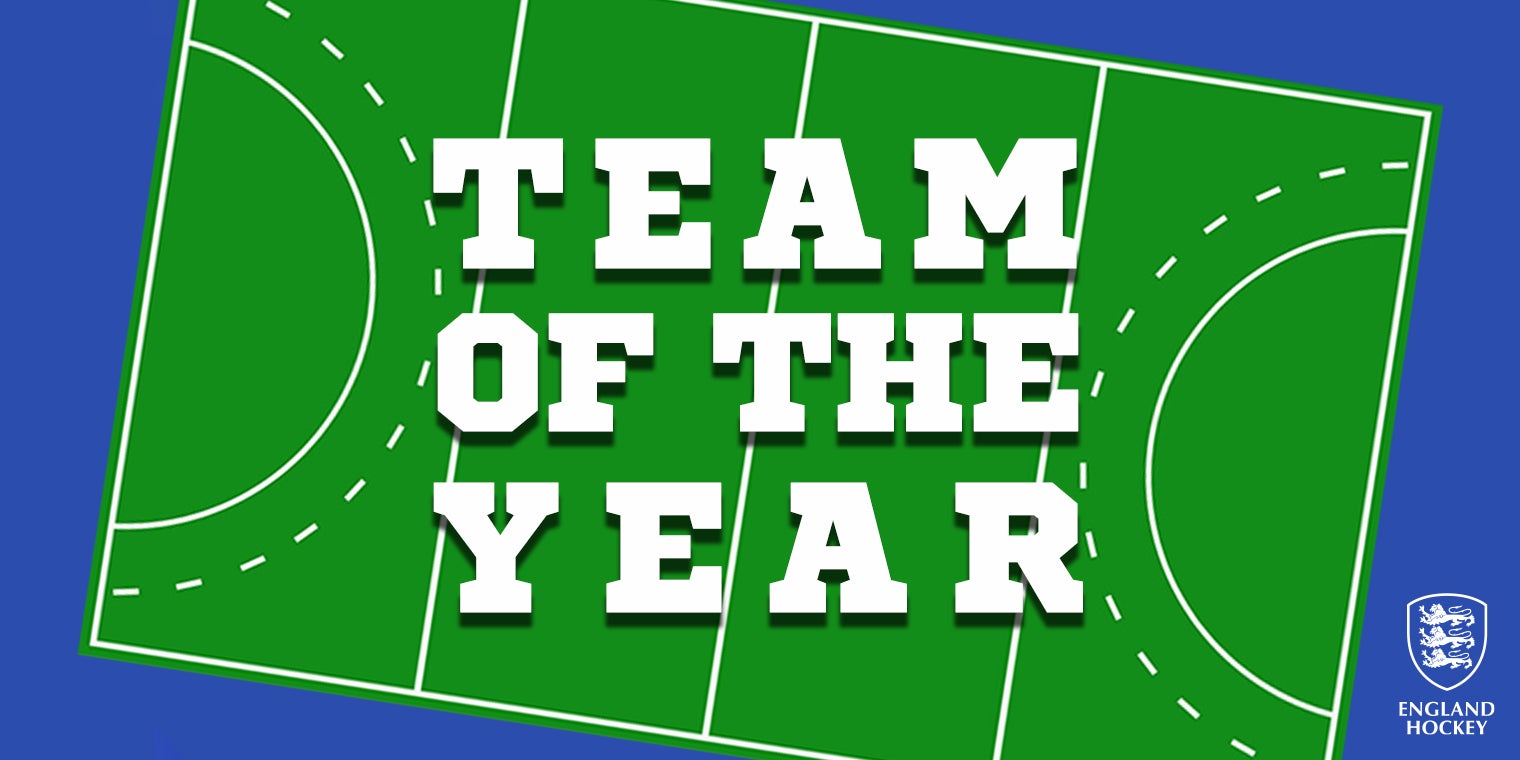 While none of us may have played as much hockey as we hoped in 2020, that hasn't stopped there being hundreds of amazing nominations being sent in for Team Of The Week.
With a great deal of deliberation, they've been down to an XI (plus umpires and volunteers) of individuals who have shown incredible spirit and continued to pick up a stick in spite of everything.
Here is your Team Of The Year - Nominations XI.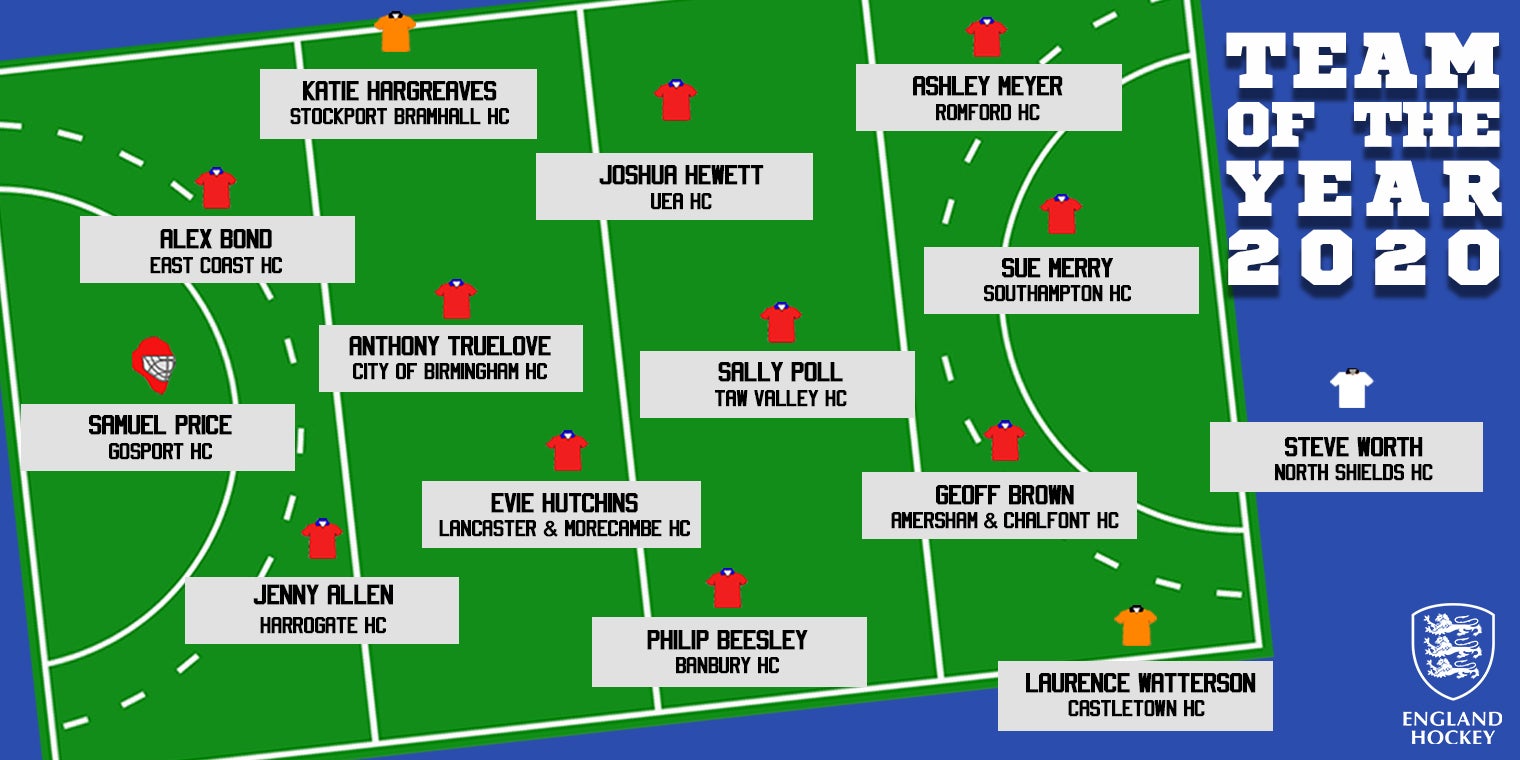 Goalkeeper
Name: Samuel Price
Club: Gosport HC
Nomination: Aged just 14, Samuel put in an outstanding performance against an Alton side who continually threatened his goal through the whole match. He made multiple point-blank saves, showed lightning reflexes and, according to his nominator, 'represents everything that hockey is about - true grit, determination and a willingness to develop week in and week out'.
Defence
Name: Alex Bond
Club: East Coast HC
Nomination: The epitome of a true club player. Having spent all morning coaching the club's junior players, Alex then had an awesome game at centre back – producing a mid-air goal-line clearance which saw her named 'Player Of The Match' – before then umpiring numerous games in awful weather.
Her nominator said: "Alex is an inspiration to all at the club. She is an incredibly dedicated lady on and off the pitch and is always doing something positive for the sport, whether it's encouraging the youngsters in our local community or encouraging people to return to hockey, even offering her time to coach and develop new and old players alike! She has given so many years to the sport, and I am sure she will dedicate many, many more to come! Club legend!!"
Name: Anthony Truelove
Club: City of Birmingham HC
Nomination: Having spent two decades as a goalkeeper, Anthony stepped onto the outfield for the first time since earlier this year. He did so in the first ever league game for City Of Birminghan's 2nd XI and scored their first ever goal too, creating many other chances and producing a fine defensive display too.
Name: Jenny Allen
Club: Harrogate HC
Nomination: A continuous inspiration to the younger players in her team, Jenny put in a fine performance to help her side beat Leeds 4-0 having suffered a 3-0 reverse earlier in the season. Her nominator said: "She is too humble to admit it, but each of our young players played with the confidence that she has instilled in them across the season, and her presence saw the side successfully defend six short corners for no goals!"
Midfield
Name: Joshua Hewett
Club: UEA HC
Nomination: Despite being new to the game, Joshua been an absolute super star on and off the pitch. A solid defensive midfielder with fine stick skills and intricate passing ability, he is also exceptionally keen and motivated and is often found motivating the team too. If ever you wanted a perfect example of why you should take up hockey, Josh is certainly that.
Name: Sally Poll
Club: Taw Valley HC
Nomination: An incredibly determined and spirited individual, Sally had two operations to remove a breast tumour across the course of three months earlier in the year. But she only missed two matches, returning to captain her team with aplomb and also scoring the winner in a 1-0 victory for her side. A true inspiration.
Name: Evie Hutchins
Club: Lancaster & Morecambe HC
Nomination: After a mix up with the umpires, 15-year-old Evie selflessly (and bravely) volunteered to umpire instead of playing, until another umpire arrived. She then proceeded to play her socks off and had a great game. In true club spirit, she then went on to play another match for the club straight afterwards.
Name: Philip Beesley
Club: Banbury HC
Nomination: Having been diagnosed with Osteoarthritis and being advised to slow down, 46-year-old Philip responded by scoring four goals in a single game for his team. A perfect demonstration to all about not letting an illness define you and always playing with determination.
Attack
Name: Ashley Meyer
Club: Romford HC
Nomination: Scoring once is enough for many. Getting a hat-trick is brilliant. A double hat-trick is almost unfathomable. But a triple hat-trick… Surely that's almost impossible?
Not for Ashley 'The Goal Machine' Meyer as he put in a stunning performance to score nine – yes, nine – goals in a 12-1 win for Romford earlier this season. Furthermore he also provided assists for the other three strikes, including sacrificing the chance of getting into double figures.
Name: Sue Merry
Club: Southampton HC
Nomination: Sue is a true club legend, having now started her 50th season playing 1st XI hockey and inspired hundreds if not thousands of others in that time period. A member of the England O60s squad too, she's aiming to reach a century of goals in the South League this season and we have a sneaking suspicion she's going to reach that figure.
Name: Geoff Brown
Club: Amersham & Chalfont HC
Nomination: Having spent many years keeping the ball out of the goal as a 'keeper, Geoff's transition to the other end of the pitch has been remarkable. Earlier this season he produced a hat-trick to take him up to 100 goals for the club, with 86 of those coming in just four years. A true all-rounder.
Umpires
Name: Katie Hargreaves
Club: Stockport Bramhall HC
Nomination: Katie may only be young but she consistently produces performances of great maturity. No better was this highlighted than during a game against Moss Park HC when one of her club's players sustained a bad injury. Her calming influence reassured the player and removed any sense of panic from the situation. She also went above and beyond too, staying with the player for hours after the game was abandoned until the ambulance arrived.
Name: Laurence Watterson
Club: Castletown HC
Nomination: A legend of the club and, according to his nominator, 'one of the greatest umpires on the Isle Of Man!' Laurence and his family have done so much for the club over the years and he is a fine umpire, treating every player with respect and never raising his voice.
Volunteer
Name: Steve Worth
Club: North Shields HC
Nomination: During this incredibly challenging year where fixtures have been hard to organise, Steve went above and beyond to arrange five matches for the junior and development teams at his club during one weekend. In the first game he then had to go in goal when they were a player short before umpiring four junior games the next day. On top of that he also helped coach the women's 2nd XI in a league fixture and helped the men's second XI to a 4-3 victory.
Steve consistently gives up his weekends for the club, in particular to help develop the next generation of players, and is the epitome of a true club legend.