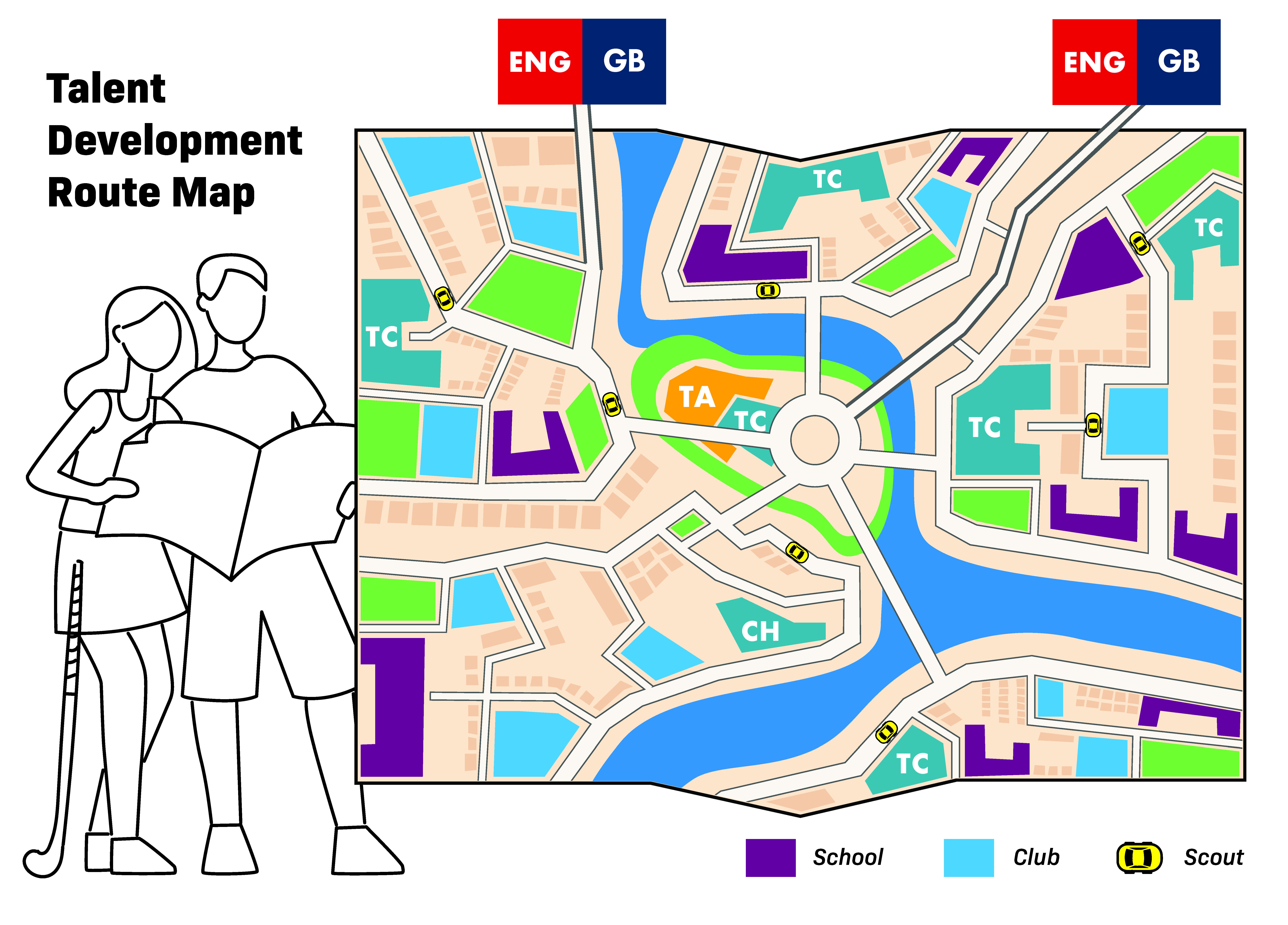 Above is an illustration of a map showing the many different routes to progress to national programmes. Each catchment area will consist of accredited and non-accredited clubs, schools, and County Hockey programmes.
The new talent system puts clubs at the heart of talent delivery, creating more frequent, high-quality opportunities for young players. It strives to put the right athlete in the right environment as often as possible and is designed to be more inclusive and accessible to children from different educational and socio-economic backgrounds.
Aspiring Talent Centres
A Talent Centre club is a club that provides high quality provision for players at early talent development level (Talent Foundations). This provision will be embedded within the club's junior programme. Talent Centre accreditation recognises the quality of a club's talent development environment and provision, not individual players.
England Hockey will recognise, through accreditation, environments within the Talent System that provide high quality talent development. In time, we envisage the operation of around 100-120 Talent Centres so that every child should have reasonable access to one or more of these opportunities if they wish to and if it is right for them.
Talent Academies
Talent Academies are intended for the highest potential 15 – 18-year-old players. There will be multiple opportunities most weeks for high-quality coaching and training through a combination of dedicated sessions and integration with other activity delivered by the host. Every Talent Academy will have a squad of players selected through a robust process based on the England Hockey Player Profile.
Talent Academy Application Process And Timeline
England Hockey are delighted to share more information about the application process and timeline for organisations aspiring to host an England Hockey recognised Talent Academy from September 2022. The pdf above provides everything you might need to know if you are considering applying to host a Talent Academy. A video about the process and the application form can be accessed here. Please note the application deadline for single club applications has now passed.
The closing date for organisations to apply to host a Talent Academy is:
5pm on 31st January for university and joint applications