Across our exciting events calendar, there are some amazing opportunities for you to get involved, as part of our Hockey Maker team. You will have the opportunity to make a real and positive impact on our event delivery and we want to make good people better as part of the training and experiences on offer.
Hockey Makers make hockey happen, they are the heart and soul of events, from front of house client facing & involvement in half time entertainment, to behind the scenes, supporting the teams & officials and England and Great Britain hockey wouldn't be able to run events without them. Hockey Makers play circuital roles in both domestic and international events providing knowledge, enthusiasm and creativity to the wide variety of roles available. Get closer to the hockey community and volunteer at some incredible events. 
Student Volunteers at Super6s – part of our University Partner Program
Enhance both your CV and university experience by becoming a Hockey Maker! Be part of our team that will deliver the biggest indoor hockey competition in the country on the 27 & 28 January 2024. Whether you're passionate about hockey or upskilling yourself ready to start your career, being a Hockey Maker at Super6s can help you achieve your goals.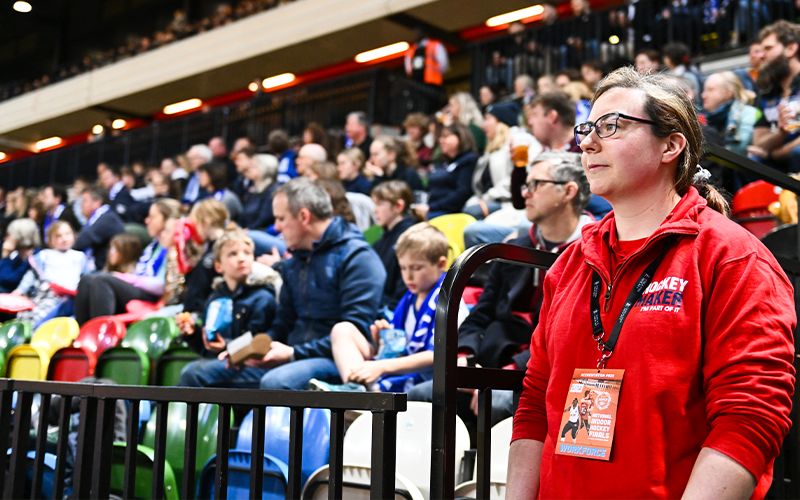 Event Steward Hockey Maker
Receive key client facing training to maintain fan enjoyment, including helpful service location and facilitating player autographs & selfies.
Apply Now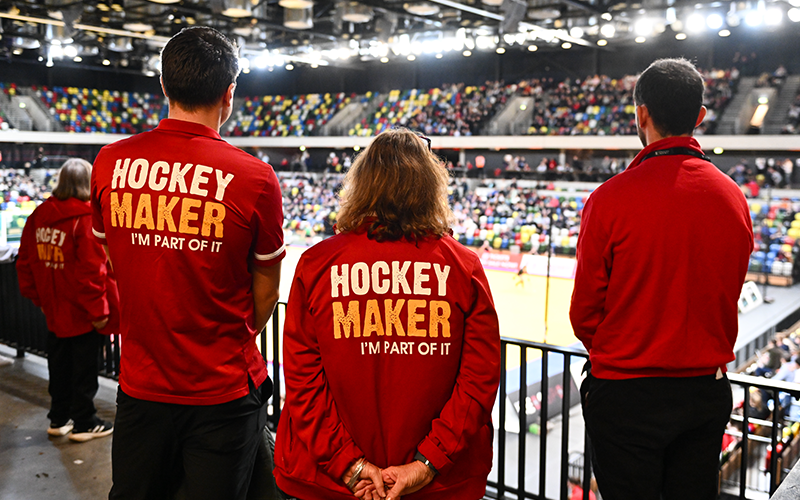 Event Support Hockey Maker
Get involved in a variety of roles as an Event Support Hockey Maker; from event set up (bump–in), to engaging kids in the fan zones.
Apply Now
Be part of our Ball Patrol
Ball patrol is a crucial role within international hockey. With hockey being a fast-paced game, teams require quick reactions to the action to help them play an exciting game. To be a part of Ball Patrol you need to be 15-18 years old and have a good knowledge of hockey. 
Ball Patrol's main objective is to ensure the game runs without stoppages for ball retrieval, and are quick to react to umpires' decisions so play can flow. Working in teams of six or eight, the Ball Patrol team also have responsibilities following penalty corners, in shoot outs and pre and post match protocol.

Ball Patrollers must be fit, have a good knowledge of hockey and the rules, be able to follow play, understand umpire decisions and have good concentration levels throughout a full match. In addition, there are other match protocol requirements that require the services of the Ball Patrol team and therefore there may be some match days where a team member's role will solely be delivering these.

Ball Patrollers undergo training and assessment with our hugely experienced Ball Patrol management team, where they are assessed against the following criteria:

Personal organisation - punctuality, communication etc.
Ball patrolling ability
Presentation; in performance and in person
Understanding of hockey
Reaction, speed, agility and movement
Team work; both on and off the pitch

Ball Patrollers are usually between the ages of 15 to 18 years old and must be based in the UK.

Opportunities for young people to join the Ball Patrol Team at specific matches can be applied for via this online application form. Both individuals or groups (4-8 people) will be able to register their interest and will receive more information. If you have a query please email ball.patrol@englandhockey.co.uk