England Hockey's aspiration is to create:
A phenomenal generation of players which the hockey community in England and Great Britain are proud of
Exceptional talent development environments which breed competition for places at every level and lead to a vibrant elite game in England.
English clubs excelling in European club hockey and role models inspiring through consistent international success.
A player identification and development system which attracts and excites young people and inspires them to be the best they can be and which values both current performance and future potential
Safe, enjoyable and inclusive talent development environments with a duty of care for everyone's wellbeing
What Are The Pillars?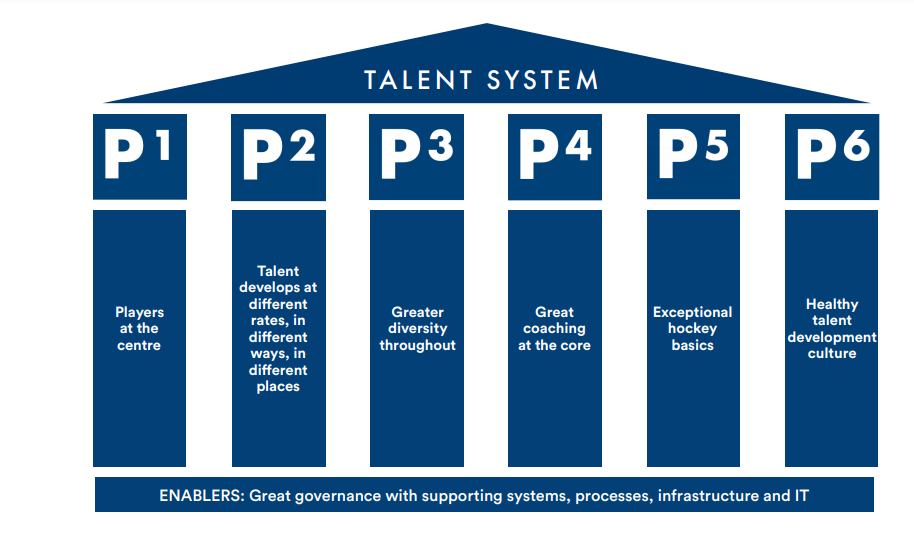 Put the player at the heart of everything England Hockey does. This will require building shared performance and talent ambitions with clubs and schools, simplifying the support system to reduce the number of stakeholders around a player and enabling players to move more freely into the right environment.
There is no one size fits all approach. The talent system needs to embrace many routes and opportunities for players to shine, and to be robustly observed and assessed by multiple eyes on multiple occasions.
Find and develop more talented players from many ethnic and socio-economic groups. Targeted work is required to remove barriers which restrict inclusivity and progression.
Support and develop coaches at clubs and schools to be expert in identifying and developing talent, with the ability to build great relationships with players.
Place greater emphasis on hockey fundamentals and skill development.
Develop a collective understanding of talent culture; both what it takes to progress and develop and how we need to behave based on shared values, purpose, goals and expectations.
Structure Of The Talent System