England Hockey have a range of adapted formats of the game which suit a wide range of ages and abilities and are easy to deliver safely in school settings.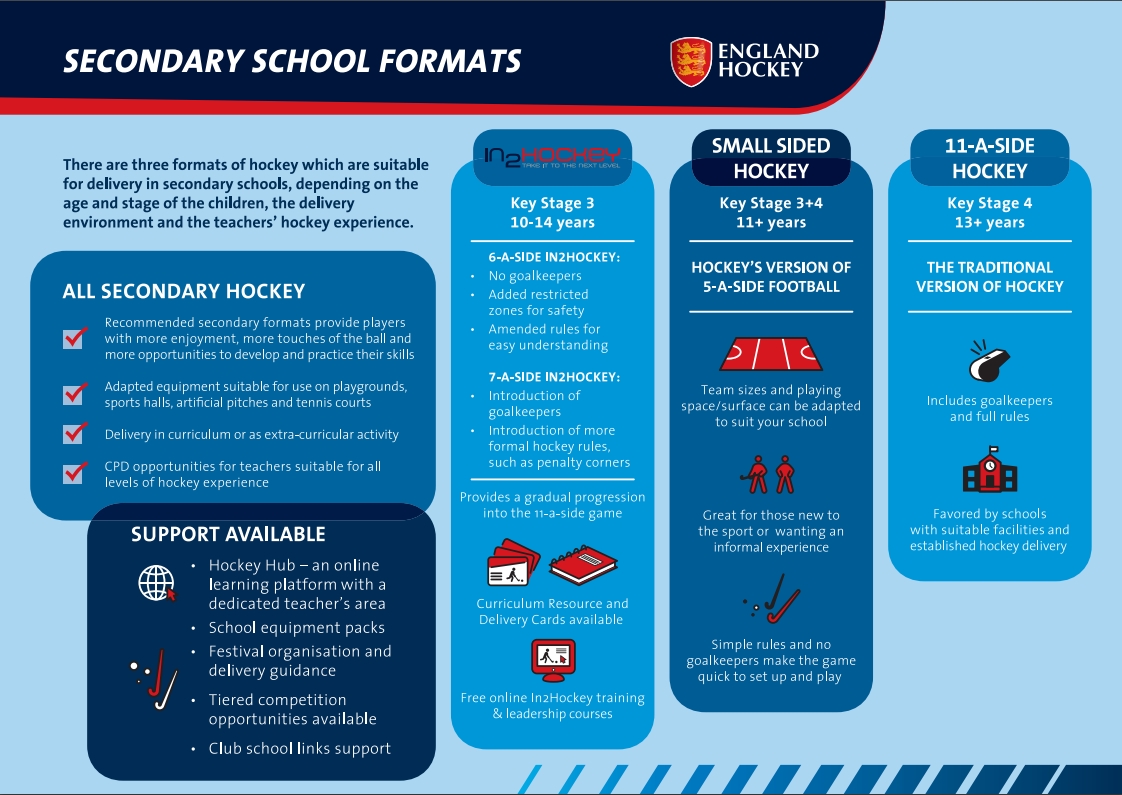 This animation gives you a further detailed explanation of the different formats; these will depend on the school facilities available, the age and stage of the players and teacher experience.
The In2Hockey format of the game has been designed specifically for children aged 10 – 14, to give them the best and most appropriate age related experience of the game. It is designed to be easier for schools to provide and is accompanied by resources and equipment to help to make the game as easy as possible for teachers to deliver, even if they have little hockey knowledge. In2Hockey follows on from hockey's introductory 4-a-side game Quicksticks. It can be introduced as a 6-a-side game without goalkeepers, or played as a 7-a-side game with goalkeepers.

The 6-a-side version can be played on various surfaces and uses adapted equipment and simplified rules to make this possible. Overall, In2Hockey aims to develop hockey skills and techniques and to provide a gradual progression into the 11-a-side game.

Key differences at a glance:

| | |
| --- | --- |
| 6-a-side In2Hockey | 7-a-side In2Hockey |
| No goalkeepers | Introduction of goalkeepers |
| Added restricted zones for safety | Introduction of more formal hockey rules, such as penalty corners |
| Suitable for multiple surfaces | |
| Amended rules to make understanding of the game easier | |

Further information and guidance can be found in the In2Hockey Advisory Guidelines, where pitch dimensions, pitch markings and key safety points are also provided. The Advisory Guidelines and latest rules for 6 and 7-a-side and further resources and information are available online at the Hockey Hub.

Small sided hockey is hockey's version of 5-a-side football, with no set rules about the number of players in a team. Team sizes and playing space can be adapted to suit the number of players and the size of the playing area you have available. It is generally best for teams to be made up of between 4-8 players, so it provides players with an enjoyable experience of the game, more touches of the ball and more opportunities to develop and practice their skills. It's a great way to deliver hockey to those who are new to the sport or wanting an informal experience. It can be played indoors or outdoors, using a bigger, lighter ball, which new players find easier to control and less intimidating than traditional hockey balls. With a few simple rules that are easy to pick up and no need for goalkeepers the game is quick to set up and play.

As players of mixed ability, experience and gender can play together, small sided hockey is great for both curricular and extra-curricular activity as an alternative way of delivering hockey.

To find out more click here.




11-a-side is the traditional version of hockey, with goalkeepers and full rules. This is the version of the game favoured by schools with suitable facilities and established hockey delivery.

From age 13 upwards, the ability and experience levels of players can vary greatly depending on whether they have played hockey before, and if so, what their level of experience is. When considering which version is right for your school and your players it is important to ask yourself the following questions:

What facilities do we have available to play on?
Are the players enjoying and/ or engaged in the activities/the game?
Are all the players being challenged appropriately? (is it too difficult, too easy, one-sided)

The use of the delivery resources on Hockey Hub will continue to help you adapt your teaching to ensure it meets the needs of the players. There is also a great section on the rules of the 11-a-side game, including an interactive quiz.
Schools Membership
To make it easier for schools to access support to deliver more fun, safe, and enjoyable hockey opportunities, we've developed a schools membership offer which aims to bring together and enhance the range of support available for schools and teachers.
We recognise that the extent of hockey delivery in schools varies. Some schools have well established and well-developed hockey delivery, whereas others are new to the sport, or maybe just starting to consider whether hockey is a sport that they could deliver at their school.
Therefore our school's membership offer will comprises of two packages, both of which provide schools with a range of support relevant to where they are at on their hockey journey.
This free membership aims to support the initial delivery and development of the sport within the school. Benefits include;

Access to the 'core' schools area on HockeyHub providing general hockey delivery support and assistance to schools and CPD opportunities for teachers.
Pre-recorded video content and webinars covering a range of topics that can be accessed when convenient and relevant to support delivery.
Ready made session content to help with both lesson or session planning, and also delivery and assessment.
Termly e-newsletters to keep you up to date with schools news, exclusive offers and access to tickets for international matches.
Help and support to identify suitable CPD courses the help school staff develop and improve their hockey delivery.

To sign up, you simply need to register for a free HockeyHub account here and 'tick' that you are a teacher when selecting your role(s). Once logged into your HockeyHub account you will see a link to the teacher's section in the main navigation bar.

This paid for membership aims to further support and develop established hockey delivery within the school setting. Along with the above benefits, the full membership will also give;

Access to an 'enhanced' schools area on the HockeyHub providing more tailored hockey delivery support.
An invitation for one representative from your school to attend one England Age Group training day per year.
Offer discounts on the paid for Online Coach Development Offer for school staff with savings ranging from £10-£80 per person depending on the workshop/course.

This membership will be launched in late Spring 2022, and run for the 2022/23 school year.
If you would like to ask a question or need further support please get in touch.
Contact Us