Schools are a key delivery partner for hockey, and where many people play the sport for the first time. England Hockey has produced a range of adapted formats and equipment, along with support materials and guidance to support and encourage the delivery of hockey in schools at all levels.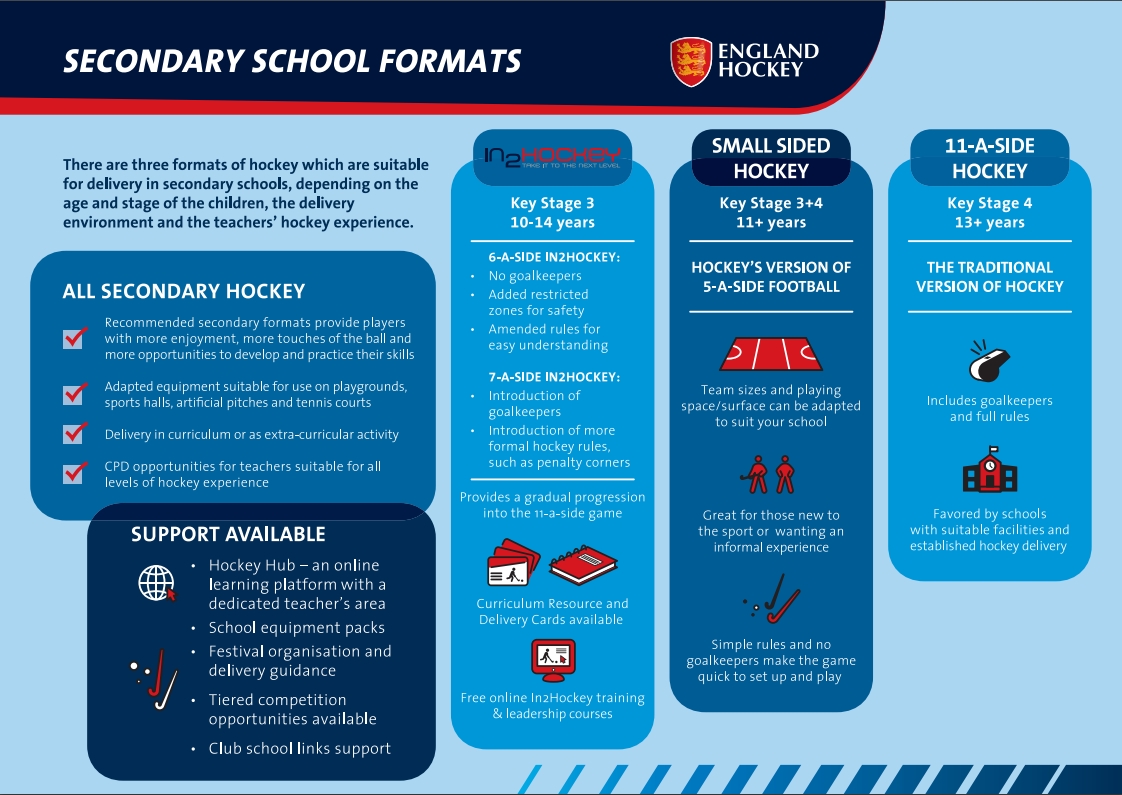 This animation gives you a further detailed explanation of the different formats; these will depend on the school facilities available, the age and stage of the players and teacher experience.
The In2Hockey format of the game has been designed specifically for children aged 10 – 14, to give them the best and most appropriate age related experience of the game. It is designed to be easier for schools to provide and is accompanied by resources and equipment to help to make the game as easy as possible for teachers to deliver, even if they have little hockey knowledge. In2Hockey follows on from hockey's introductory 4-a-side game Quicksticks. It can be introduced as a 6-a-side game without goalkeepers, or played as a 7-a-side game with goalkeepers.

The 6-a-side version can be played on various surfaces and uses adapted equipment and simplified rules to make this possible. Overall, In2Hockey aims to develop hockey skills and techniques and to provide a gradual progression into the 11-a-side game.

Key differences at a glance:

| | |
| --- | --- |
| 6-a-side In2Hockey | 7-a-side In2Hockey |
| No goalkeepers | Introduction of goalkeepers |
| Added restricted zones for safety | Introduction of more formal hockey rules, such as penalty corners |
| Suitable for multiple surfaces | |
| Amended rules to make understanding of the game easier | |

Further information and guidance can be found in the In2Hockey Advisory Guidelines, where pitch dimensions, pitch markings and key safety points are also provided. The Advisory Guidelines and latest rules for 6 and 7-a-side and further resources and information are available online at the Hockey Hub.

See In2Hockey in action by clicking here.

Small sided hockey is hockey's version of 5-a-side football, with no set rules about the number of players in a team. Team sizes and playing space can be adapted to suit the number of players and the size of the playing area you have available. It is generally best for teams to be made up of between 4-8 players, so it provides players with an enjoyable experience of the game, more touches of the ball and more opportunities to develop and practice their skills. It's a great way to deliver hockey to those who are new to the sport or wanting an informal experience. It can be played indoors or outdoors, using a bigger, lighter ball, which new players find easier to control and less intimidating than traditional hockey balls. With a few simple rules that are easy to pick up and no need for goalkeepers the game is quick to set up and play.

As players of mixed ability, experience and gender can play together, small sided hockey is great for both curricular and extra-curricular activity as an alternative way of delivering hockey.

To find out more click here.




11-a-side is the traditional version of hockey, with goalkeepers and full rules. This is the version of the game favoured by schools with suitable facilities and established hockey delivery.

From age 13 upwards, the ability and experience levels of players can vary greatly depending on whether they have played hockey before, and if so, what their level of experience is. When considering which version is right for your school and your players it is important to ask yourself the following questions:

What facilities do we have available to play on?
Are the players enjoying and/ or engaged in the activities/the game?
Are all the players being challenged appropriately? (is it too difficult, too easy, one-sided)

The use of the delivery resources on Hockey Hub will continue to help you adapt your teaching to ensure it meets the needs of the players. There is also a great section on the rules of the 11-a-side game, including an interactive quiz.
Schools Membership
To make it easier for schools to access support to deliver more fun, safe, and enjoyable hockey opportunities, we've developed a schools membership offer which aims to bring together and enhance the range of support available for schools and teachers.
To find out more about our Schools Membership package visit our dedicated page. If you are ready to sign up, click on the banner below to register your school today.
Resources, Support and Guidance for Teachers
Schools Membership
Maximise your learning and sense of community by becoming a member of the England Hockey Schools Membership scheme
Register Today
If you would like to ask a question or need further support please get in touch.
Contact Us