England Hockey have a range of adapted formats of the game which suit a wide range of ages and abilities and are easy to deliver safely in school settings.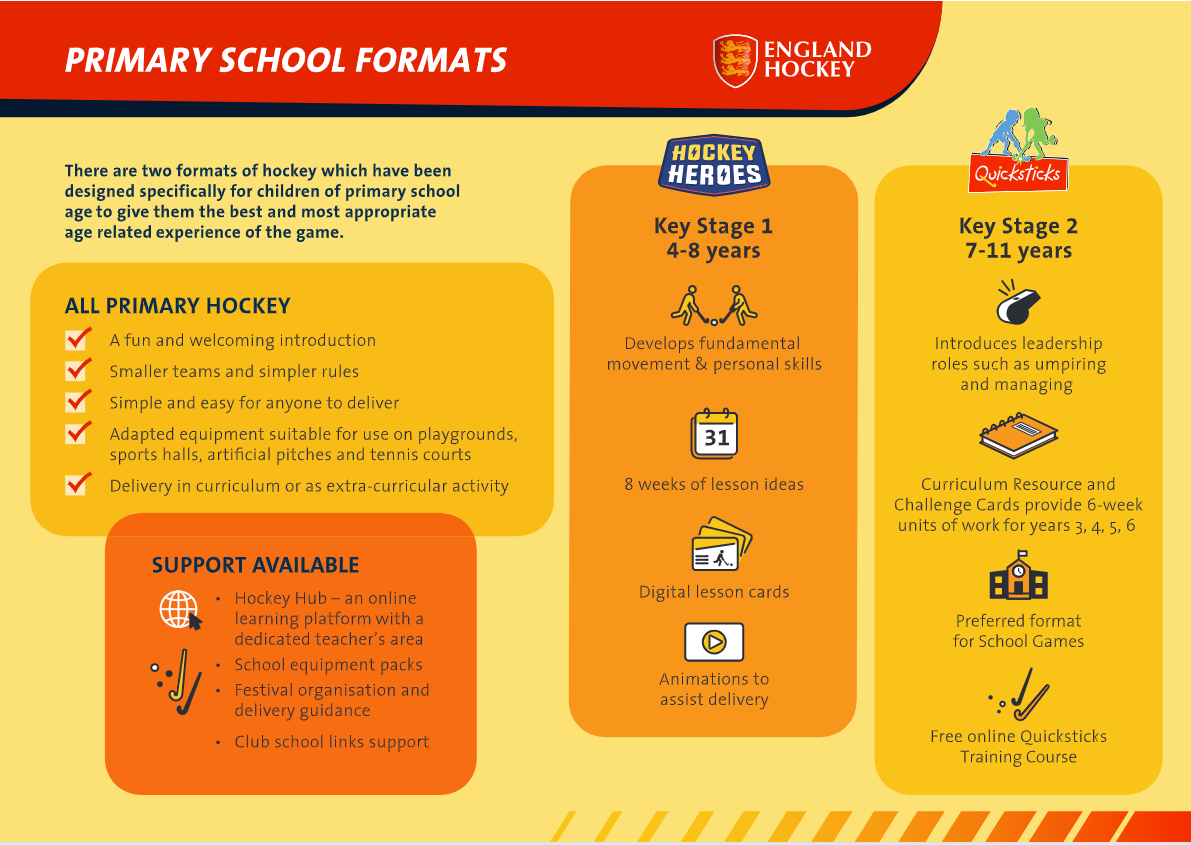 This animation will give a further detailed explanation of the different formats; these will depend on the school facilities available, the age and stage of the players and teacher experience.
Delivery options suitable for primary schools.
Hockey Heroes is specially aimed at beginners aged 5 - 8 years.

It not only focuses on helping children develop some physical hockey 'superpowers' such as dribbling, passing and goal scoring, but also places as much emphasis on character development superpowers including teamwork, communication, perseverance and respect. Downloadable certificates are available for you to use to celebrate the children discovering their superpowers!

The school specific delivery content outlines a series of game and challenge-based content aimed at key stage 1 which can be delivered either in curriculum or extra-curricular. Digital illustrated lesson cards provide full game explanations, along with hints and tips on how to adapt the delivery to suit individual players or the group.

Each game develops fundamental movement skills and improves children's agility, balance and co-ordination.

Quicksticks is designed specifically for key stage 2 in primary schools and 7 - 11 year olds. It is four-a-side and very easy to deliver. It can be played on any surface, and uses a larger, lighter and safer ball. It is a fun, fast, safe and exciting game that has been designed so that anyone can deliver the game, regardless of previous hockey experience.

Quickflicks is a series of hockey-based educational challenges ideal for the classroom..

The collection of visual resources helps teachers to deliver a range of primary curriculum subjects in a fun and engaging way.

From calculating the number of Quicksticks hockey sticks that can be placed around the perimeter of a hockey pitch to measuring the force of different sporting objects, the challenges are brought to life by the use of videos and images, alongside downloadable cards.
Delivery support & resources for primary schools
There is a range of support available to help you deliver any of the primary school formats safely within your school; this includes a free resource with example delivery content.
You can find more information on support, resources and development opportunities here.
This page includes CPD and training, young leaders, clubs schools links, festival and competition guidance and programme specific information such as Hockey Heroes, as well as a link to our equipment shop.
Free schools membership
Interested in finding out more about hockey on a regular basis? Join the free England Hockey Schools Membership and keep up-to-date with the latest news on all things hockey, including Quicksticks, In2Hockey, School Games, competitions, exclusive offers and much more.
If you would like to ask a question or need further support please get in touch.
Contact Us