Confirmed: Men's and Women's Squads For Final Pro League Games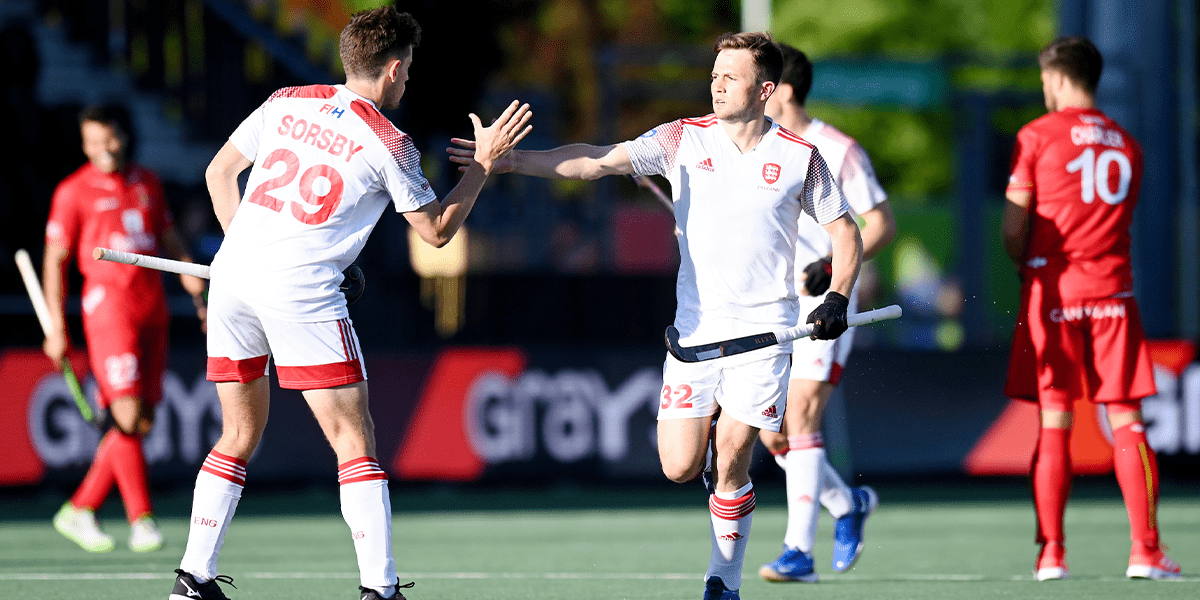 England have named their squads to take on Belgium this weekend in their final fixtures of the 2022 FIH Hockey Pro League season.
The teams do battle on both days of the weekend:
Sat 18 Jun - England v Belgium (W&M), 2pm & 4:30pm
Sun 19 Jun - England v Belgium (W&M), 1pm & 3:30pm
Saturday's matches are now at 90% capacity so act quickly to book your place at the last international matches in London until May 2023. Tickets for both days are on sale now, starting at £7.50 for children and £17.50 adults. A ticket for one day gives access to both the women's and men's games.
There are three changes for the men, who welcome back Wimbledon trio Liam Ansell, Duncan Scott and Rhys Smith as they take on a Belgian side who are the current Olympic and World Champions and one of the most exciting sides on the planet to watch. James Oates, Matt Ramshaw and Peter Scott miss out on this occasion. Phil Roper will make his 100th England appearance if he plays in both matches.
David Ralph names the same women's squad from the team's previous matches against the Netherlands. It contains the 18 women that will take part in this summer's Commonwealth Games, World Cup and Euro Qualifiers, with the addition of World Cup reserves Darcy Bourne and Lizzie Neal.
Both teams are aiming to move as high as fourth after this weekend's matches.
This weekend represents a great opportunity for fans to send off both squads ahead of an amazing summer for the sport, with the women's World Cup only a couple of weeks away, then the Commonwealth Games in Birmingham for both squads before the women's EuroHockey Qualifiers in Durham at the end of August.
Women's Squad
Giselle Ansley – HGC
Grace Balsdon – Hampstead & Westminster
Darcy Bourne – Surbiton
Fiona Crackles – Wimbledon
Sophie Hamilton – Surbiton
Sabbie Heesh (GK) – Surbiton
Maddie Hinch (GK) – HC Tilburg
Tess Howard – East Grinstead
Holly Hunt – Hampstead & Westminster
Alex Malzer – East Grinstead
Hannah Martin – Surbiton
Shona McCallin - HC Oranje-Rood
Lizzie Neal – Canterbury
Lily Owsley – HDM
Hollie Pearne-Webb (C) – Wimbledon
Flora Peel – HDM
Izzy Petter – Surbiton
Ellie Rayer – East Grinstead
Anna Toman – SCHC
Laura Unsworth – East Grinstead
Lily Walker – University of Birmingham
Men's squad
James Albery – Old Georgians
Liam Ansell - Wimbledon
Nick Bandurak – Holcombe
Will Calnan – Hampstead & Westminster
David Condon – Wimbledon
Brendan Creed – Surbiton
James Gall – Surbiton
David Goodfield – Surbiton
Chris Griffiths - Old Georgians
James Mazarelo (GK) – Surbiton
Tim Nurse – Surbiton
Ollie Payne (GK) – Holcombe
Phil Roper - Holcombe
Stuart Rushmere – Surbiton
Duncan Scott - Wimbledon
Ian Sloan – Wimbledon
Rhys Smith - Wimbledon
Jack Turner – Wimbledon
Zach Wallace – HGC
Sam Ward – Old Georgians
Flyerz Celebration
Across the weekend, England Hockey and Access Sport will be showcasing Flyerz Hockey. Flyerz players and their family members will be in attendance, playing on the pitch on both Saturday and Sunday mornings. Please show your support and also look out for messages on the big screen throughout the day, as well as how to donate.
Mixed Championships
Saturday will see four mixed teams battle it out for 2 trophies before the Pro League action begins. The first match sees Blueharts take on the University of Bath A at 9 am in the Tier 2 Final and Leeds Beckett University Mixed v Norwich City Mixed at 11 am in the Tier 1 final. One ticket for the day includes all mixed matches as well as the Pro League international fixtures. Participating clubs have packages available for their supporters. Make sure you contact them to get the best offers to support your team.