East Grinstead Confirm Super 6s Finals Day Spot As Surbiton And Hampstead & Westminster Look Strong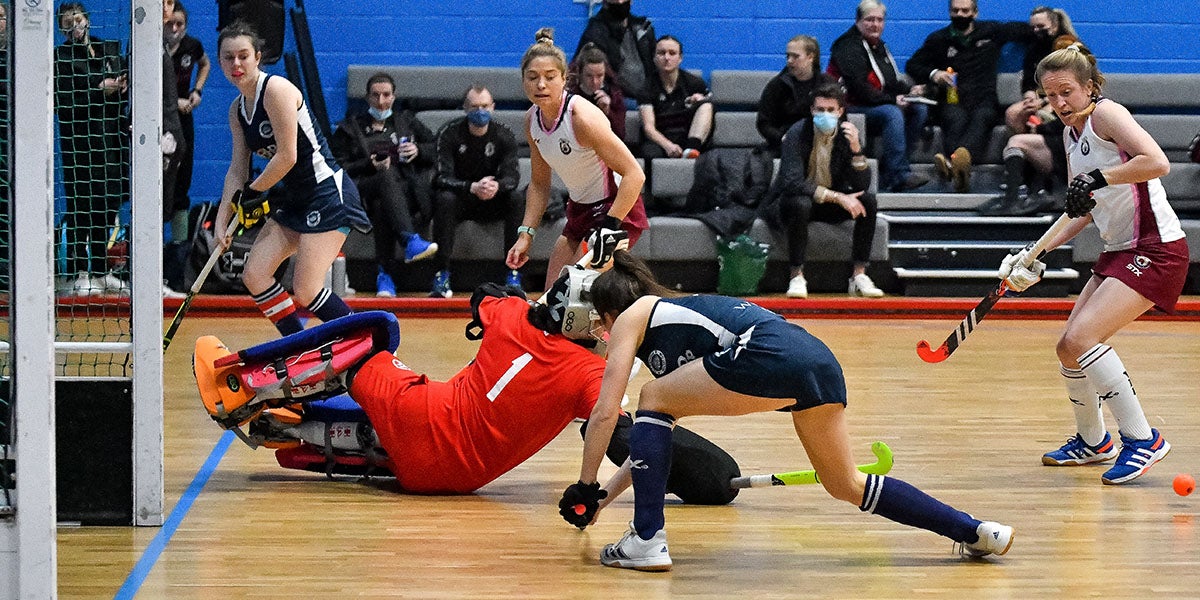 Photo credit: Graeme Wilcockson
You can view full the full set of results from this weekend's games as well as the tables and the upcoming fixtures for the Super 6 Championships by clicking here.
East Grinstead became the first team to officially book their place at Super 6s Finals Day in the women's Premier Division, while Surbiton and Hampstead & Westminster are looking strong in the men's Premier Division to set up a fascinating final day of group-stage action on Sunday.
East Grinstead's women are the only unbeaten team in either Premier Division after six matches as they beat Wimbledon and then Buckingham at Repton School on Saturday – scoring nine goals in both games – to confirm their qualification.
With the top four teams from each of the Premier Divisions following Sunday's remaining group matches qualifying for Super 6s Finals Day - Hockey's Big Day In – at the Copper Box Arena on Sunday 30 January, the West Sussex side have mathematically secured a top-four spot.
They did so by first beating Wimbledon 9-1, with Ellie Rayer scoring four, Amy Thompson notching a double and Guardaloupe Lacort, Robyn Bentley and Joanna Davis also netting.
Then, in the final game of the day, they dominated high-flying Buckingham 9-3 as doubles from Bentley and Sophie Bray helped them stay unbeaten, move top of the table and seal their Finals Day spot.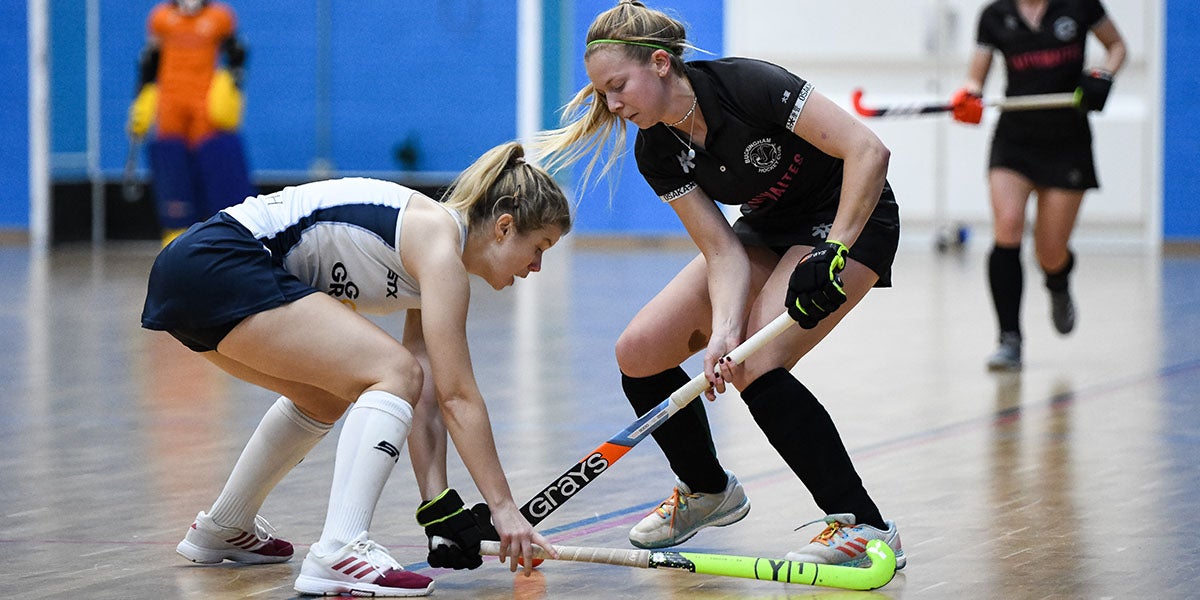 Buckingham had earlier beaten Leicester 4-3 in a thriller to place themselves in a strong position to qualify, with Rebecca von Arrowsmith and Natasha James putting them 2-0 up before Jordan Homann's brace levelled the match at 2-2.
Maddy Newlyn and Abbie Brant then made it 4-2 Bucks and although Sade Gerald set up a grandstand finale, Leicester couldn't find an equaliser.
Buckingham are third in the table, four points behind East Grinstead, with Repton in between following a pair of victories on Saturday.
A potentially pivotal 5-3 win over fifth-placed Bowdon Hightown came largely thanks to Claudia Swain's hat-trick, before Repton turned on the afterburners to beat Holcombe 10-3 – with Swain and captain Sally Walton, who is the division's top scorer with 14 goals in six games, both notching trebles.
Despite that blow, Bowdon are still right in the hunt for Super 6s Finals Day qualification, as they sit just a point outside the top four with two games left.
Goals from Holly Hunt and Lauren Hunt helped them bounce back from the loss to Repton with a 2-0 triumph over Sutton Coldfield to ensure fourth-placed Slough are in their sights.
Slough have tricky-looking games against Repton and Buckingham remaining on Sunday but a two-win Saturday kept them in the mix as Sutton Coldfield were beaten 3-1 and Wimbledon dispatched 4-1, with Mel Ball netting three times across the two matches.
The day's opening game in the women's Premier Division was an entertaining 3-3 draw between Leicester and Holcombe, with Emma Bandurak at the double for the latter, but the result likely ended both teams' qualification hopes as they both sit six points below the top four with just two games each left.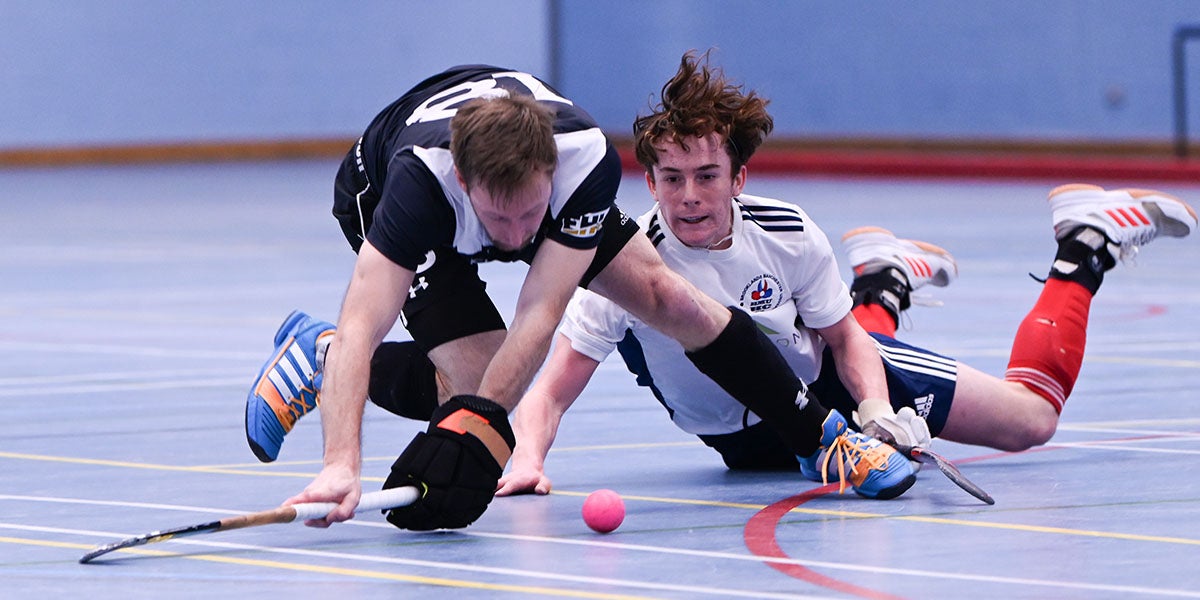 Men's Premier Division
Meanwhile, in the men's Premier Division, Surbiton and Hampstead & Westminster are all-but qualified for Super 6s Finals Day, both sitting six points ahead of fifth place with two games remaining for each team and having almost uncatchable goal differences of +37 and +20 respectively.
Surbiton went two for two at Whitgift School on Saturday as they held off Repton 3-2 following a nervy final few minutes before going goal crazy in a brilliant 14-4 triumph over Brooklands MU.
Jamie Golden helped himself to a remarkable eight goals in that contest, taking his overall tally to 15, while Arjan Drayton-Chana also netted a hat-trick to lay down a marker to the rest of the division.
Hampstead & Westminster had been unbeaten heading into Saturday and continued that record with a Teague Marcano-inspired 7-2 win over East Grinstead – the Trinidad & Tobago international bagging a hat-trick – but then slipped to a surprise 4-3 defeat to Holcombe.
Marcano was again on target with two goals but Holcombe came from 2-0 down to find success, as Sam Paterson, Jake Raben, Thomas Russell and Robert Field all scored.
Holcombe had also beaten Brooklands MU 7-4 in a thriller earlier in the day, with Field and Jake Owen grabbing doubles, and the two victories kept their qualification hopes alive as they head into Sunday four points adrift of third-placed Wimbledon and fourth-placed Sevenoaks.
East Grinstead, in sixth, are also four points outside an all-important top-four spot as they followed their Hampstead & Westminster loss with an agonising 7-6 defeat to Wimbledon.
A back-and-forth encounter was dramatically settled by Ed Horler's last-gasp goal from a penalty corner that split a 6-6 tie and it was fitting that the free-scoring forward grabbed the winner as that completed his double hat-trick in the game, with Benjamin Francis netting the Dons' other goal.
Horler tops the men's scoring charts with a remarkable 17 goals in six matches, although he didn't even score in Wimbledon's match earlier on Saturday as they drew 4-4 with Sevenoaks, for whom Ben Allberry got a treble.
Sevenoaks' other game on the day was a 4-2 victory over winless Reading, with David Smith scoring twice, and they know one more win on Sunday would guarantee a place in the top four – the same scenario that Wimbledon face.
Repton can no longer mathematically qualify for Super 6s Finals Day but did round off Saturday with a morale-boosting 5-2 triumph over Reading, with Ben Clague (2), Harry Stone (2) and James Sookias all finding the net.
Super 6s Finals Day - 'Hockey's Big Day In' - returns to the Copper Box Arena on Sunday 30 January 2022. Tickets are on sale now. For more information and details on how to save 20% when booking as a group, click here.