England Age Group Players Win REPS Awards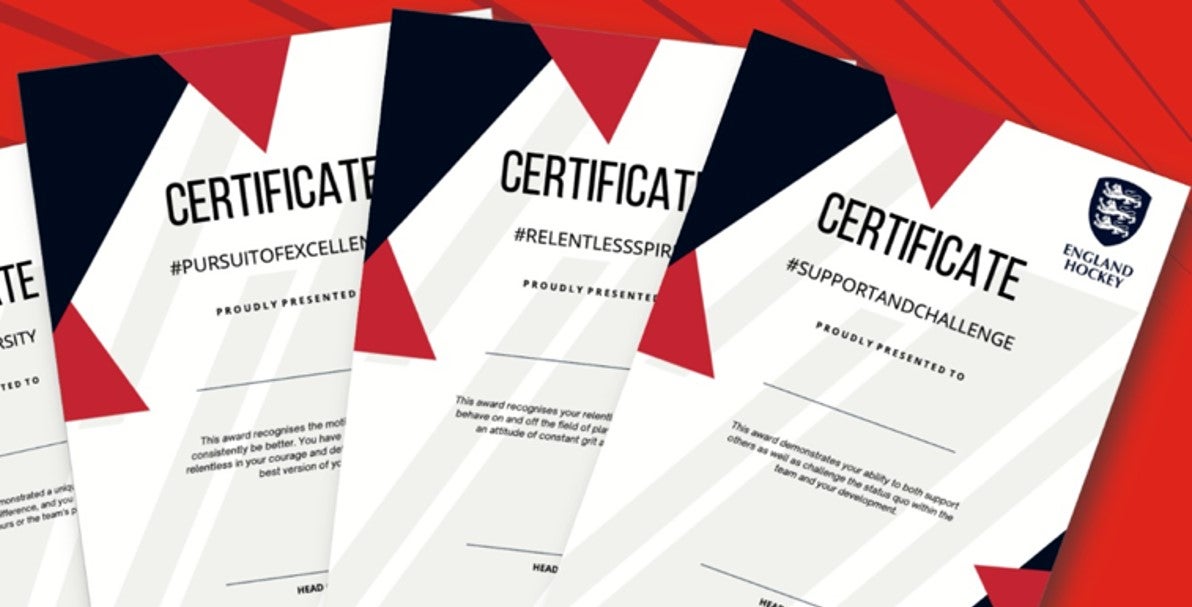 The England Age Group programme has launched and presented REPS awards, recognising players who have exemplified key qualities and values throughout the season.
Players and their families came together at the end of the 8 Nations tournaments in July to celebrate the inaugural awards and the progress that all the young players have made over the course of the year.
Mark Bateman, Lead Talent Coach, explains: "The Talent System Framework highlights four key qualities that future Great Britain international hockey players need to thrive and succeed. Therefore, each England Age Group squad has awarded four players with REPS awards representing these attributes. We're excited to bring these four values to life and celebrate them in our programmes."
#RelentlessSpirit
#EmbraceDiversity
#PursuitOfExcellence
#SupportAndChallenge
Dieter Hill, Junior Talent Development Manager, commented: "The four management teams would like to congratulate all members of the England squads for their contributions this season. After a strange period of COVID restrictions, players have embraced the long-awaited opportunities and challenges of a full season of international hockey and made significant progress. We would like to thank all the parents, families, club and school coaches for their support of these young athletes and the England Age Group programme."
Further details about the winners and their awards can be found below.
#RelentlessSpirit

The #RelentlessSpirit award celebrates behaviour on and off the field of play. On the field, these players show constant effort. In possession, that looks like lead-throughs, getting ahead of the ball, hard sprinting leading for the ball or to create space for others, quickly getting into shape and structure. Out of possession, that looks like tackle-backs, setting structure quickly, positioning and moving quickly when we lose the ball. Off the pitch, we notice the effort they are giving to their training, their nutrition, hydration and video work - all aspects that allow them to perform tirelessly for the team.

Winners: Star Horlock (U18 Girls), Jacob Pengelly (U18 Boys), Anna Faulstich (U16 Girls), Ben Hegan (U16 Boys)

#EmbraceDiversity

The #EmbraceDiversity award is a recognition of the diversity of players' superstrengths. Our highest-performing GB squads have been forged from efficiently and effectively utilising the best assets of all individuals. This award is for a player who has a unique superstrength and can deliver on it consistently for the benefit of the team. They recognise the strengths in others and utilise their game to bring out the best in others in the squad.

Winners: Ryana Macdonald-Gay (U18 Girls), Will Petter (U18 Boys), Martha Goodridge (U16 Girls), Oli Ewart-White (U16 Boys)

#PursuitOfExcellence

The #PursuitOfExcellence award is for players who constantly push themselves outside of their comfort zone to achieve progression. It takes courage to consistently strive to be better. These these players have that courage and commitment.

Winners: Kea Murray (U18 Girls), Tom Spreckley (U18 Boys), Olivia Breed (U16 Girls), Rohit Jakhu (U16 Boys)

#SupportAndChallenge

The #SupportAndChallenge award is awarded to a player who has the capability and personality to both support and challenge their teammates, their coaches and also accept being challenged and supported by others. It is about their give and take from the team, giving energy to others whilst also recognising they can positively challenge those that take energy from the group in order for the group to move forward together.

Winners: Alice Atkinson (U18 Girls), Cole Pidcock (U18 Boys), Tula Knowles (U16 Girls), Anoop Sahota (U16 Boys)