England Age Group Squads In Action Against Germany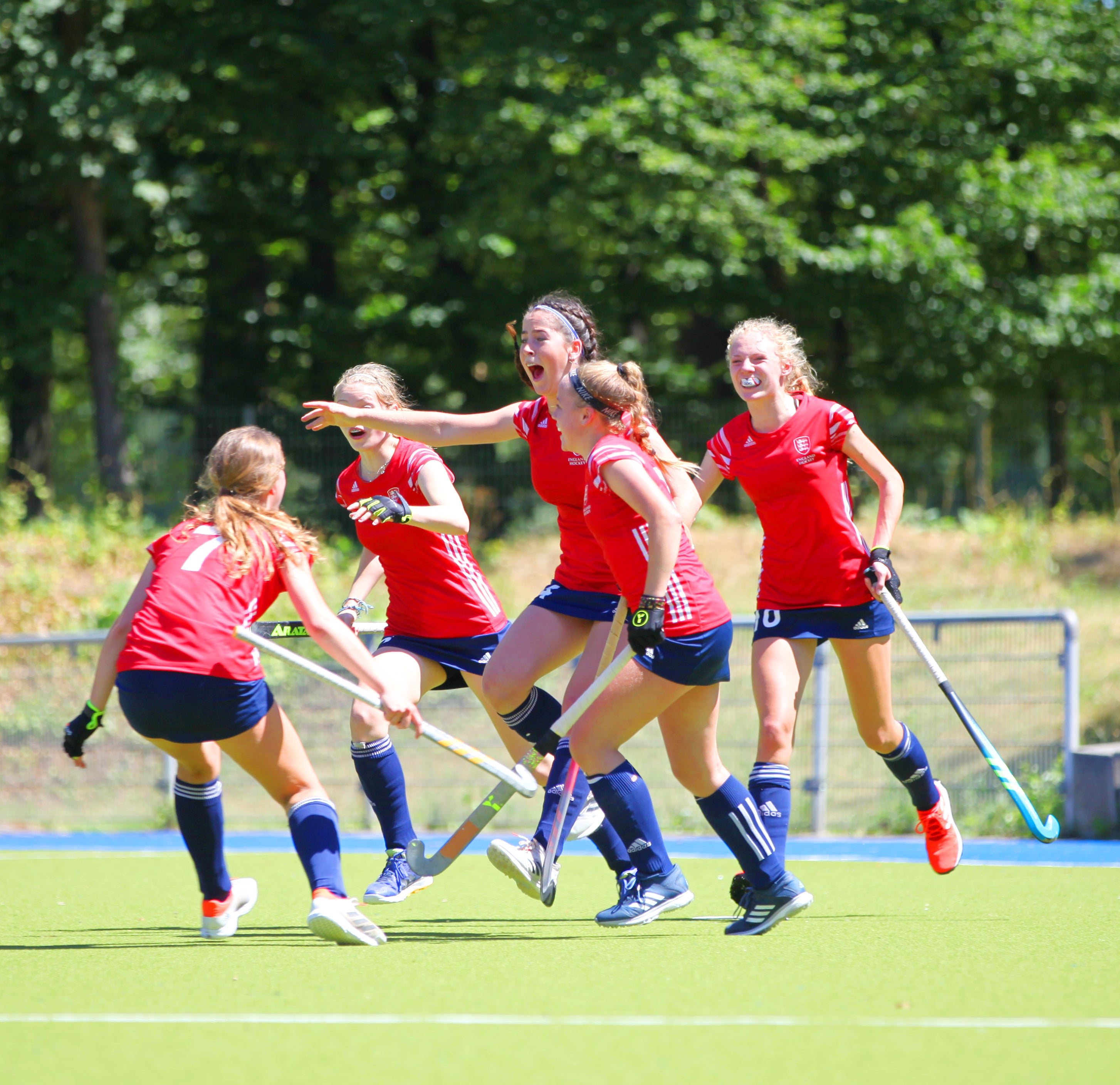 England U16 and U18 Boys hosted Germany for a final training camp at the University of Warwick before their 8 Nations competitions in Frankfurt next week.
Meanwhile, England U16 and U18 Girls travelled to Ludwigshafen for their own training camp against Germany, before they head out to Terrassa for their own 8 Nations competitions.
An exciting series of matches proved excellent preparation for all four squads, who are relishing a packed summer of international hockey.
Friday 1 July: England 1 - 3 Germany

Saturday 2 July: England 3 - 4 Germany

Sunday 3 July: England 2 - 7 Germany

England hosted Germany in a very entertaining three match series at Warwick over the last weekend of June. The matches were perfect preparation for the upcoming trip to the 8 Nations competition to be held in Frankfurt in the second week of July.

Despite England losing all three matches, they were hard, physical affairs that allowed the team to work on different strategies and produce some excellent passages of play. The pace of play over the weekend was fast and both teams were able to exploit gaps in concentration and lapses in marking. This led to some end-to-end action, with all keepers being drawn upon to make a number of brilliant saves.

The second game was the most entertaining, with Germany taking an early three-goal lead, before England were able to get into the game. As England started to get tougher in defence and more composed on the ball, they were able to create chances at the other end. It was finally a piece of individual brilliance that saw a falling Ferguson hit a reverse from an impossible angle past the German keeper that sparked England into life. England followed up with two more goals inside 5 minutes to leave the match on a knife-edge at 4-3 to Germany. The equalising goal failed to materialise, but the proof was there that England had the ability to perform at this level.

The team took the momentum into the final match, but despite a Javaid brace and a 1-0 lead at half-time, Germany took advantage when England lost some composure and ran out winners. Both teams learned a lot and realised the quality needed for 60 minutes at international level.

Head Coach Jimmy Culnane reflected: "This series was the perfect preparation. We matched Germany for periods in every game and showed the physicality, skill and desire to compete at this level. However, we are learning and can see how fine margins can turn games and composure can impact our performance. We are in a strong place as we head out to the 8 Nations."

Friday 1 July: England 5 - 6 Germany

Saturday 2 July: England 5 - 3 Germany

Sunday 3 July: England 2 - 4 Germany

In the first game, Germany came out of the traps and took an early two-goal lead with England slow to get going. England rallied though and were able to pull a goal back in the 2nd quarter with Harvey Edwards scoring from the penalty spot. England started the second half brighter and levelled the scores when Hari Bhogal finished well from a quick counter. England had found their way into the game now and began to put the German team under some pressure and create some good chances. With England failing to take these chances, Germany capitalised, and a sloppy 5 minute spell saw Germany jump into a 5-2 lead. English heads didn't drop though, and they took the game to Germany in the 4th quarter and managed to pull back two goals with Felix Tully and Ollie King both finishing well. Germany kept their composure though and managed to restore their two goal lead to give themselves some breathing space. Felix Tully pulled another goal back for England but the score finished 6-5 to Germany.

Saturday's game saw England take an early two-goal lead with Rob Wilson racing through to finish past the keeper and Hari Bhogal scoring after good build-up play. Germany came back into the game in the 2nd quarter though and soon drew level from close-range and from the penalty spot. Once again, England began the second half on the front foot and added a quick burst of goals to take the game away from Germany. Rob Wilson added the third from close range and Tom Spreckley fired in from a penalty corner. The pick of the goals though, was a well worked team move with Felix Tully deflecting the ball over the goalkeeper. Germany didn't rollover at 5-2 and won a flurry of corners and finally managed to peg a goal back at the end of the 3rd quarter. England held on in the 4th quarter and showed good resilience to see out the remainder of the game with some good defending and penalty corner defence keeping the Germans at bay.

On Sunday, both teams began looking to get a foothold in the game but it was the Germans who managed the initial breakthrough and took the lead early in the 1st quarter. Germany added a second following a corner and then managed to work their way through England's press and add another goal before Rob Wilson pulled a goal back following a turnover in the German's own half. The 2nd quarter played out with both teams battling the conditions but Germany added another goal from a penalty corner to take a 4-1 lead at half-time. England tried to take the game to Germany in the second half and Hari Bhogal deflected home early in the 3rd quarter, but Germany were able to see out the remainder of the game with both sides creating chances but failing to add to their score.

Head Coach Mark Bateman commented: "The boys responded well following on from last weekend's camp in Belgium. The improvements were there to see in our attacking play and we scored some good goals, but we must continue to show this over a full 60 minutes. Playing Germany is always a challenge and it was promising to see us implement subtle changes over the course of the 3 games. We'll head into the 8 Nations knowing that we can achieve success if we consistently deliver on the basics and maintain our performance levels throughout games."

Friday 1 July: England 0 - 1 Germany

Saturday 2 July: England 2 - 0 Germany

Sunday 3 July: England 0 - 2 Germany

The England U16 Girls travelled to sunny Ludwigshafen hot on the heels of last week's successful trip to Edinburgh and with a key focus of preparing for the 8 Nations tournament next week in Spain.

The first game was a keenly contested affair and England replicated the intensity and commitment which saw them run Germany so close at the Easter 5 Nations event. Germany went ahead in the first quarter with a well-struck shot from the very edge of the D. Despite going behind, England worked incredibly hard in the press and also managed the ball in possession with commendable composure and positivity. England matched Germany in every aspect of the game and were particularly successful in outletting through the use of intelligent aerials. Whilst England created attacking circle entry and penalty corners in every quarter, they were unable to find the equaliser and the game finished 1-0 to Germany.

Saturday's game was played in much hotter conditions. Whilst that was challenging, the girls rose to occasion and the match proved excellent preparation for sunny Spain next week. England produced one of their best outletting and pressing performances and dominated the game throughout. Nevertheless, Tilly Woodhead had to produce several solid saves to keep the scores level as Germany continued to offer a threat on the counterattack. The girls went in 0-0 at half-time but came out determined to score one of the excellent opportunities they were creating. It was Evie Grindal who opened the scoring with a spectacular backhand strike into the roof of the Germany net, following some smart small-unit play in the build-up. Germany pressed hard for the equaliser but were unable to find one as England kept their opportunities to a minimum through disciplined defence. With just a few minutes to go, Liv Breed scored an excellent rebound at a penalty corner to make the final score 2-0. This was the first victory over Germany for quite a number of years and the girls were delighted with that achievement.

The third match was another high-intensity and keenly-contested affair. Germany responded to the previous day's defeat and managed their possession much more effectively throughout the game. England produced an excellent defensive performance in the first half and demonstrated real individual assertiveness in their 1v1 encounters to ensure the half-time score was 0-0. Nevertheless, England were frustrated at half-time for not having converted one of the excellent opportunities to score they had created on numerous counters. Germany nicked the lead early in the second half, although this did not reflect the balance of the game as England played very good penetrative hockey and were increasing their share of attacking circle entries as the game evolved. England threw caution to the wind in the final quarter, featuring a super-aggressive press and even removed the goalkeeper for the final six minutes in search of an equaliser. They did win a penalty corner and had one other excellent opportunity but didn't manage to get the ball over the line. In the final minute, with the England goal empty, Germany scored a second to settle the game 2-0.

England were delighted overall with the weekend's performances, and especially the level of relentless intensity they were able to produce throughout all three games, despite the quality of the opposition and the hot weather. Player of the Series was Mia Moore who produced three excellent performances which featured impressive composure in being able to play forward and create opportunities despite playing in tight and highly-contested areas of the pitch. Overall, it proved to be a very useful exercise in preparing for the 8 Nations event next week.

Don Vinson, Head Coach, said: "We feel as though we have made a number of gains in this camp, most especially concerning the consistent level of relentless intensity we were able to maintain throughout. We have also continued to evolve our press, outlet, attacking circle entry and individual defensive assertiveness. We have tested out lots of systems and processes ahead of the 8 Nations next week and we feel like we're in a really good place to compete in what should be fantastic opportunities to help the girls progress."

Friday 1 July: England 1 - 3 Germany

Saturday 2 July: England 1 - 2 Germany

Sunday 3 July: England 2 - 4 Germany

England U18 Girls travelled to Mannheim at the weekend for a 3-match series against Germany. With temperatures at 35 degrees on the pitch, this would provide a taste of what the players might expect in Spain next week for the 8 Nations.

Germany started the first game on the front foot and, despite some positive counterattacking from England, scored their first goal midway through the first half. England worked their way into the game and deservedly equalised via a Minnie Pollock strike from the top of the D. The second half saw Germany apply increased pressure which led to two further field goals. England had chances of their own and finished the match on the front foot, but without reward.

Saturday's match was the epitome of a game of two halves. Germany started the stronger team, racing into a 2-goal lead early in the 2nd quarter - a lead that could have been greater were it not for some exceptional work from England goalkeepers Dora Savory and Molly Smith. After half-time it was a different story, with England creating most of the chances. However, it wasn't until the 58th minute that Alice Atkinson found the back of the net, following a cross from Lottie Bingham. England increased the pressure again and were unlucky not to convert further chances in the dying seconds.

In contrast to the previous game, it was England who applied the early pressure in the final match, but found themselves 1-0 down against the run of play. The remainder of the first half was evenly competitive, but it was Germany who found the net again to go in 2-0 at the break. England started the second half determined to address the scoreline and succeeded with two well-taken goals. The first saw Alice Atkinson slide the ball from the top of the D through to Lottie Bingham who slipped it past the GK into the net. Five minutes later, Lottie turned provider as her shot from a penalty corner was turned in by Chloe Plumb. With England pushing for the win, Germany converted a breakaway to make the score 3-2. England replaced their GK with an outfield player, but it was Germany who took advantage to score a fourth goal.

Head Coach Lisa Letchford said: "This weekend has been another positive forward step. Individuals are repeatedly showing their super-strengths and our team performance grows match on match. Key for us now is how we maintain the intensity of international hockey to play the style of hockey we are developing."