England Age Group Squads In Action Against Scotland, Belgium, France & the Netherlands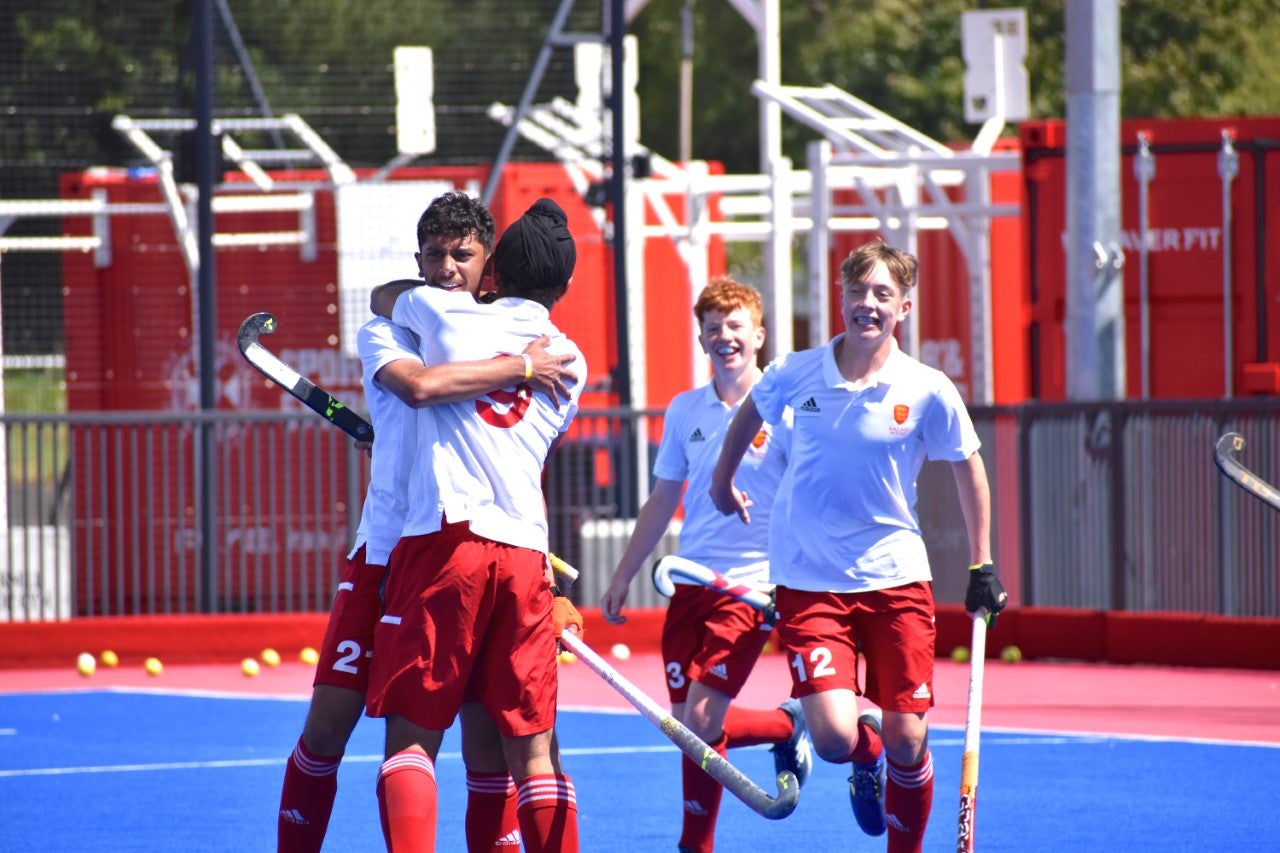 England U16 Boys and Girls played two matches apiece against their Scottish counterparts at Peffermill this weekend.
Meanwhile, England U18 Boys travelled to Belgium for two matches against Belgium and England U18 Girls travelled to France for a series of matches against France, Belgium and the Netherlands.
Saturday 25 June: England 1 - 0 Scotland

Saturday 26 June: England 9 - 1 Scotland

England U16 boys travelled to Peffermill in Edinburgh for a two-game series just after the majority had finished their end-of-year exams.

The first game was a tight encounter with neither side willing to give an inch. Jakhu broke the deadlock with a short corner goal on quarter-time. Some good defence and high quality saves from both sides saw the entertaining game finish 1-0.

The second game was a much more fluid attacking affair with England scoring quickly and regularly throughout the game. England were able to convert a number of chances, with Harvey and Hanson scoring two goals each as England ran out winners 9-1.

Head Coach Jimmy Culnane commented on the weekend: "The boys are learning the game at the International level and realising that there are fine margins. At times they play some brilliant hockey and their challenge is to keep the level of quality more consistent during a match. It was another important series in their development as international hockey players."

The boys now host Germany in a three-game series next weekend at the University of Warwick.

Saturday 25 June: England 6 - 0 Scotland

Sunday 26 June: England 8 - 2 Scotland

England's team featured several players who were competing in an international away fixture for the first time. Despite the inevitable nerves, England produced a strong, and very consistent, display, scoring goals in each of the four quarters and conceding very few opportunities to a physical and well-drilled Emerging Girls squad.

England pressed exceptionally well throughout the match, winning lots of possession high-up the field which enabled them to effect 65 25-entries and 33 shots overall. England were 3-0 up at half-time. England's second half performance was disciplined and effective – Scotland were restricted to just three shots. In contrast, England won seven further penalty corners and continued to dominate the game. The match finished 6-0 to England. Goals were scored by Rees, Hippe (2), Gillgrass (2) and Hunt.

Sunday's match was very different but equally impressive. Rather than quality pressing, in this match England showed some incisive use of the ball and excellent small unit play. England went ahead early and soon stretched their lead. England demonstrated some excellent passing moves which Scotland struggled to contain, although there were also some careless errors which afforded opportunities to the home side – scoring one in each half. England continued their dominance in the second half. Both teams struggled with the humidity in the second half and the game lost a little physical intensity. Nonetheless, England retained their defensive discipline and ensured the result of the game was never in doubt. Goals were scored by Jury, Hunt (2), C Watkins, Alexander (2), Rees and Gillgrass.

Each match was followed by a shoot-out, which was won by England on Saturday and Scotland on Sunday.

Don Vinson, Head Coach, said: "This weekend was an excellent opportunity to play against a passionate and well-organized international team. We were particularly pleased to score so many goals from near-to-goal deflections following well-worked build-up play, which is something we've been working on over the last couple of months. It was also great to see the girls solve some of the problems Scotland set us with their press and so show both creativity and coachability. We are looking forward to taking these gains into the next set of matches away in Germany."

Saturday 25 June: England 1 - 3 Belgium

Sunday 26 June: England 1 - 4 Belgium

England looked to start on the front foot and were able to enjoy a spell of possession early in the first game. The opening goal of the game was scored by Belgium from a penalty corner in the first quarter. England rallied in the second quarter but were unable to create any chances of note but they defended well when Belgium probed with some threatening aerial passes and went into half time 1-0 down. Belgium kept up their intensity in the third quarter and scored a second goal from open play. Belgium added a third goal with another drag flick late in the quarter. England rallied in the fourth quarter though and enjoyed good spells of possession and created their best chances of the game. Their efforts were rewarded late in the game when Harvey Edwards slapped in after good build up play. England finished the game stronger but were unable to add to their tally.

England started Sunday's game well and looked the fresher side as they maintained good spells of possession but were unable to carve out any clear-cut chances in the first quarter. Belgium eventually found their feet though and took the lead in the second quarter when scooping in from close range. Belgium doubled their lead with a penalty corner to finish off the half. England looked to take a more attacking approach in the third quarter but again were unable to find the net despite going close after some good build-up play. England kept pushing numbers forward but were hit on the counterattack to end the quarter 3-0 down. In similar fashion to yesterday, England played their best hockey in the fourth quarter with some good link play from defence into attack leading to large spells of sustained pressure around the Belgian circle. Belgium's chances were now restricted to counterattacks, but they took their opportunity when scoring their fourth from a well taken penalty corner. England still had enough left in the tank to push forward though and Joe Cotton finished well after a goalmouth scramble to get England on the scoreboard. Despite battling until the final whistle, England were unable to find another goal and the game ended 4-1.

Head Coach Mark Bateman commented: "This weekend was a tough lesson for the lads about the fine margins of international hockey. For large spells we pressured Belgium but small mistakes and lapses in concentration will cost you at this level and were ultimately our undoing. We will get back to work this weekend though and look to take these lessons into our upcoming series against Germany, who will provide another good test for the team."

U18 player Dan Hamilton commented: "Over the weekend the boys demonstrated passion and determination against a tough opposition. We had some good passages of play, adhering to our gold standard principles of attacking. Additionally, the defensive work rate coupled with the constant diligence of defending on the forehand showed that we can compete 1v1 with the best teams. We have learnt some valuable lessons which we will take forward to the upcoming Germany series and then onto the 8 Nations in July."

Friday 24 June: France 1 - 6 England

Saturday 25 June: England 0 - 0 Belgium

Sunday 26 June: England 0 - 8 The Netherlands

England U18 Girls travelled to Le Touquet at the weekend for the first of their three overseas camps and tournaments taking place over the coming weeks. The opposition teams for this weekend were France, Belgium & The Netherlands.

England's first match was against their hosts. Despite playing at the end of a day's travel, England were on the front foot from the start, scoring 4 unopposed goals in the 1st half, and eventually winning 6-1, with Star Horlock scoring 2 and Lily Beer, Chloe Plumb, Sienna Dunn and Lottie Bingham all on the scoresheet.

The 2nd match against Belgium was a rematch of a fixture played at Easter which had ended 3-0 for Belgium. This was quite a different game which saw England competing well and which, despite the score line, involved a number of chances for both sides.

Following on from the progress seen in the first 2 games, the final match against The Netherlands was, from the perspective of the final score, disappointing. However the score failed to reflect much of the balance of play with England holding their own throughout the match and creating a series of chances of their own. The key difference was in the quality of the Dutch finishing, which was ruthless.

Head coach, Lisa Letchford, said: "It was very pleasing to see the progression since Easter, and also to see the growth in team cohesion."