England Proud To Support #OrangeForImran on Sunday 5 June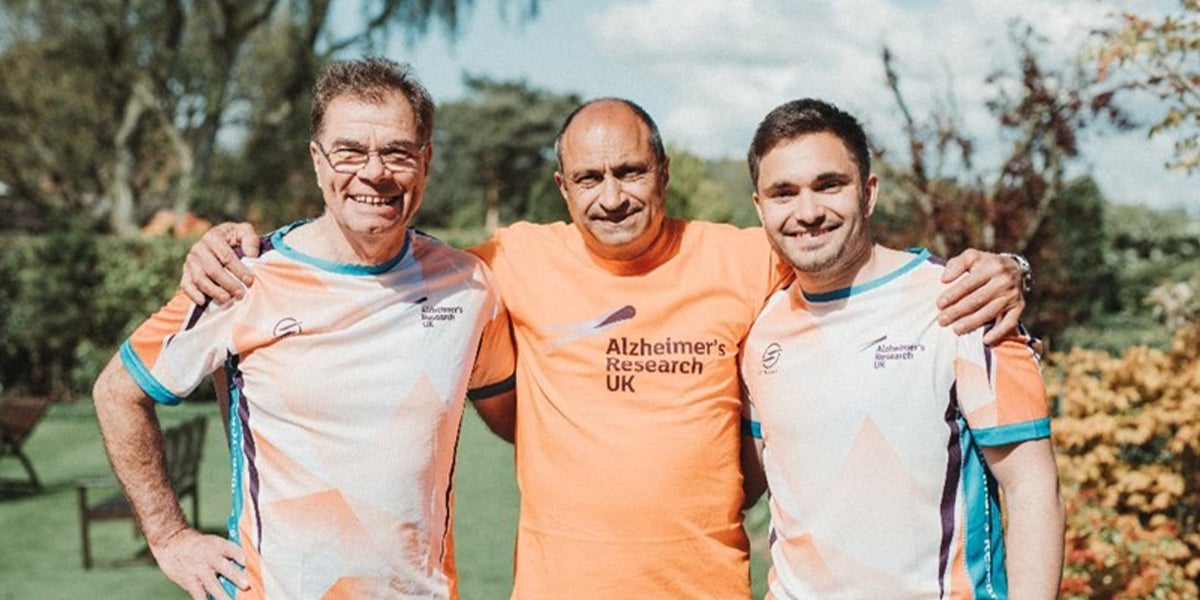 England Hockey are pleased to announce a range of activity supporting Alzheimer's Research UK at the upcoming FIH Hockey Pro League home games against the Netherlands on Sunday 5 June.
Seoul 1988 hockey gold medal winner Imran Sherwani was very sadly diagnosed with Alzheimer's disease in 2019, and we are pleased to be able to offer our support for such a worthy cause.
Imran wore the number 15 shirt in his career, and with orange as the designated colour of Alzheimer's Research UK, the charity will distribute clappers to turn the stadium orange in the 15th minute as part of #OrangeForImran. Turning the stadium orange against the Netherlands – themselves famous for wearing that colour – marks a significant statement from all of us in the hockey family in support of this cause. #OrangeForImran will take place at the start of the second quarter in both the men's and women's matches on the day.
In addition, England's men's team will be wearing the Alzheimer's Research UK logo on their playing shirts to mark Imran's standing as a legend of British men's hockey for his success on the pitch and also his bravery off it.
Imran secured his status as a hockey legend with two goals in the Seoul '88 Olympic final against Germany, and he also scored twice in the '86 World Cup as England went all the way to the final. At club level he shone for North Stafford, Stourport, Stone and Leek before becoming Director of Hockey at Denstone College. He was a torch bearer for the London 2012 Olympics and remains a true inspiration to the hockey community.
The charity will have significant presence around Lee Valley Hockey and Tennis Centre for both the men's and women's games; including perimeter boards, interview backdrops and video screen announcements.
#OrangeForImran has come about thanks to Imran's former team-mate and fellow gold medallist Steve Batchelor who led a team of runners at last year's London Marathon raising money for dementia research in his honour.
Supporters can donate now via the team's fundraising page – www.justgiving.com/team/GoingforGold-LondonMarathon-ARUK – or by using the text to donate instructions on the day.
Imran said: "I'm delighted that England Hockey is supporting Alzheimer's Research UK at these matches. I'm looking forward to attending the event and seeing some exciting action, and I know the supporters will get behind this important cause.
"Having Alzheimer's is difficult, but I try to stay positive. The support I've received from the hockey community since I announced my diagnosis last year has helped so much. It's wonderful to know that so many people are still inspired by what we achieved in Seoul 34 years ago."
England Hockey Chief Executive Nick Pink said: "It is an honour for us to be able to help Alzheimer's Research UK in this way. Imran is an inspiration to all of us at England Hockey for the way he is fighting against this terrible disease. Imran's contribution to hockey on and off the field of play has been significant, and the image of his 1988 Seoul celebrations will always go down as one of the Olympic moments of the last 40 years.
"I look forward to welcoming both Imran and his family on the day, and turning Lee Valley Hockey and Tennis Centre orange while playing against the Dutch is an opportunity for us to show just how much we as a hockey community support him."
Current England and Great Britain international James Galled said: "The squad were unanimous in our decision to do what we could to show our support for Alzheimer's Research UK and Imran. He is undeniably a legend of British hockey and we know that the hockey family will come together to show our collective support.
"The team hope that by wearing the Alzheimer's Research UK logo on our match shirts we can help generate as much exposure and awareness as possible for such a worthy cause.
"It's set to be a great occasion for hockey and we will do our best to provide plenty of opportunities for fans to use the orange clappers to celebrate England goals!"
Kelly Holliday, Sporting Events Manager at Alzheimer's Research UK, added: "We are so grateful to England Hockey for honouring Imran and supporting vital dementia research through the #OrangeforImran campaign.
"We can't wait to watch the action, experience the atmosphere, and see the players and the fans show their support to a true hockey great.
"Imran is one of nearly one million people throughout the UK living with dementia. In the UK today, there are no treatments to stop or slow the diseases that cause dementia, such as Alzheimer's disease, but by supporting research we will make breakthroughs that will keep people connected to their families, their worlds and themselves for longer."