Medal-Winning Junior Trio Added to Senior Squad for Women's Games in USA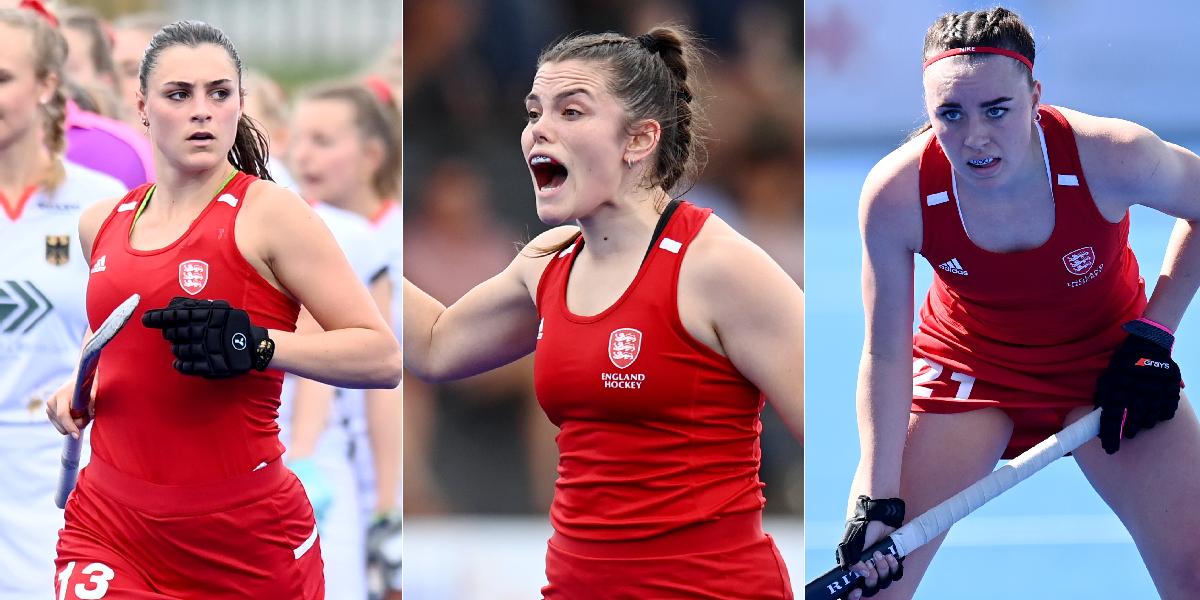 Three players from England's bronze medal-winning Junior World Cup squad have been rewarded with places in the full senior squad for this weekend's FIH Hockey Pro League games away to USA.
The junior team won a first-ever medal in the competition just last week, and their captain Millie Giglio has been selected, along with Lorna Mackenzie and Vicki McCabe. Between them, the trio scored seven of their team's nine goals on the way to medal success.
Also included are Pippa Lock and Lily Walker, who will also be looking to make their senior international debuts. There is also a very welcome return for Tess Howard, who is not being considered to play but will continue her rehabilitation from injury on the trip.
These matches take on extra significance for the squad, with a very busy year of hockey ahead. There is one month to go until England's first home games of the year at Lee Valley Hockey and Tennis Centre, and only 50 days until the huge weekend of hockey against the Netherlands at the Twickenham Stoop. With the Women's World Cup and Commonwealth Games also this summer, every player involved will be keen to showcase their talents in this weekend's matches.
David Ralph's team play two matches at Chapel Hill, North Carolina, and action from both games will be on BT Sport:
Sat 23 Apr, 7pm UK time
USA v England

Sun 24 Apr, 7pm UK time
USA v England
Full squad:
Grace Balsdon – Hampstead & Westminster
Darcy Bourne - Surbiton
Esme Burge – Hampstead & Westminster
Fiona Crackles - Wimbledon
Millie Giglio – University of Birmingham
Olivia Hamilton – Loughborough Students
Sophie Hamilton - Surbiton
Sabbie Heesh (GK) - Surbiton
Holly Hunt – Hampstead & Westminster
Alex Malzer – East Grinstead
Lizzie Neal - Canterbury
Pippa Lock – University of Birmingham
Lorna Mackenzie – Loughborough University
Vicki McCabe – Team Bath Buccaneers
Hollie Pearne-Webb (C) - Wimbledon
Izzy Petter – Loughborough Students
Miriam Pritchard - Hampstead & Westminster
Ellie Rayer – East Grinstead
Martha Taylor – University of Exeter
Lily Walker – University of Birmingham
Laura Unsworth – East Grinstead
Travelling for rehab:
Tess Howard – East Grinstead
FIH Hockey Pro League fixtures:
Sat 23 Apr - USA v England (W), 7pm, Chapel Hill, NC
Sun 24 Apr - USA v England (W), 7pm, Chapel Hill, NC
Wed 4 May - Germany v England (M+W), SparkassenPark, Moenchengladbach
Thu 5 May - Germany v England (M+W), SparkassenPark, Moenchengladbach
Sat 21 May - England v France (M) 1pm, England v China (W) 3:30pm, Lee Valley HTC
Sun 22 May - England v France (M) 12pm, England v China (W) 2:30pm, Lee Valley HTC
Sat 28 May - England v South Africa (M) 12pm, England v Spain (W) 2:30pm, Lee Valley HTC
Sun 29 May - England v South Africa (M) 12pm, England v Spain (W) 2:30pm, Lee Valley HTC
Sat 4 Jun - England v Netherlands (W&M), 2pm & 4:30pm, Twickenham Stoop
Sun 5 Jun - England v Netherlands (W&M), 1pm & 3:30pm, Twickenham Stoop
Sat 18 Jun - England v Belgium (W&M), 2pm & 4:30pm, Lee Valley HTC
Sun 19 Jun - England v Belgium (W&M), 1pm & 3:30pm, Lee Valley HTC
Tickets are on sale now for all home games. Use the Hockey family discount code 'HF2022' to save up to 20%. But hurry - the discount closes on Sunday 1 May. Visit https://hockey.seetickets.com/