England Come Out On Top Against Belgium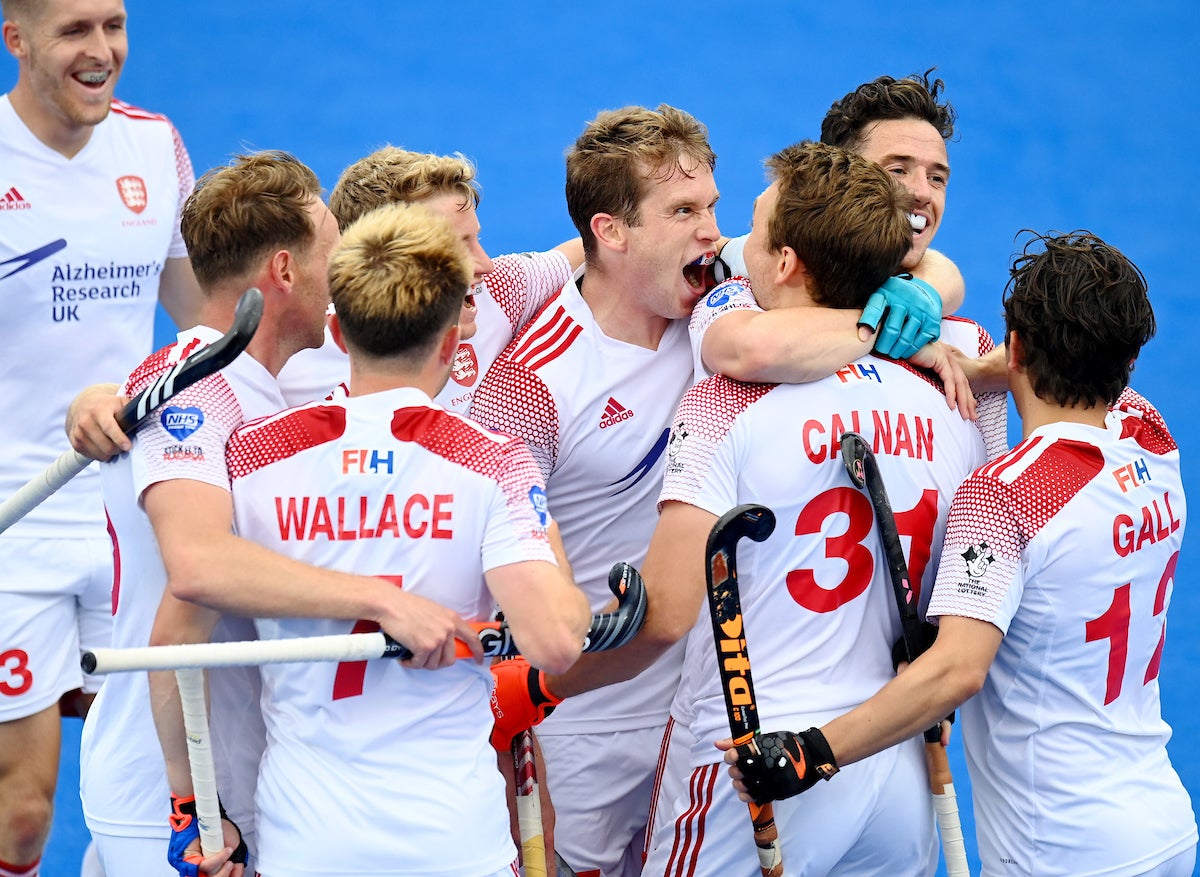 England 2
Calnan (22' 32' FGs)
Belgium 2
de Sloover (33' FG); Hendrickx (59' PC)
England win shootout 3-0 to earn bonus point
England came out on top against World and Olympic Champions Belgium in a brilliant match in London in the FIH Hockey Pro League.
Two superb goals from Will Calnan put England in front, and although a beauty from Arthur de Sloover and a last-minute corner from Arthur Hendrickx gave both sides a point in normal time, it was England who prevailed 3-0 in the shootour to win the bonus point.
The match had everything – brilliant goals, great goalkeeping and end-to-action action between two sides committed to attacking. And the result sets up a superb rematch when the two sides do battle again at Lee Valley Hockey and Tennis Centre on Sunday.
England: Payne (GK), Creed, Albery (C), Gall, Nurse, Wallace, Rushmere, Roper, Calnan, Ansell, Bandurak
Subs (Used): Griffiths, Sloan, Ward, Goodfield, Condon, Smith
Sub (Unused): Mazarelo (GK)
Match report
It was England who had slighty more momentum in the first quarter, Nick Bandurak testing Loic Van Doren in the Belgian goal from a penalty corner. The home side were unlucky not to win another corner when a Belgian player seemed to deliberately play the ball off the backline, while England also saw a penalty stroke awarded in their favour but overturned on referral.
The English continued their pressure as the second period got underway, and with 22 minutes gone Will Calnan produced a brilliant goal. Stuart Rushmere did well to set him up inside the D, although in truth it was barely even a half chance as Calnan spun superbly to leather it into the ground and into the Belgian net in a flash.
Belgium looked to get back on level terms, and firstly Ollie Payne brilliantly kept out Florent van Aubel's deft deflection. Then Nicolas de Kerpel look sure to score but again Payne saved. As the rebound fell to de Kerpel, he went to ground but the on-field umpire saw nothing wrong, as did the video umpire.
If Calnan's first goal was good, his second was equally impressive as Chris Griffiths found him inside the D following a lovely run; Calnan unleashing a superb strike into the next for 2-0.
But before England even had time to draw breath, Belgium scored a wondergoal of their own, Arthur de Sloover smashing home on the reverse high into the net; no chance for Payne in the England goal.
It was a high-quality encounter and a really good advert for the level of play on show in the FIH Hockey Pro League.
The final quarter had everything; Liam Ansell looked certain to score but his effort inadvertently hit the umpire – thankfully he was OK and the effort appeared to be going wide in any event. Belgium had a series of corners that were kept out, while Payne made another brilliant save and then James Gall got a superb stick just before Belgium looked sure to score.
With less than a minute to go Belgium won another corner that was lashed home by Alexander Hendrickx to make it 2-2, and on the balance of play it certainly felt like a goal was coming. Incredibly England still almost snatched it with two seconds left as a clever deflection was inches away from Bandurak.
So it was a point apiece, and in the shootout for the bonus point England got on top straight away and never looked back. Payne was superb in the English goal, saving two and forcing another Belgian effort onto the post, while Phil Roper, James Albery and Ansell all made sure for the home side.
That concluded a great game, sending a packed crowd home with a real spring in irstep and setting up a mouthwatering rematch on Sunday afternoon.
Shootout details:
BEL 0-0 ENG Boccard - saved
BEL 0-1 ENG Roper - scored
BEL 0-1 ENG de Sloover - missed
BEL 0-2 ENG Albery - scored
BEL 0-2 ENG Wegnez - saved
BEL 0-3 ENG Ansell - scored