Players taken forward from Performance Centre Challenge Cup to England Age Group Assessment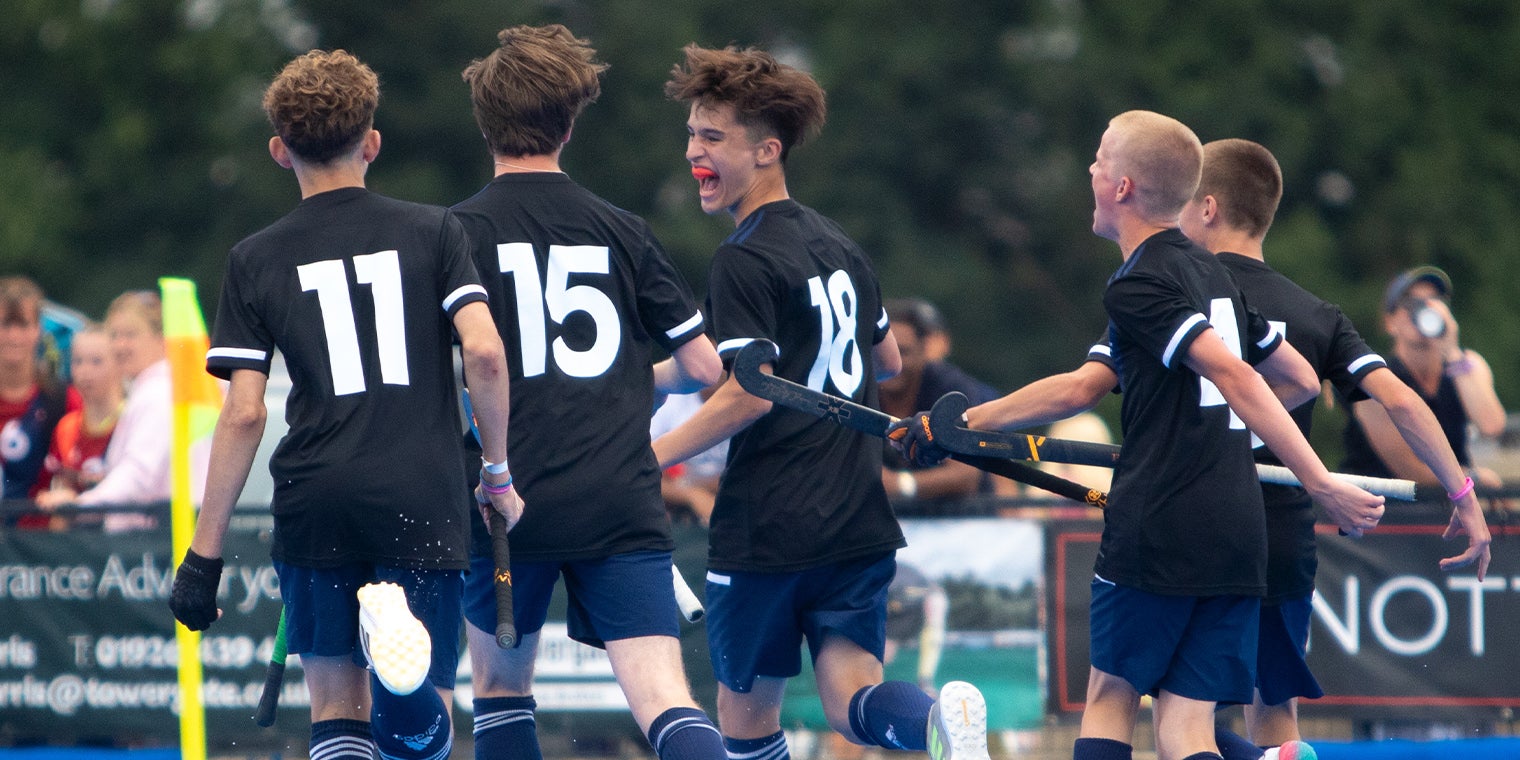 After a fantastic Performance Centre Challenge Cup event in Nottingham in July, England Hockey would like to thank everyone who played, supported, coached, volunteered, umpired, officiated and hosted over 1100 young players. We hope that all players have enjoyed the experience, soaking up the atmosphere and making memories with their squads.
After a rigorous selection process by England Age Group coaches and a team of scouts, including watching all games, an individualised goalkeeper selection process and detailed conversations with Performance Centre coaches, the England Hockey Age Group management teams have selected players to be taken forward from the PC Challenge Cup to the initial phase of assessment for the England U16 and U18 teams.
It has been a highly competitive process and the coaches would like to emphasise how much thought and time has gone into the process, with every player and every squad given time and consideration.
All other players from Performance Centres have been invited to a Talent Academy trial. In the new Talent System, the process for England Age Group selection has become more fluid, continuous and open. Players who do not go forward now, or after the initial assessment phase, will continue to develop in their club, school or Talent Academy environments. Talent Academies will be a fantastic place for players to develop. Talent Academy coaches will remain in regular contact with England Age Group coaches and will discuss players who demonstrate considerable development. Open nominations will continue as a route for players in other environments to progress, if appropriate.
The following players will be taken forward and will be joined by players from these alternative routes:
Selected PC Challenge Cup Non-Attendees, at the discretion of PC Head Coaches and England Age Group Head Coaches
Eligible players nominated by coaches via the Open Nominations process
Current England Age Group players, at the discretion of England Age Group coaches
All these players will receive a call up letter via email in the week commencing 15 August.
The England Age Group initial assessment phase dates are listed below. Players should keep all these dates free for now, although they may not be invited to all dates. Locations will be confirmed in the call up letter.
| | | |
| --- | --- | --- |
| 10-11 September | Assessment - Initial Phase | U18 Boys |
| 10-11 September | Assessment - Initial Phase | U18 Girls |
| 17-18 September | Assessment - Initial Phase | U16 Boys |
| 17-18 September | Assessment - Initial Phase | U16 Girls |
| 24 September | Assessment - Initial Phase | U18 Boys |
| 25 September | Assessment - Initial Phase | U18 Girls |
| 01 October | Assessment - Initial Phase | U16 Boys |
| 02 October | Assessment - Initial Phase | U16 Girls |
| | | | |
| --- | --- | --- | --- |
| Number | Name | Surname | Performance Centre |
| 1 | Emily | Barrett | Tonbridge |
| 2 | Mollie | Beeton | South Midlands |
| 3 | Boadicea | Cannon | Tonbridge |
| 4 | Georgia | Carroll | Manchester |
| 5 | Hannah | Cutler | Durham |
| 6 | Siobhan | Daley | Northwood |
| 7 | Francesca | Davies | Manchester |
| 8 | Jazzy | Finney | Southampton |
| 9 | Gemma | Footit | Guildford |
| 10 | Evie | Grindal | East Midlands |
| 11 | Talya | Harvey | Tonbridge |
| 12 | Isabel | Hinde-Smith | East Midlands |
| 13 | Lilly | Holmes | Taunton |
| 14 | Emma | Howitt | Bristol |
| 15 | Carys | Isherwood | Guildford |
| 16 | Mia | James | Reading |
| 17 | Kiran | Kaur | Southampton |
| 18 | Shakila | Keable | Weybridge |
| 19 | Isabella | Key | Guildford |
| 20 | Molly | Lincoln | Northwood |
| 21 | Ruby | Massey | Tonbridge |
| 22 | Biba | Mills | Tonbridge |
| 23 | Laila | Moledina | Taunton |
| 24 | Cecily | Moorhead | Guildford |
| 25 | India | North | Bury |
| 26 | Meg | Parry | Guildford |
| 27 | Jasmine | Porter | Taunton |
| 28 | Tilly | Rose | Fylde |
| 29 | Hannah | Saxton | East Midlands |
| 30 | Darcy | Shields | Bristol |
| 31 | Hannah | Simms | Manchester |
| 32 | Lucy | Stephens | Weybridge |
| 33 | Jess | Thompson | Guildford |
| 34 | Lucy | Walton | Bury |
| 35 | Charly | Warren | Weybridge |
| 36 | Martha | Wong | East Midlands |
| 37 | Evie | Younger | Bury |

| | | | |
| --- | --- | --- | --- |
| Number | Name | Surname | Performance Centre |
| 1 | Will | Barber | Weybridge |
| 2 | Ben | Barnett | Taunton |
| 3 | Ollie | Bennett | Tonbridge |
| 4 | Oscar | Britt | Northwood |
| 5 | Finlay | Caie | Bristol |
| 6 | Archie | Chapman-Sheath | Southampton |
| 7 | Angus | Crawford | Tonbridge |
| 8 | Isaac | Dale | Tonbridge |
| 9 | Freddie | Davies | Manchester |
| 10 | Izi | Duck | Northwood |
| 11 | Reuben | Edwards | Bristol |
| 12 | Ollie | Foot | Northwood |
| 13 | Seb | Friessner-Day | Bristol |
| 14 | Matthew | Haines | Guildford |
| 15 | Charlie | Harrison | Tonbridge |
| 16 | Moritz | Hippe | Tonbridge |
| 17 | Charlie | Hoad | Southampton |
| 18 | Jake | Holland | Manchester |
| 19 | Oliver | Horsler | South Midlands |
| 20 | Louis | Jordan | Weybridge |
| 21 | Alex | Jourdan | Guildford |
| 22 | Elliott | Kirkpatrick | Bury |
| 23 | Julian | Laird | Reading |
| 24 | Ben | Mayes | Southampton |
| 25 | Jack | McAuliffe | Fylde |
| 26 | Tom | Mead | Weybridge |
| 27 | Max | Mowbray | Durham |
| 28 | Toby | Morris | Manchester |
| 29 | Seb | Mortimer | Durham |
| 30 | Oliver | Oke | Reading |
| 31 | Freddy | Pettifer | Tonbridge |
| 32 | Louis | Powell | Guildford |
| 33 | Alex | Prada | Guildford |
| 34 | Marco | Riley | Northwood |
| 35 | Lucas | Smart | Northwood |
| 36 | Jack | Stamp | East Midlands |
| 37 | Oli | Stone | Weybridge |
| 38 | Nathan | Sumner | Tonbridge |
| 39 | Kyle | Turnbull | Guildford |
| 40 | Cameron | Wallace | Taunton |
| 41 | Conor | Yap | Weybridge |

| | | | |
| --- | --- | --- | --- |
| Number | Name | Surname | Performance Centre |
| 1 | Issy | Baileff | Guildford |
| 2 | Libby | Ball | East Midlands |
| 3 | Poppy | Barlow | East Midlands |
| 4 | Beau | Barrington-Hibbert | Tonbridge |
| 5 | Lena | Brewer | Bristol |
| 6 | Annabel | Cheveley | Tonbridge |
| 7 | Laura | Cottee | Durham |
| 8 | Sophie | Fletcher | Manchester |
| 9 | Rebecca | Hennessy | Manchester |
| 10 | Lotty | Hobson | Northwood |
| 11 | Pip | Jowett | East Midlands |
| 12 | Jessica | Lewis | Tonbridge |
| 13 | Pru | Lindsey | Fylde |
| 14 | Evie | Phillips | South Midlands |
| 15 | Leila | Scott | South Midlands |
| 16 | Maddison | Scott | Reading |
| 17 | Tilly | Standen-McDougal | Taunton |
| 18 | Jessica | Tuff | Northwood |
| 19 | Sophie | Watts | Bury |
| 20 | Kat | Xenoudakis | Weybridge |

| | | | |
| --- | --- | --- | --- |
| Number | Name | Surname | Performance Centre |
| 1 | Jack | Addison | Durham |
| 2 | Ehsan | Anwar-Khan | Guildford |
| 3 | Liam | Barker | East Midlands |
| 4 | Archie | Crowley | Northwood |
| 5 | Charlie | Davis | East Midlands |
| 6 | Vivek | Dongha | Northwood |
| 7 | Sammy | Dowds | Guildford |
| 8 | Oscar | Edwards | Bristol |
| 9 | Jake | Edwards | Bristol |
| 10 | Will | Gravestock | Weybridge |
| 11 | Will | Marshall | Weybridge |
| 12 | Monty | Neave | Reading |
| 13 | Femi | Owolade-Coombe | Tonbridge |
| 14 | Manveer | Sokhi | South Midlands |
| 15 | Sam | Stevens | Bristol |
| 16 | Jack | Webb | Tonbridge |
| 17 | Jack | Webb | Bristol |
| 18 | Khai-Wei | Wong | Southampton |