Surbiton HC Brings Free Schools Coaching to Local Community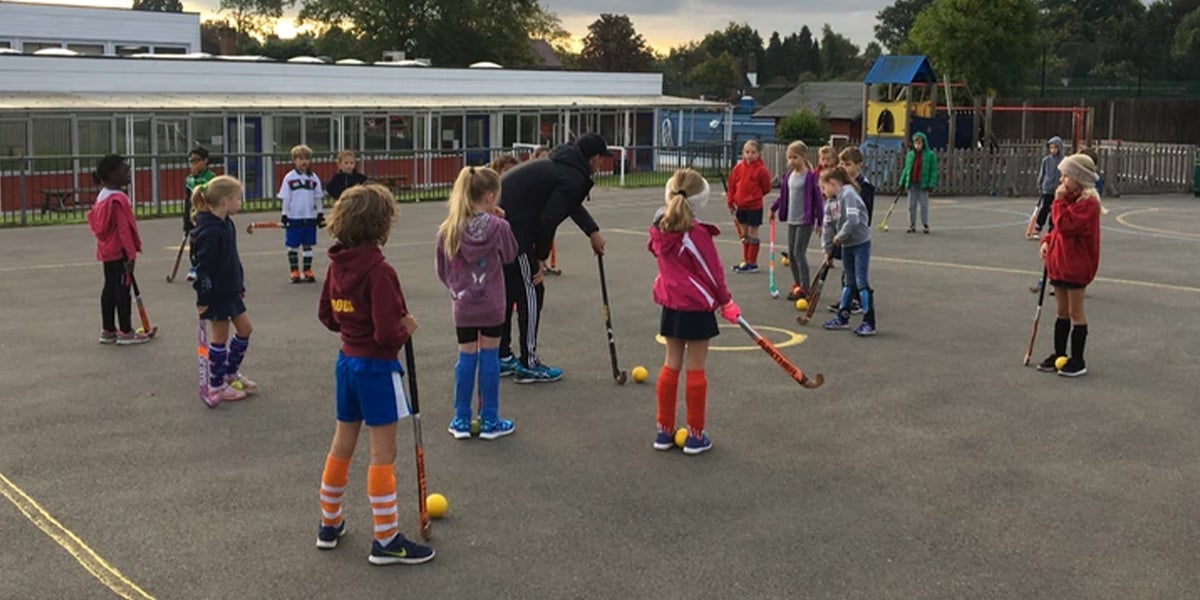 Throughout March Surbiton Hockey Club (SHC) successfully rolled out a community programme providing free specialist hockey coaching to schools in the local area.
When children went back to PE lessons and playgrounds as part of the nationwide return to schools on Monday 8th March, Surbiton HC had a similar feeling to the one experienced at the start of the second lockdown in November: glad that some children would be able to play hockey and other sports, but acutely aware that many young people would be continuing to face limited access to the well-known benefits of physical activity.
For a sport like hockey, this gap is even more acute. The equipment and space requirements, and in some cases the lack of coaching expertise, meant that many hockey players (and particularly those in state education) would be missing out on another month of hockey while waiting for the grassroots return to play at their clubs.
Surbiton HC were keen to do something about this! Building on the longer-term success of the SHC Community Projects initiative, they developed and delivered an ambitious idea to offer free coaching to schoolchildren in Kingston & Elmbridge (the local boroughs) through PE lessons and extra-curricular clubs.
Over the course of the three and a half weeks between the full return to schools and the Easter holidays, Surbiton HC delivered over 130 hours of coaching to around 1600 children.
Sugden Road Sports Trust
This is all part of a bigger drive to improve access to hockey, but Surbiton HCs work in this area isn't as widely known as you might expect for a project so extensive. 'Suburban Hockey' – the original trading name of the registered charity Sugden Road Sports Trust – was established in 2012 and as the programme has expanded the local work has been renamed SHC Community Projects, while also working in South East London as Southwark Tigers and Honor Oak Panthers. Since starting out, coaching has been delivered to over 25,000 children.
The charity has a simple aim: increase participation in hockey. This primarily happens through a large-scale programme of free and subsidised hockey coaching in local schools, many of which have very little access to organised school sport and includes a large percentage of children from lower socio-economic backgrounds.
The long term ambition is to help schools build sustainable programmes where extra-curricular hockey clubs can help to fund ongoing hockey provision in curricular time. In addition to this, Surbiton HC know that opportunities for children to access gameplay can be particularly limited in state schools, they are aiming to create more fixtures, tournaments and festivals to run alongside programmes in each school.
Surbiton HC believes hockey should be accessible to all, but they also recognise the challenges facing many schools and children in getting a sustainable hockey programme up and running.
Improving diversity and access to the game are being highlighted more and more, and by working together they are sure programmes like theirs can continue to grow and spread.
Surbiton HC would like to connect with other clubs who may already be running similar programmes or are considering starting one to share experiences and to learn from each other, please contact communitySHC@gmail.com
Are you doing amazing work in the community? Share your story with stories@englandhockey.co.uk