Women's Squad Named for World Cup, Commonwealth Games & Euro Qualifiers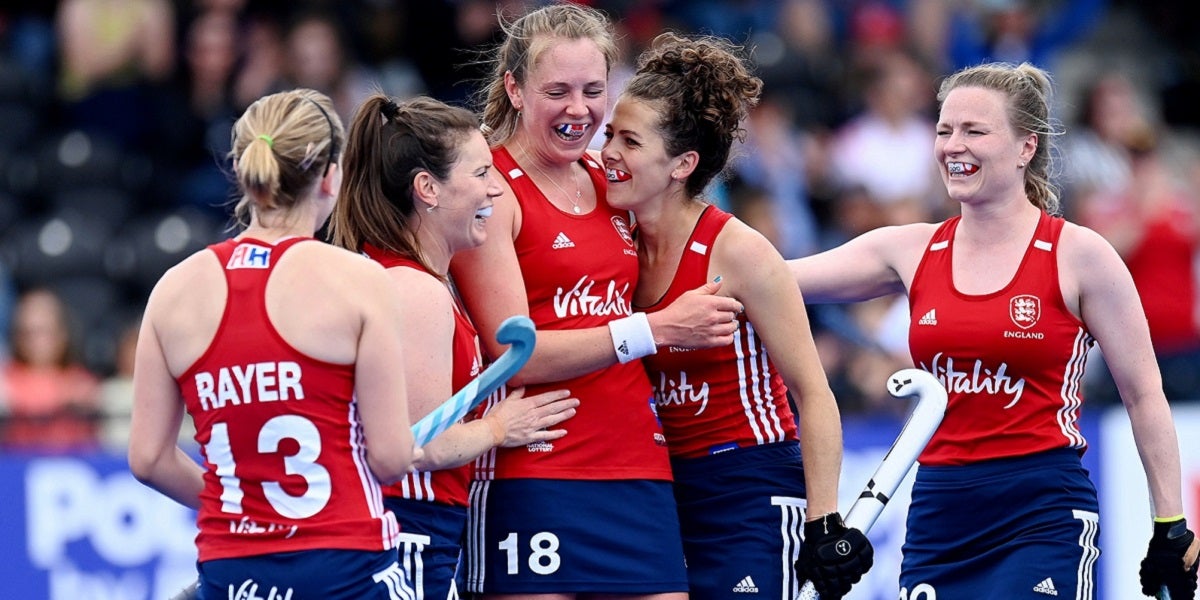 England's women have confirmed their squad for three major events this summer; the FIH Hockey Women's World Cup in the Netherlands & Spain, the Commonwealth Games in Birmingham and the EuroHockey Championship Qualifiers in Durham.
With three tournaments in the space of nine weeks, Head Coach David Ralph has selected 18 athletes and two reserves to represent England across an unprecedented summer of hockey.
The squad contains four youngsters who have been selected for their first major international tournaments – Sophie Hamilton, Holly Hunt, Flora Peel and Lily Walker. At 20, Walker is the youngest in the group and only made her international debut in April of this year.
Twelve of the squad represented Great Britain at last summer's Olympics in Tokyo. With three Olympic medals to her name, Laura Unsworth is the squad's most-capped player and is set to make her 300th international appearance this summer. Captain Hollie Pearne-Webb and fellow double Olympians Giselle Ansley, Maddie Hinch and Lily Owsley each have more than 100 England caps to their name.
Still aged just 21 and 22 respectively, Izzy Petter and Fiona Crackles come into this summer with strong tournament experience, having won bronze with Team GB in Tokyo. Tess Howard is back after an injury sadly forced her to miss major events throughout 2021.
Young reserves Darcy Bourne and Lizzie Neal play an important role at the Hockey Women's World Cup as they travel and train with the squad for the entirety of that event.
Surbiton Hockey Club have four representatives in the 18-strong squad, while three East Grinstead players have been selected.
| | | |
| --- | --- | --- |
| | Caps | Goals |
| Giselle Ansley – HGC | 103 ENG, 78 GB | 17 ENG, 10 GB |
| Grace Balsdon – Hampstead & Westminster | 52 ENG, 48 GB | 9 ENG, 7 GB |
| Fiona Crackles – Wimbledon | 17 ENG, 16 GB | |
| Sophie Hamilton – Surbiton | 10 ENG, 4 GB | 1 ENG |
| Sabbie Heesh (GK) – Surbiton | 8 ENG, 18 GB | |
| Maddie Hinch (GK) – HC Tilburg | 101 ENG, 68 GB | |
| Tess Howard – East Grinstead | 11 ENG, 33 GB | 2 ENG, 7 GB |
| Holly Hunt – Hampstead & Westminster | 10 ENG, 2 GB | 1 GB |
| Hannah Martin – Surbiton | 50 ENG, 45 GB | 10 ENG, 10 GB |
| Shona McCallin - HC Oranje-Rood | 44 ENG, 62 GB | 2 ENG, 1 GB |
| Lily Owsley – HDM | 96 ENG, 84 GB | 22 ENG, 19 GB |
| Hollie Pearne-Webb (C) – Wimbledon | 115 ENG, 96 GB | 7 ENG, 4 GB |
| Flora Peel – HDM | 10 ENG | |
| Izzy Petter – Surbiton | 20 ENG, 31 GB | 3 ENG, 4 GB |
| Ellie Rayer – East Grinstead | 46 ENG, 31 GB | 5 ENG, 5 GB |
| Anna Toman – SCHC | 51 ENG, 53 GB | 2 ENG, 6 GB |
| Laura Unsworth – East Grinstead | 160 ENG, 134 GB | 8 ENG, 5 GB |
| Lily Walker – University of Birmingham | 9 ENG | |
| Travelling reserves for World Cup | | |
| Darcy Bourne – Surbiton | 7 ENG | 2 ENG |
| Lizzie Neal – Canterbury | 12 ENG, 22 GB | 2 GB |
*Statistics as of 13 June 2022
Head Coach David Ralph said: "We are delighted to announce the squad of players selected to represent England this summer. Selection is never an easy situation for the players, and I would like to thank all of them for their efforts during the last few months. Despite the challenges we have faced, they have worked hard and supported each other remarkably well. Congratulations to those selected, who now face a really exciting summer ahead. We have an exciting blend of experience and youth, with some great energy and skill within the group and I look forward to seeing this group of players grow together.
"Representing your country at major tournaments is incredibly exciting. We face a great challenge at the World Cup, which we are really looking forward to as the world's top teams come together. Following that we get the unique opportunity to play at home at the 2022 Commonwealth Games in Birmingham, and then the European Qualifiers in Durham in August. Playing at home is always special, we really enjoy playing in front of a home crowd and I am sure that having two tournaments at home will be very special for all of us who are involved.
"It is a pretty unique summer playing in three back-to-back tournaments, we know that it will provide some challenges but it is a summer that we are all really looking forward to."
Performance Director Ed Barney commented: "Following on from the Olympic Games last year, it has been great to see many players pursue different commitments, passions and ambitions over the past nine months. This has provided huge opportunity for our up and coming players to stake their claim for a place over the summer and it has been brilliant to see many of the women cement their place. Alongside this, we know there are some players who've only just missed out and will be well placed come the autumn and 2023 – the future is certainly bright for women's hockey.
"The summer ahead will undoubtedly offer some real excitement and special moments for players and fans alike. I know the squad can't wait to take to the biggest stage at the World Cup, before playing in front of two very special home crowds."
Each of this summer's three events are very exciting in their own right. First up is the World Cup from 1-17 July. England's pool matches against India, New Zealand and China all take place in the Netherlands, and depending on results we could then play knockout games in either Spain or the Netherlands. The final weekend all takes place in Spain to round off one of the biggest events in the global hockey calendar.
Less than two weeks later the team begin their Commonwealth Games bid in Birmingham. All matches are at the University of Birmingham, and we are pooled with Canada, Ghana, India and Wales. Having medalled in all six Games since hockey was introduced, the women's team will be keen to put on their best hockey in front of a vociferous home crowd. Playing a major tournament on home soil is a once-in-a-lifetime opportunity for many hockey players and Birmingham will no doubt put on a great show.
Then on August 25-28 there is more hockey on these shores as the University of Durham hosts vital EuroHockey Championship Qualifiers. With only one team progressing to the top tier EuroHockey Championships in 2023, the matches versus Croatia, Slovakia and particularly against close rivals Wales are a very important part of an unprecedented summer of hockey. England Hockey are delighted to be hosting this event in the north east.
Upcoming fixtures for England's women's team:
Women's Hockey World Cup
Amstelveen, Netherlands and Terrassa, Spain
Sun 3 Jul – England v India, Amstelveen, 3:30pm UK time
Tue 5 Jul – England v New Zealand, Amstelveen, 6:30pm
Thu 7 Jul – England v China, Amstelveen, 3:30pm
9-16 July – Knockout and crossover games, Amstelveen and Terrassa
Sun 17 Jul – Final, Terrassa, 8:30pm
Commonwealth Games
University of Birmingham
For ticket details visit tickets.birmingham2022.com
Sat 30 Jul England v Ghana, 4pm
Sun 31 Jul England v Canada, 7pm
Tue 2 Aug England v India, 2pm
Thu 4 Aug England v Wales, 11am
5-8 Aug Knockout matches
Eurohockey Championship Women's Qualifier
University of Durham
Ticket details to follow
Thu 25 Aug England v Croatia 7:30pm
Sat 27 Aug England v Wales 1pm
Sun 28 Aug England v Slovakia 1pm
With their own World Cup not taking place until early 2023, England's men's team have more time to select their squad for this summer's Commonwealth Games and it will be announced in due course.