England And GB Hockey Announce Midstream As Official Lighting Partner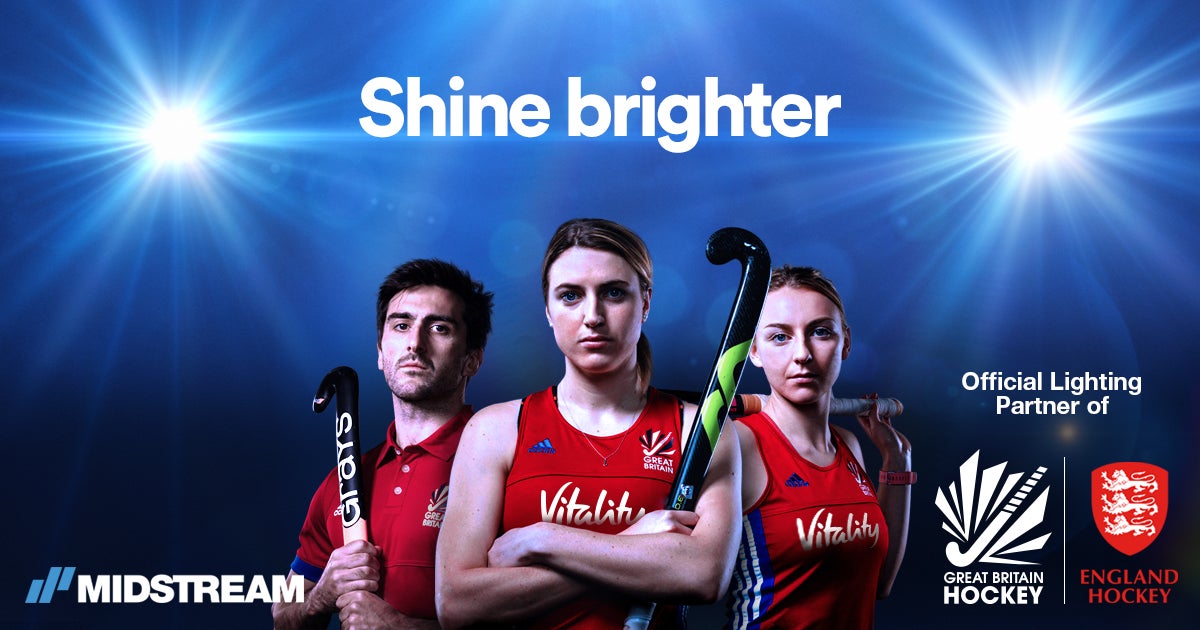 England & GB Hockey are delighted to reveal Midstream as our Official Lighting Partner for the next three years.
Midstream Lighting are a leading, award-winning, global manufacturer of advanced LED high-mast lighting for the aviation, sports, marine, horticulture, and military industries. Based in the U.K. and serving the global marketplace, its products feature cutting-edge LED technology including a proprietary optic lens system & MH support. The company also serves as an innovation hub, working with design consultants and architects to assist with lighting design, from master planning to the detailed design phase that helps transform venues and facilities as well and improve major and critical infrastructure.
Midstream will help support our overall strategy for the future of hockey in our country by: 'Helping every hockey club in the UK work towards having appropriate and sustainable facilities that provide excellent experiences for players'.
To do this Midstream will bring their world-beating lighting solutions message to both hockey clubs and facility owners all over the country with:
Webinars
In-person
Lighting guides
Lighting health checks
Consultation services
Advice on financial support and grants
Lighting designs for their clubs and facilities – all for free
Rich Beer, Development Director at England & GB Hockey, says:
"The provision of quality lighting for hockey pitches is crucial for ensuring that players get to enjoy the game as much, and as safely, as possible. Working with partners such as Midstream helps England Hockey to further their offer to clubs, schools and other facility providers providing the specialist expertise and knowledge required to deliver world class floodlighting."
James Brunt, Director of Sports at Midstream, says:
"In any sport, at any level, a driving ambition is always improvement – whether providing hockey facilities, running a grassroots club, or representing your country at the Olympics. We'll support this by creating an environment in which players, clubs, and facility owners can be their best. Our LED floodlights are the most highly advanced, efficient, and innovative LED hockey floodlighting available. So when players and facilities need to maximise performance, we bring the light that helps them shine brighter."