England Hockey League 2023/24: Weekend 7 Review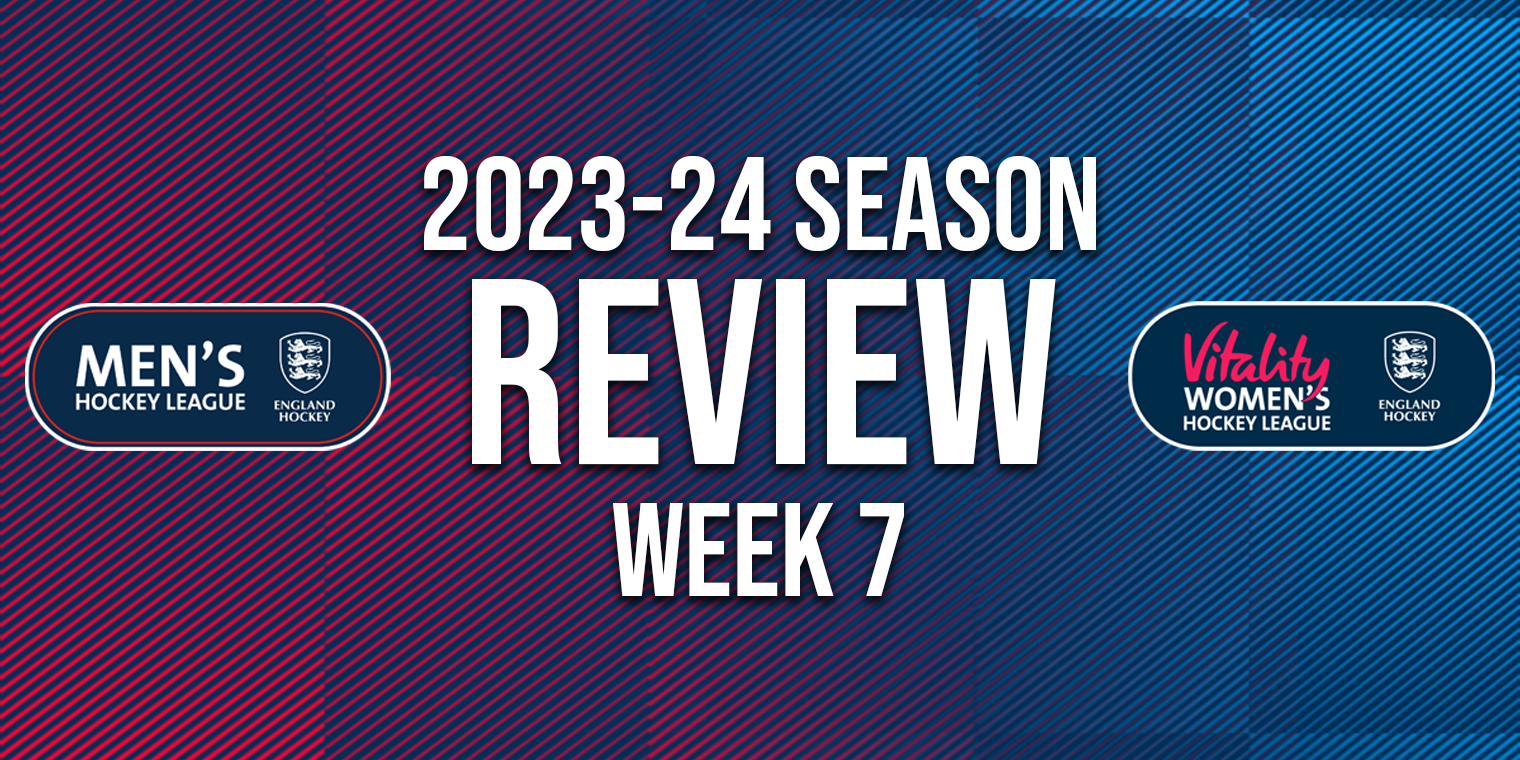 There's a change at the top of Division One South where Richmond take over from Canterbury after winning a nine goal thriller between the teams. The game swung back and forth with Scott Wall hitting a hat trick for Richmond. At 4-4 with only four minutes to go Arjan Drayton-Chana strike proved decisive and takes the West London team two points clear of Canterbury at the top. Exeter University are a point further back after a 4-3 win at Brighton & Hove. Brighton looked like they had earned a first point until an overtime corner from Exeter's Alex Beckett secured the win. Teddington lost ground at the top, going down 3-2 at Sevenoaks, their first loss of the season. Old Cranleighan joined them on 12 points beating Havant 3-0. Team Bath stay ninth after a 2-1 home defeat by Old Loughtonians.

Division One North leaders Bowdon lost their 100% record at bottom of the table Cambridge City. Dilip Goyal gave the home team the lead just before half time, and a first win of the season looked increasingly likely until Simon Egerton equalised for the leaders with two minutes to go. This result allowed Brooklands MU to go level on points with their rivals thanks to a 5-2 defeat of Leeds with James Lavers and Nick Hale both netting braces. Harborne are third but still six points behind after they were held 3-3 at Olton where Chris Beck's second goal of the game, a 70th minute corner earned a point for the home team. Loughborough won 4-1 at student rivals Birmingham with two goals from Francois Vaysse-Baird and Durham University came away from Deeside Ramblers with a 2-1 win

Spencer remain top of Conference East after a 2-1 win at Old Georgians 2s. Greg Chambers and Alex Cooke gave them a two goal advantage and although Jack Redknap pulled one back Spencer held on. Indian Gymkhana are a point back and enjoyed a 6-2win over Guildford with James Tindall scoring two of their goals London Wayfarers stay third after a 3-0 win at Hampstead 2s. Ipswich and Surbiton 2s drew 2-2 and Wimbledon 2s moved off the bottom of the table after a 3-2 win at Bromley & Beckenham thanks to a late Ronan Taggart winner after two Max Ferrier goals earlier in the game.

Nottingham University 2s extended their lead at the top of Conference Midlands after a last gasp 3-2 win over Norwich City. Harry Paterson and Vivek Dongha had put the students in the lead twice only to be pegged back by Thomas Cooke on both occasions. Despite being down to ten men Alex Shelton popped up with the winner in the last minute. Their nearest rivals Stourport also needed a 69th minute stroke from Si Claris to take a point from the visit of Barford Tigers. Barford had won 5-4 at City of Peterborough the day before. Peterborough bounced back to beat Harleston Magpies 4-3 on Sunday despite a Myles King hat-trick for the losers. They remain bottom but only trail Bedford by a point now. Bedford were beaten 7-0 at Banbury where the home team put a great show on the opening of a new spectator area dedicated to former player Paddy Kellett who tragically passed away at a young age. Elsewhere Birmingham University 2s beat St Albans 2-0.

Lindum retain a one point advantage at the top of Conference North. Ben Read scored twice as they eased past Beeston 2s 4-1. Timperley lost ground drawing 1-1 at Shefield so Doncaster go clear in second having come out on top of a Yorkshire derby against Wakefield winning 2-0. Oxton stay second bottom after losing 4-3 at Ben Rhydding, three points ahead of Belper, who have yet to pick up a point and were beaten 4-0 at Brooklands MU 2s.

It was a good day for Conference West leaders Bristol University who saw their lead at the top extend to three points. This came courtesy of a 4-0 win over Ashmoor and seeing nearest rivals Oxford Hawks surprisingly come unstuck at lowly Chichester. Early goals from Oliver Baxter and Eliot Scott saw Chichester move out of the bottom two thanks to the win. Exeter University 2s replace them in the drop zone after they lost 2-1 at Fareham. Cuthbert Shepherd scored twice as Isca beat Clifton Robinsons 4-1 and Richard Marshall and Dan Hartley did likewise in Cheltenham's 5-1 defeat of bottom of the table Plymouth Marjon.