News and reports from 8 Nations U16 and U18 Events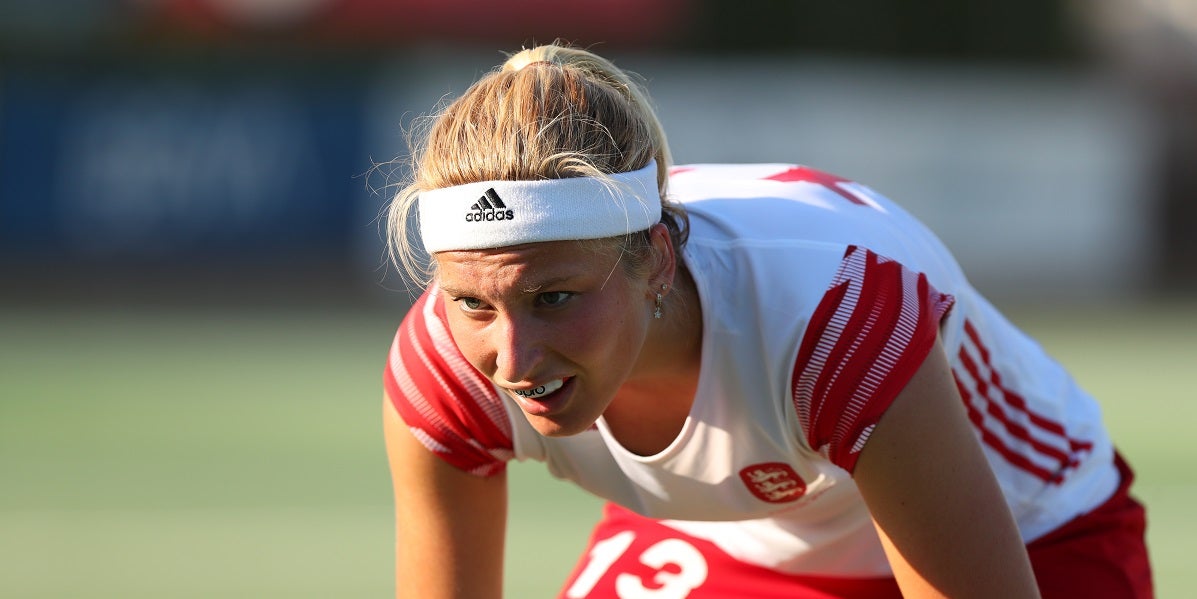 Young England teams took part in four separate 8 Nations events over the course of last week.
England's U16 and U18 Girls were both in Terrassa, Spain, to coincide with the FIH Hockey Women's World Cup.
England U16 Boys were in Frankfurt, while their U18 counterparts were also in Germany, close by in Hanau.
Open each of the sections below for the match reports and squad lists.
Katie Alexander
Martha Bainbridge
Olivia Breed
Anna Cogdell
Anna Faulstich
Beth Gardens
Emily Gilbert
Martha Goodridge
Josefina Hippe
Anya Jackson (GK)
Tula Knowles
Mia Moore
Amelie Rees
Evie Smith
Caitlin Thompson
Tabby Vaughn
Monica Watkins
Tilly Woodhead (GK)

Mon 11 July - England 2-3 Germany
Wed 13 July – England 6-0 Scotland
Thu 14 July – England 2-4 Belgium
Sat 16 July - England 6-1 Austria (Crossover)
Sun 17 July – England 4-0 Ireland (Crossover)

Match Report
England 2-3 Germany
The U16 girls opened their 8 Nations campaign with an incredibly frustrating, yet exciting encounter with a German team who have become familiar opponents this season. Having played a three-match series away to Germany last week, England knew this would be highly competitive and stretching encounter.

The teams were evenly matched for the first quarter. England's outlets were much improved from last weekend, not allowing Germany to dictate the direction of play. Instead, England cut-through the German press on numerous occasions, enabled by some excellent forward-facing receipt from the screens and generally playing with genuine conviction and high ball speed.

Yet again, England caused Germany real problems through excellent pressing - denying the Germans their preferred outlet route through the middle of the pitch.

Despite creating many circle entries, England struggled to turn those opportunities into meaningful shots on goal. In contrast, the German forwards struggled to open-up the English defence, but used their opportunities more efficiently, forcing goalkeeper Anya Jackson into a number of smart saves to keep things level.

England's flow was disrupted by a green card which enabled Germany to wrestle the momentum. Whilst still down to 10 players, England conceded possession just outside the defensive 25 line and did not scramble efficiently enough to prevent a German forward from deflecting a loose ball at the back post.

England responded superbly to going behind and were soon level. Liv Breed pounced on a rebound at a penalty corner, eliminated two German defenders and found Martha Bainbridge on the back post who slotted the equaliser. 1-1 at half time.

Germany made better use of the ball in the third quarter and England had to work extremely hard to stay in the game. Nevertheless, England maintained the regular stream of 25 entries throughout the second half, although continued to struggle to work the German goalkeeper.

With the game becoming increasing stretched, England conceded a sloppy second goal featuring four tackle attempts. The resultant D entry was shovelled over the line at the back post despite an initial double save from Jackson.

Once again, England responded superbly to going behind and created several excellent opportunities. England's second equaliser came from a strong baseline carry from Tula Knowles. Knowles crossed for Bainbridge who cushioned the ball to set-up her strike-partner Evie Smith to volley home.

England pushed for the winner, but were again caught-out by a series of individual defensive eliminations which allowed a German forward to carry along the baseline and find an unmarked teammate who swept the winner home from five yards.

Head Coach, Don Vinson said "It is testament to this group that they are so disappointed and frustrated not to beat a strong German team. The difference today was Germany's efficiency in both circles - which was superior to ours. We created ample opportunities to win the game and so the girls' frustration is legitimate. Nonetheless, the girls are determined to build on the very many positives from today and learn to improve our attacking and defensive entry circle work."

England 6-0 Scotland
England started this second game of the group phase knowing that only a win would guarantee the opportunity to play for a semi-final spot the following day. Furthermore, because Belgium had defeated the Scots 2-0 in the first game, England needed to target a better score to give themselves the advantage in terms of goal difference against Belgium the following day.

Despite the previous rest day, England started the game quite slowly and failed to set the in-possession intensity sufficiently high. Resultantly, whilst England dominated possession and circle penetrations, did not open-up clean circle entry on many occasions. England won six penalty corners in the first quarter, but executed below par, scoring only one; Player-of-the-match Monica Watkins scored directly from the top of the circle. England led the game by a single goal at quarter time.

Throughout the game, England slowly increased their in-possession intensity. Mia Moore scored an open play goal with a well-executed back space strike mid-way through the second quarter. Whilst England made hard-work of their attacking play, the defensive work was much improved. Scotland were held to just two efforts on goal in the match which goalkeeper Tilly Woodhead dealt with comfortably. England led 2-0 at half-time but the game was far from won.

Without ever getting to top gear, England kept improving through the second half. Two further open-play deflected goals from Amelie Rees and a second for Mia Moore ensured England led 4-0 at three quarter time. England completely dominated the fourth quarter. Anna Faulstich converted a penalty stroke after a Scottish foot on the line had prevented a clear goal. Martha Bainbridge added the sixth, flinging a well-executed rebound high into the Scottish net from 10 yards.

Overall, England had dominated the game, although had to work hard throughout. Don Vinson, Head Coach, said: "We are obviously delighted to win the game, keep a clean sheet and to set-up a tantalising encounter with Belgium. We need to improve our efficiency in the attacking circle and this remains a key work-on for the group and for individuals. We will work hard on delivering quality balls at the goal, ensuring that we have deflectors arriving at the right time and rebounders ready to pounce."

England 2-4 Belgium
Belgium's last-second equaliser against Germany the day before meant that England had to win this game in order to qualify for a semi-final spot.

England started the game demonstrating much greater relentlessness than the previous day and the game was very tight in the first quarter. The quality of the hockey in this game was extremely high – the processes England and Belgium delivered were outstanding. This was a top-level junior international match and thrilling from start to finish.

After a very even first quarter, a momentary slip in defensive disciplined allowed Belgium to sneak the lead, although both teams had chances to score and England had amassed greater circle possessions. Both teams changed both pressing and outletting processes throughout the first half in an attempt to counter their opponent's structures and England demonstrated commendable ability to change set-up mid-quarter. England equalised with an excellent back-space finish from Amelie Rees who had cleverly manipulated the ball to give herself space in the D despite being closely marked. 1-1 at half-time and all to play for.

England's best quarter was the third, although they had to come behind again as Belgium scored a straight-strike from a penalty corner against the run of play. Showing superb courage, England wrestled the momentum away from Belgium, defended resolutely, and continued to press superbly. England's second equaliser came from a beautifully worked penalty corner routine which injector Evie Smith slickly finished from close range. England had the momentum and were so close to adding the third on two occasions before the three-quarter break.

England needed one more goal going into the final quarter and somehow managed to step-up the intensity still further and pressed for the winning goal. Belgium defended resolutely and kept the game level despite the pressure of a full man-to-man press from England. England continued to lead the way in terms of circle possessions but couldn't find the winner. With six minutes to go, England substituted goalkeeper Anya Jackson to gain an extra field player and push for a winner. Unfortunately, just 30 seconds later, England received a harsh yellow card for hitting the ball into the net just after the whistle had blown for a defensive free-hit to Belgium. The yellow card and five-minute suspension instantly changed the momentum of the game; England returned Jackson to the goal, but a desperate tackle in the defensive D gained Belgium a decisive penalty stroke which was coolly converted. Belgium led 3-2 with just three minutes to go and a player advantage. Needing two goals to win, England again removed Jackson and threw caution to the wind. Belgium scored a fourth into an empty net with 30 seconds to go.

Don Vinson, Head Coach, said: "The whole group are devastated to miss-out on a semi-final place. Nevertheless, we take great heart from today's performance which was generally outstanding. The level of hockey the girls produced today was superb and offers so much encouragement that this team are on the right path to becoming World Class hockey players."

England 6-1 Austria
England began the crossover phase of the tournament with a match against Austria, who were resolute in defence and moved the ball efficiently. Just 17 seconds into the game, Austria won a PC which they converted proficiently with a low drag flick.

Whilst conceding such an early goal was disappointing, England rallied relatively quickly scoring three goals of their own in response before the quarter time break. Liv Breed scored the first with a fantastic backhand finish following a creative cross-field aerial from Monica Watkins. Mia Moore slapped the second home from the edge of the circle after a strong run through the midfield. Shortly afterwards, Anna Cogdell rode some tough challenges just outside the 25 before feeding Anna Faulstich in the circle who smashed the ball home on the backhand.

The three goals settled England, although the game remained relatively slow and with excessive handling errors which confined both teams to congested areas of contact. The second quarter was a quiet period in which England failed to extend the lead and so the score at half-time remained 3-1.

The team responded well to some clear words at half-time and produced their best quarter, managing to raise the level of in-possession relentlessness and scored two further goals both of which came as a result of penalty corners. The first hit a defender on the line – Faulstich converted the resultant penalty stroke. Then Breed scored from less than a yard as the ball ricocheted off the goalkeeper from a Martha Bainbridge shot. The game petered out in the final quarter with Austria posing less threat and England scoring one further goal; Evie Smith eliminated two players on the baseline and then smashed the ball past the goalkeeper as she cut infield.

Head Coach Don Vinson said: "We are a little disappointed today not to have made gains in some of the processes we identified before the game as being areas of focus. Ultimately, it is very difficult to make such gains without setting a sufficiently high level of in-possession relentlessness. The girls have learnt something about the importance of diligent preparation. We produced some flashes of quality but didn't manage to raise our level in the same way we managed against Scotland. Nonetheless, we look forward to a final opportunity to learn against Ireland."

England 4-0 Ireland
England's final match of the tournament was a 5th/6th place play-off against a solid, yet dangerous, Ireland team. Ireland set out to defend deeply from the start of the game, looking to utilise three fast and skilful forwards on the counter-attack.

England started much more quickly than the previous day and were able to calmly and patiently manage possession. Whilst Ireland sought to counter quickly on every turnover, the English defender managed each attack with commendable calm, staying mobile and resolute. Despite the threat Ireland offered, England prevented the 'Green Army' from mustering a strike on goal in the game. A notable performance from centre back Martha Goodridge characterised the poise and command the England defence demonstrated throughout.

England took until the second quarter to score the first goal; Player-of-the-Tournament Katie Alexander finished strongly on the backhand having collected a rebound from a penalty corner. Alexander quickly added her second following some excellent small unit play featuring a creative D entry from Anna Cogdell and an immaculate delivery from Liv Breed.

Player-of-the-match Josie Hippe produced a positively gladiatorial performance in the midfield, demonstrating consummate forward-facing receipt on outlet and building frequent penetrative connections to half-backs and high-midfields.

Two further goals followed in the second half – a deft deflected open-play finish from Breed and a well-worked penalty corner routine which was delivered by Monica Watkins and deflected home by Anna Faulstich.

The win confirmed England's fifth-place finish in the tournament.

Head Coach Don Vinson said: "This was a very good performance and a pleasing way to conclude the tournament. The quality and composure of our in-possession work was excellent throughout. This was also our most composed and assured defensive performance.

"Whilst we would have loved to qualify for the semi-finals, we have undoubtedly demonstrated the continued progress of our Talent System. We are closer to the top nations in Europe than we have ever been. We have made considerable progress in our processes this week and have further affirmed the importance of circle efficiency at both ends of the pitch.

"The players and coaching team are eager to continue that work over the coming weeks and into next year's age group programme".

Ruby Apoola
Alice Atkinson
Lily Beer
Lottie Bingham
Sienna Dunn
Sophie Flint
Daisy Ford (GK)
Star Horlock
Clem Houlden
Ryana MacDonald-Gay
Kea Murray
Jenny O'Grady
Chloe Plumb
Minnie Pollock
Izzy Shelley
Elani Sherwood
Molly Smith (GK)
Ottilie Sykes

Mon 11 July - England 0-3 Germany
Tue 12 July – England 2-0 Scotland
Thu 14 July – England 1-2 Belgium
Fri 15 July – England 5-0 Czech Rep (Crossover)
Sun 17 July – England 3-0 Scotland (Crossover)

Match reports
England 0-3 Germany
England U18 girls opened their 8 Nations campaign against Germany on Monday evening in the heat of Terrassa.

A lively and positive opening from England was brought to an abrupt halt when Germany's first attack resulted in a deflection from the top of the D which looped high into the air and beyond the reach of England's GK who was cruelly unsighted by the sun. The goal deflated England who, while competing for much of the time, shed two further field goals in the 25th and 36th minutes. The last quarter saw England apply all the pressure and play the game they had intended to play. Despite this, they were unable to find the back of the net.

The positive end to the game gave the team confidence that they can improve their play in Tuesday's match v Scotland.

Head coach Lisa Letchford said, "We lacked belief in ourselves in the middle period of the game yet the resilience and nature we played with in the last quarter shows we are very capable of competing against Germany and we should take this mentality into the Scotland game."

England 2-0 Scotland
England opened their account at the 8 Nations in Terrassa with a deserved 2-0 win over Scotland. On the front foot from the start, England applied constant pressure to the Scotland defence, creating a number of chances. The team was disappointed to go into half-time goalless, but remedied that situation early in the second half when Lottie Bingham drove in a shot from the top of the D.

A second goal was added by Sienna Dunn who pounced on a rebound from the Scotland GK at a re-awarded penalty corner. From then on, England remained on the front foot, but without further reward.

Head coach, Lisa Letchford said: "We are really pleased with our consistency over the four quarters. It was great to see the mental progression from the first game into this one."

England 1-2 Belgium
England U18 girls completed the group stages of the 8 Nations tournament in Terrassa with a match against Belgium, knowing that only a win could secure a place in the semi-finals.

As in their previous matches, England started on the front foot. However, on this occasion, they succeeded in turning pressure into a goal with a well taken backhand strike from Minnie Pollock driven high into the net from the top of the D. Unfortunately, this advantage was neutralised when Belgium slotted home a soft equaliser just 4 minutes later.

With all to play for, the match was fiercely and evenly contested thereafter, until a controversial yellow card for England in the 53rd minute was swiftly followed by a second goal for Belgium. England continued to press, but the win had moved out of reach.

The team plays again on Friday in the 5th to 8th playoffs, starting with a match against the Czech Republic.

Head coach Lisa Letchford said it was a gutsy performance and a great experience for the girls to be in this excitingly stressful situation.

England 5-0 Czech Republic
England's first play off game, played in searing temperatures, resulted in a comfortable win against the Czech Republic.

Minnie Pollock started the scoring with a repeat of her goal from the day before. With England camped in the Czech Republic's half, it was only going to be a question of how many more goals England could add.

Ultimately, a combination of some excellent goalkeeping from the Czechs and a certain amount of profligacy, particularly at penalty corners, by England, resulted in the score being restricted to 5-0.

Head coach Lisa Letchford said, "It was a good performance however our biggest work-on remains putting the ball in the back of the net."

England 3-0 Scotland
England concluded their 8 Nations campaign with a comfortable win over Scotland, to secure fith place.

The team played their best hockey of the tournament, scoring three high quality goals in the first half.

Chloe Plumb opened the scoring with a backhand shot high into the net. This was followed by an excellent team goal which originated deep in Scotland's half and concluded with Kea Murray calmly slotting the ball past the advancing Scotland GK.

Ryana MacDonald-Gay concluded the scoring with a well taken shot from within a crowded D. The second half saw Scotland defend in numbers, with England unable to find a way through their defence.

Head coach Lisa Letchford said "We really performed clinically in the first half today. We have been working on our attacking circle entry in the past few games, therefore it was great to see it working on the field.

"Overall we can be very proud of our performances here at the 8 Nations. We have progressed as a squad and individually.

"My biggest take away is having the belief that we can compete against the best in Europe. We have showed on numerous occasions we are capable but we need to go into next season with greater confidence in our ability to deliver more consistently. "

Charlie Cook
Toby Day
Ollie Ewart-White
Mikey Eldridge
Harry Grinham
Will Grant (GK)
Lars Hansen
Will Harvey
Will Haspel
Ben Hegan
Jack Hobkirk
Rohit Jakhu
Taheem Javaid
Caspar Lea
Eddie Rowney (GK)
Anoop Sahota
Teddy Warner
Ed Wheeler

Mon 11 July - England 4-4 Spain
Tue 12 July – England 5-0 Scotland
Thu 14 July – England 0-4 Belgium
Sat 16 July – England 6-2 Austria (Crossover)
Sun 17 July – England 0-2 Ireland (Crossover)

Match Report
England 4-4 Spain
England's first match of their 8 Nations campaign got underway against Spain in Frankfurt. Both teams quickly got through any nerves with early goals in the first quarter; Javaid with some excellent skill along the baseline and quick reflexes from the first save and Spain through a short corner. Spain pushed ahead again before quarter time, although it was not long before Javaid added another before half time.

The subtle nature of the European game was evident as England matched Spain's intensity with some strong play of their own. A brilliant breakaway goal saw Javaid and Cook combine and Cook finished with a first touch reverse shot past a memorised keeper giving England a 3-2 lead, before Spain once again drew level through another short corner.

Spain got ahead again early in the fourth quarter, but a spirited effort from England, and Cook again in the right place, for a rebound goal, ensured that the match that ebbed and flowed would remain evenly split.

England 5-0 Scotland
As the temperature in Frankfurt rose over 30 degrees, England took on Scotland under the afternoon sun. England started brightly although were not able to create an opening, due to some good saves and strong defending. However the pressure continued and two nicely worked goals from Cook and Hegan saw England lead 2-0 at quarter time. As the heat sapped the players during the second quarter, both teams traded blows but were unable to find the net, leaving the score as 2-0 at half time.

Although not under the shade of a coolabah tree, the boys did find some shade under the German elms, allowing them to recharge their batteries over half time. It worked nicely with two goals in the 3rd quarter. Initially it was Hegan gaining his 2nd and England's third early in the quarter. Passing was the order of the day and after Lea intercepted the ball on the half way line, England attached making 6 passes before Lea was the recipient again at the top of the D to slot the ball for his first international goal. Cook continued his fine form with his fourth of the tournament and a second goal for the match to round off the match. England running out 5-0 winners as they enjoy their well earned day of rest tomorrow.

England 0-4 Belgium
England finished their pool round with a tough game against Belgium to determine who would go into the semi-finals or consolidation games. Belgium started fast and were able to gain an early short corner which they converted to lead 1-0. England started to get some better passages of play together and this created a few more chances, although not enough to equalise and at quarter time it remained 1-0.

Sometimes in hockey it can be the odd bounce of the ball that makes or breaks a game. This seemed to be the case as England won and delivered a short corner, only for the ball to bounce over the trap and straight to one of their forwards. Four passes later Belgium were celebrating their second goal and this was the score at half time.

Despite the deflation of sport's cruel fate, the boys refocussed and got themselves back on track during the third quarter. Neither team were able to breach the goal, however this was not to last for long, as Belgium were able to score two goals in the last quarter as England tried to stretch the game to get back level.

England now prepare for the consolidation matches, after a well earned rest day.

England 6-2 Austria
The weekend arrived with England taking on Austria in the start of their placement matches. In a match that saw six different goal scorers for England, they scored in every quarter too. Warner got the match under way with a reverse shot in the ninth minute, after some nice work down the pitch from his team mates.

England played with more freedom and were able to create a number of chances through good passing and movement. Wheeler added his first goal of the tournament with a nicely worked short corner routine, and Sahota added a third soon after. Austria continued to provide a threat and this was shown with a strong drag flick and an addition of a second goal before half time. Day scored his first international goal before half time too, and gave England a 4-2 lead at the break.

The heat wasn't as stifling as it had been earlier in the week, however the shade and break at half time did offer much needed relief. England took advantage of a fast start with Javaid continuing his strong form in the D, his third for the tournament and England's fifth.

Austria continued to play with determination, creating some chances and requiring Grant to make a strong reflex save. Cook completed the match with his fifth of the tournament in the last couple of minutes and now the attention turns to Ireland on the last Sunday.

England 0-2 Ireland
England finished their 8 Nations campaign with a hard fought match against Ireland. In a highly competitive game, both teams tried to get an early goal, but defences held firm. Ireland did well to nullify England's fast break and were able to create opportunities with their own attack.

No score for either team at the break, saw a renewed vigour in the energy-sapping heat. Rowney, in goal for England making some great decisions and crucial saves. However as England looked to push for victory, the opportunity was there for Ireland. A short corner routine to break the deadlock and a fast break shot to ensure the victory.

England ended their 8 Nations campaign with two wins, two losses and a draw.

Head Coach Jimmy Culnane commented, "It was a great experience for the boys, playing five hard matches over seven days in hot and foreign conditions. The group were willing to learn and have grown brilliantly over this tournament."

Hari Bhogal
James Carleton (GK)
Harvey Edwards
Ben Gaze (GK)
Nathan Gladman
Ted Graves
Daniel Hamilton
Ollie King
Jacob Pengelly
Will Petter
Cole Pidcock
Oliver Rundle
Connor Sign
Tom Spreckley
Harry Stone
Jonathan Sturch-Hibbitt
Felix Tully
Robert Wilson

Mon 11 July - England 4-4 Spain
Tue 12 July – England 5-1 Scotland
Thu 14 July – England 4-4 Belgium
Sat 16 July – Crossover
Sun 17 July – Crossover

Match reports
England 4-4 Spain
England kicked off their 8 Nations campaign with a hard-fought draw against a tough Spanish side. Both teams looked to make early inroads in the cooler morning conditions and it was Spain who took the lead when a high ball was deflected into the goal.

England kept their composure though and soon drew level through a Tom Spreckley drag flick. Parity didn't last long as Spain were able to retake the lead at the end of the first quarter, finishing from close range.

The second quarter saw England's persistence pay off though when Felix Tully found the net after good attacking play and the teams went into half time at 2-2.

Spain dominated the 3rd quarter and added a third goal but England dug in and saw out the remainder of the quarter with some good defending.

The final quarter saw England take the game to Spain and they managed an early equaliser through Harvey Edwards at the back post.

Spain retook the lead for a fourth time with a well worked corner but Will Petter earned England a point with a powerful finish into the far corner. England finished the game pushing for a winner and will look to take this energy into Tuesday's game against Scotland.

England 5-1 Scotland
These two teams battled it out in the midday heat of Hanau with England coming away with the points. Picking up from where they left off on Monday, England started strongly and made Scotland work hard in the tough conditions.

England's patience was finally rewarded when good play down the left hand side led to Rob Wilson opening the scoring via a deflection. England kept their intensity going in the seconnd quarter and goals from Tom Spreckley, Will Petter and Harvey Edwards saw England finish the half 4-0 up.

The 3rd quarter saw England fail to capitalise with Scotland -down to 10 for most of the quarter - battling throughout. Harvey Edwards added his second of the afternoon in the fourth quarter following a blocked drag flick before Scotland added a consolation goal with five minutes left with a well taken penalty corner.

England now head into a rest day before their final group game against Belgium on Thursday, with both sides looking for a win to qualify for the semi finals.

England 4-4 Belgium
England took on Belgium knowing a win was needed to make the semi-finals. England began the game with great intensity and attacked Belgium from the off. Their energetic start paid dividends as England raced into a 2-0 lead with Felix Tully opening the scoring before Dan Hamilton doubled England's lead from a penalty corner.

Belgium fought back in the second quarter and began to wrestle back some momentum when they slotted home from close range to make it 2-1. England were brave though and continued to commit bodies forward on the counter attack and they restored their two-goal cushion when Ollie King finished in the top corner to give them a 3-1 lead at halftime.

Belgium remained a threat in the third quarter and they struck back with their second goal coming from a penalty corner deflection. English heads did not drop though and they continued to push forward and were rewarded for their efforts when Harvey Edwards finished smartly at the back post.

England were unable to see out the third quarter though and Belgium found the net once again from a penalty corner to make it 4-3 going into the final 15 minutes. The heat was persistent throughout the game and England began to tire in the fourth quarter, Belgium's penalty corners were a threat all afternoon and they levelled things up in similar fashion with less than 10 minutes to go.

England kept pushing for a winner until the end but were unable to find it despite creating a few chances at the death and the draw sees them go into the 5/8 classification games where they will play Ireland. England have grown as a team over these past few weeks and can be proud of their efforts as they now look to end the campaign unbeaten.

England 4-2 Ireland
England played a familiar foe in their 5/8 classification match and managed to come away victorious in a bruising encounter with Ireland.

A cagey opening quarter saw both sides getting a feel for each other with both sides battling to control possession. England were able to draw first blood when Ollie King finished well on the break.

A flurry of cards dominated proceedings in the second quarter but England were able keep their heads and add a second goal through Harvey Edwards to take a 2-0 lead at half time.

Ireland fought back in the third quarter though and managed to pull a goal back against the run of play.

The fourth quarter saw Harvey Edwards add another goal to make it 3-1 but Ireland wouldn't quit and added their second to make it 3-2 late in the fourth quarter. Harvey Edwards completed his hat trick at the death to seal the victory and England now look to end the tournament unbeaten and secure 5th place against Poland.

England 4-2 Poland
England rounded off their 8 Nations tournament with a disciplined performance against a strong Poland side. England looked to threaten Poland with their expansive overheads and were rewarded late in the first quarter when Will Petter was brought down after a quick counterattack, with Harvey Edwards putting away the penalty stroke.

England quickly doubled their lead in the second quarter when Felix Tully found the net via a deflection. Poland remained a threat though and produced a number of their own overheads to put England under pressure. The defence held firm though and England took a 2-0 lead into the halftime break.

The efforts of the week began to show in the third quarter and England's energy began to wain which allowed Poland to capitalise and scramble home to make it 2-1 late in the third quarter. England did not waver and kept up their attacking game and Jonny Sturch-Hibbitt was able to give England some breathing space before Poland pulled back another goal to make it 3-2 with 5 minutes to go.

Harvey Edwards' ninth goal of the tournament put the icing on the cake for England and was enough to see them finish their campaign unbeaten and secure fifth place.

Head Coach Mark Bateman commented, "I'm really proud of the development of this group of players. We have been on a journey since the beginning of the season and it has been really rewarding to see them grow their game so much in these past few weeks.

"To finish the tournament unbeaten, missing out on the semi-finals on goal difference, was a good end to what has been a really enjoyable week with the squad. We challenged the lads to be brave with their performances this week and I think they really delivered that and showed their commitment on and off the pitch to be the best versions of themselves."

U18 player Jacob Pengelly commentedm "The 8 Nations tournament in Hanau was a very successful one. Although finishing fifth, this didn't reflect how well we played whilst having an unbeaten tournament. To average around four goals a game is an amazing achievement and is a massive progression from when we first came together as a squad at the start of the programme.

"Drawing against the two finalists, Spain and Belgium 4-4 in the group stages, just goes to show that we could compete with anyone at the tournament. The boys put exceptional heart into the tournament to ensure that we finished the programme on a real high and we should be really proud of our efforts and the performances that we put on show."