Futures Cup 2021 Squads Announced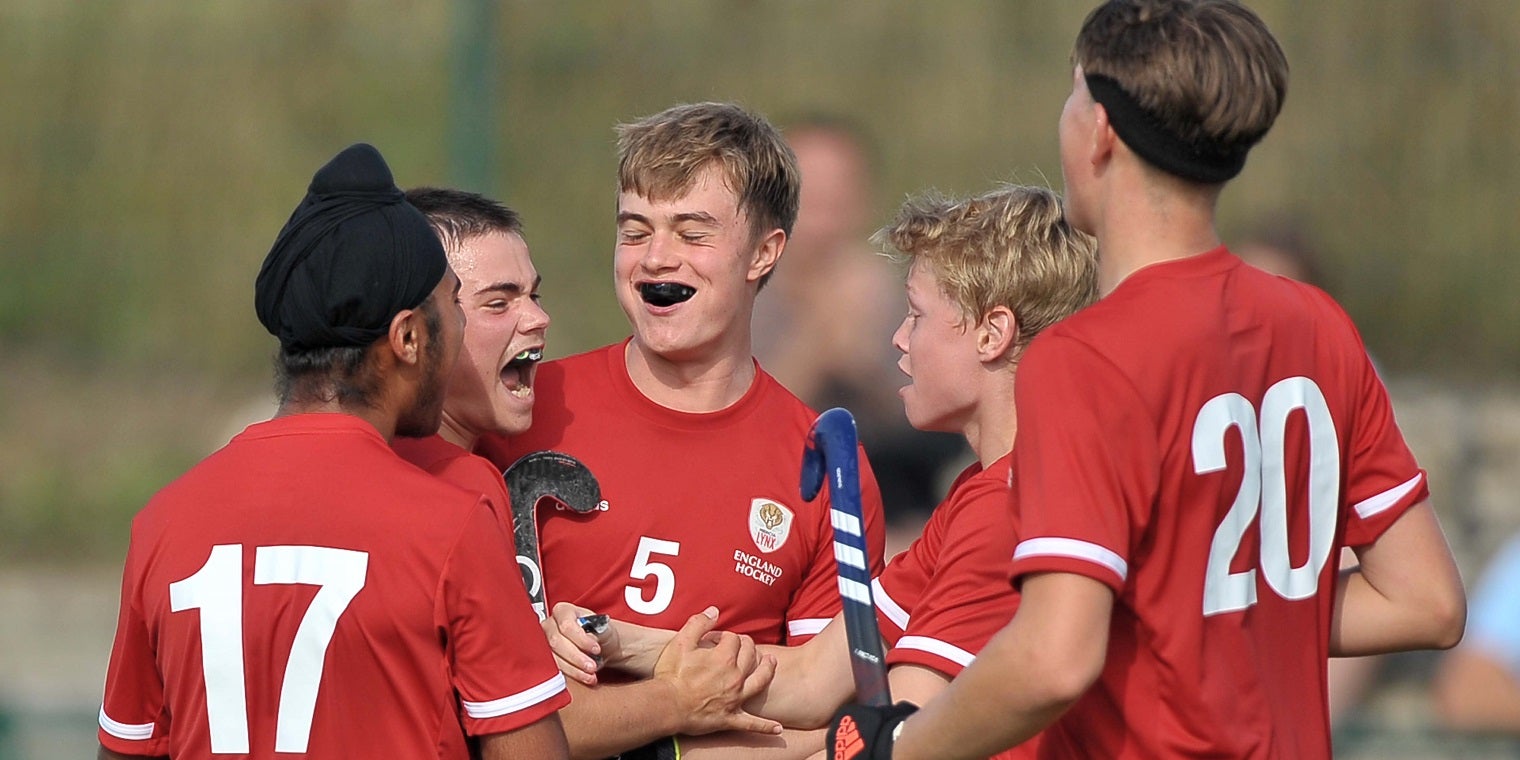 Futures Cup returns to St Albans from 25-28 August, and the squads for each of the competing teams have been named – a huge congratulations to the listed players who have been selected to play.
England Hockey would like to share our sincere thanks to every player, parent/guardian, coach, administrator and volunteer whose enthusiasm and dedication has enabled activity to resume through challenging circumstances.
While we feel very privileged to operate Futures Cup this year, we recognise the path to get to this point has not been straight forward. We encourage every player, regardless of the selection outcome to remain positive in their outlook and to continue striving toward their goals and aspirations.
If you are a non-travelling reserve, you should still register but will not be required to attend Futures Cup unless specifically contacted and informed by England Hockey.
If you have been selected for Futures Cup 2021, please click here for further details and instructions.
Once you have received an invitation to register, please use the guide (here) if you need support.
If you attended Performance Centre activity in 2021 but have not been selected, please also click here.
| | |
| --- | --- |
| Player Name | Player Centre |
| Matteo Bignone | Reading |
| Ollie Brannen | West Midlands |
| Charlie Darbyshire | South Midlands |
| Ben English | South Midlands |
| Oliver Ewart-White | East Midlands |
| Harry Grinham | Reading |
| Tom Hollis | South Midlands |
| Luke Hooper | Reading |
| William Hooper (GK) | West Midlands |
| Rohit Jakhu | South Midlands |
| Sebastian Jones | South Midlands |
| Ben Kroeze (GK) | West Midlands |
| Caspar Lea | South Midlands |
| Jack Lee | Reading |
| Luke Nash | East Midlands |
| William Roy | South Midlands |
| Jack Royall | West Midlands |
| Maximillian Waucquez | Reading |

Non-travelling reserves:

| | |
| --- | --- |
| Player Name | Player Centre |
| Oliver Collins | West Midlands |
| Harry Fidler | South Midlands |
| Andrew MacEwen | Reading |
| Raoul Patel | Reading |
| Lucas Brandon (GK) | East Midlands |
| George Hobson (GK) | East Midlands |

| | |
| --- | --- |
| Player Name | Player Centre |
| Anna-Maria Collinge | South Midlands |
| Bryony Gillgrass | West Midlands |
| Martha Goodridge | Reading |
| Daisy Jackson | East Midlands |
| Ellie Lane | Reading |
| Emelia Moberley | West Midlands |
| Isobel Moriarty | East Midlands |
| Mia Moore | Reading |
| Saffron Pemberton-Jandu | West Midlands |
| Imogen Pemble | South Midlands |
| Beth Phillips | East Midlands |
| Freya Richardson | South Midlands |
| Leila Scott | South Midlands |
| Katy Shaw (GK) | Reading |
| Amelia Taft (GK) | West Midlands |
| Ellen Williams | Reading |
| Mary Williams | East Midlands |
| Alex Wylie | West Midlands |

Non-travelling reserves:

| | |
| --- | --- |
| Player Name | Player Centre |
| Colette Fitzpatrick | Reading |
| Kathryn Robey | East Midlands |
| Hannah Saxton | East Midlands |
| Maddie Scott | Reading |
| Isabel Barrett (GK) | West Midlands |
| Annabel Morton (GK) | Reading |

| | |
| --- | --- |
| Player Name | Player Centre |
| Jamie Butler (GK) | West Midlands |
| Mitchell Chapman | East Midlands |
| Oliver Firth | East Midlands |
| George Fletcher | East Midlands |
| Callum Hawkins | West Midlands |
| Ben Holding | South Midlands |
| Fred Jackson | East Midlands |
| Henry Jones | West Midlands |
| Harry Markham | Reading |
| Leo Pennant | Reading |
| Hugh Phillips-Bland (GK) | West Midlands |
| Freddie Pollard | Reading |
| Sam Rollett | East Midlands |
| Satvir Sahota | South Midlands |
| Harrison Scott | Reading |
| Henry Shaw | East Midlands |
| Charles Villanueva | South Midlands |
| Billy White | Reading |

Non-travelling reserves:

| | |
| --- | --- |
| Player Name | Player Centre |
| Freddie Bell | West Midlands |
| Adam Carter | East Midlands |
| Oliver Deacon | Reading |
| William Fox | West Midlands |
| Freddie Taylor (GK) | South Midlands |
| Scott Verdin (GK) | Reading |




| | |
| --- | --- |
| Player Name | Player Centre |
| Ellie-Mae Beeton | South Midlands |
| Ella Bowman | East Midlands |
| Gemma Croker | Reading |
| Izzi Evans (GK) | East Midlands |
| Harriet Hargreaves | Reading |
| Lili Hargreaves | Reading |
| Sophie Hughes | West Midlands |
| Cassidy Jorritsma | South Midlands |
| Aimee Mayfield | East Midlands |
| Emily Miskell | Reading |
| Tilly O'Brien | East Midlands |
| Imogen O'Neill | East Midlands |
| Violet O'Neill | East Midlands |
| Evie Phillips | South Midlands |
| Connie Potts | Reading |
| Lily Ann Stroyd Hutton | South Midlands |
| Lara Tripp-Smith | South Midlands |
| Savarna Val (GK) | Reading |

Non-travelling reserves:

| | |
| --- | --- |
| Player Name | Player Centre |
| Isabelle Astoin | West Midlands |
| Harriet Barker | East Midlands |
| Hattie Evans | South Midlands |
| Florence Pugh | West Midlands |
| Martha Broderick (GK) | East Midlands |
| Roisin Selby (GK) | West Midlands |




| | |
| --- | --- |
| Player Name | Player Centre |
| Noah Bansal | Manchester |
| Jamie Clarke | Durham |
| Eoin Cogley-Rock | Yorks |
| Rory Driscoll | Fylde |
| Will Evans | Manchester |
| Will Ferguson | Durham |
| Oliver Hatton | Manchester |
| Joshua Howard (GK) | Fylde |
| James Kilbane | Fylde |
| Oli Laxton | Durham |
| Harry Lewis | Manchester |
| Edward Lord | Manchester |
| Harry Montague | Durham |
| James Niven | Yorks |
| Robbie Pickard | Fylde |
| Ben Pickles | Durham |
| Olly Pollock | Durham |
| Laurie Wildman (GK) | Yorks |

Non-travelling reserves:

| | |
| --- | --- |
| Player Name | Player Centre |
| Fergus Banks | Manchester |
| Jake Biggin | Yorks |
| Jake Holland | Manchester |
| Harmanpreet Sandhu | Yorks |
| Douglas Duffus-Hodson (GK) | Durham |
| Joshua Legg (GK) | Manchester |




| | |
| --- | --- |
| Player Name | Player Centre |
| Martha Bainbridge | Fylde |
| Kate Barker | Yorks |
| Lucy Barker | Yorks |
| Izzy Barnes | Manchester |
| Evelyn Bell | Yorks |
| Amy Brown-Carrera | Durham |
| Louisa Cummins (GK) | Durham |
| Freya Diamond | Manchester |
| Zara Earnshaw | Yorks |
| Charlotte Graham | Durham |
| Lexi Haig | Durham |
| Lucy Hucknall | Yorks |
| Priya Kerfoot | Manchester |
| Olivia Merrick | Fylde |
| Ruby Ogden (GK) | Manchester |
| Beatrice Robson | Yorks |
| Charlotte Thomson | Fylde |
| Freya Watson | Manchester |

Non-travelling reserves:

| | |
| --- | --- |
| Player Name | Player Centre |
| Helena Freshwater | Yorks |
| Katie Rimmer | Fylde |
| Tilly Rose | Fylde |
| Frankie Sinclair-Bruce | Durham |
| Jess Rodgers (GK) | Yorks |
| Ashlyn Stephenson (GK) | Yorks |




| | |
| --- | --- |
| Player Name | Player Centre |
| Tom Anderton (GK) | Fylde |
| Jack Artist | Manchester |
| James Beck | Durham |
| Archie Benton | Manchester |
| Zack Buck | Durham |
| James Burley | Yorks |
| Oliver Day | Durham |
| Archie Fisher | Manchester |
| Toby Gladwin | Fylde |
| Joe Jenkins | Yorks |
| Sam Lewis | Manchester |
| Cole Pidcock | Manchester |
| Will Senior | Yorks |
| Felix Tully | Manchester |
| Max Turner (GK) | Fylde |
| Will Tyson | Yorks |
| Seb Yates | Manchester |
| Ghananshu Zalke | Yorks |

Non-travelling reserves:

| | |
| --- | --- |
| Player Name | Player Centre |
| Scott Gordon | Fylde |
| Rory Hobbs | Manchester |
| Jamie Rhodes | Yorks |
| Bradley Stevens | Manchester |
| Alex Erlam (GK) | Manchester |
| Oliver Trotter (GK) | Yorks |




| | |
| --- | --- |
| Player Name | Player Centre |
| Millie Armond (GK) | Yorks |
| Jess Cottee | Durham |
| Leah Davis | Yorks |
| Alice Geoghegan | Durham |
| Charlotte Henebury | Durham |
| Rebecca Hennessy | Manchester |
| Anna Hewlett (GK) | Yorks |
| Lowri Huxley | Manchester |
| Bo Madden | Fylde |
| Hattie Madden | Fylde |
| Alice Maxwell-Reid | Manchester |
| Molly McDermott | Durham |
| Trixie Morrison-Parry | Yorks |
| Holly Pears | Durham |
| Becca Shorter | Yorks |
| Harriet Snell | Manchester |
| Lara Tabachnik | Manchester |
| Evelyn Wilson | Yorks |

Non-travelling reserve:

| | |
| --- | --- |
| Player Name | Player Centre |
| Beth Dowbiggin | Durham |
| Pru Lindsay | Fylde |
| Eleanor Milbourn | Yorks |
| Olivia Millican | Yorks |
| Phoebe Dailey (GK) | Durham |
| Georgia Mayrick (GK) | Durham |

| | |
| --- | --- |
| Player Name | Player Centre |
| Eshan Anwar-Khan (GK) | Guildford |
| Oscar Britt | Northwood |
| Sam Carleton | Guildford |
| Charlie Cook | Guildford |
| Jamie Farris | Guildford |
| Harry Ford | Bury |
| Ben Hanson | Guildford |
| Sam Laird | Tonbridge |
| Jack Hobkirk | Guildford |
| Jack Moffat | Bury |
| James O'Malley-Kumar | Northwood |
| Marco Riley | Northwood |
| Eddie Rowney (GK) | Tonbridge |
| Oliver Sawtell | Bury |
| Wilf Stockhuyzen | Tonbridge |
| Alex Thompson | Guildford |
| Connor Tinker | Guildford |
| Ben Wheadon | Northwood |

Non-travelling reserves:

| | |
| --- | --- |
| Player Name | Player Centre |
| Will Haspel | Guildford |
| Freddy Pettifer | Tonbridge |
| Freddie Trathen | Northwood |
| Hamish Weir | Bury |
| Harry Musson (GK) | Guildford |
| Rory Mylroi (GK) | Tonbridge |

| | |
| --- | --- |
| Player Name | Player Centre |
| Olivia Breed | Tonbridge |
| Alex Bullen | Bury |
| Anna Cogdell | Bury |
| Katy Furber | Guildford |
| Beth Gardens | Bury |
| Camila Giglio | Guildford |
| Josefina Hippe | Tonbridge |
| Freja Holder (GK) | Tonbridge |
| Megan Howlett | Northwood |
| Amie Hunt | Bury |
| Summer Knight-Thompson | Tonbridge |
| Natasha Miller | Northwood |
| Ella Panayiotou | Tonbridge |
| Maelona Rees | Guildford |
| Jessica Tuff | Northwood |
| Monica Watkins | Guildford |
| Sophie Watts | Bury |
| Isabella Welldon (GK) | Northwood |

Non-travelling reserves:

| | |
| --- | --- |
| Player Name | Player Centre |
| Freya Atkinson | Guildford |
| Evie Brice | Bury |
| Evie Smith | Tonbridge |
| Amalee Wootton | Northwood |
| Tabitha Brown (GK) | Guildford |
| Lucy Cochrane (GK) | Guildford |




| | |
| --- | --- |
| Player Name | Player Centre |
| Josh Barrott | Tonbridge |
| Casper Beyer | Guildford |
| Stan Cooke (GK) | Guildford |
| Archie Crowley | Northwood |
| Ben Goold | Bury |
| Luke Holland | Tonbridge |
| Andrew Inskip (GK) | Bury |
| Nic Lamming | Guildford |
| Alex Manuel | Tonbridge |
| Daniel Mir | Tonbridge |
| Rafael Parker-Humby | Bury |
| Toby Perryman | Guildford |
| Will Routledge | Bury |
| George Schooley | Tonbridge |
| Liam Sillis | Bury |
| Tom Spreckley | Northwood |
| Jake Thompson | Guildford |
| Finn Webster | Tonbridge |

Non-travelling reserves:

| | |
| --- | --- |
| Player Name | Player Centre |
| Max Lowes | Guildford |
| Toby Gaylor | Northwood |
| Alex Winn | Bury |
| Charlie Walters | Tonbridge |
| Jacob Fairweather (GK) | Bury |
| Josh Baty (GK) | Guildford |




| | |
| --- | --- |
| Player Name | Player Centre |
| Izzy Baileff | Guilford |
| Matida Crampsie | Northwood |
| Hollie Dring-Richardson | Bury |
| Sophie Griffith | Northwood |
| Leonie Hart | Bury |
| Anna Jamieson | Guilford |
| Jessica Lewis | Tonbridge |
| Liv Martin | Guilford |
| Elloise Paler | Tonbridge |
| Pascale Pottier (GK) | Tonbridge |
| Dora Savory (GK) | Guilford |
| Lily Sokhi | Northwood |
| Gemma Townsend | Guilford |
| Madi Upton | Tonbridge |
| Cailin Waddell | Northwood |
| Eloise Ward | Bury |
| Hettie Whittington | Guilford |
| Emma Williamson | Bury |

Non-travelling reserves:

| | |
| --- | --- |
| Player Name | Player Centre |
| Millie Cant | Guilford |
| Annabelle Cheveley | Tonbridge |
| Grace Nicholls | Bury |
| Charlotte Rye | Bury |
| Izzy Atherton (GK) | Tonbridge |
| Mia Brown (GK) | Northwood |




| | |
| --- | --- |
| Player Name | Player Centre |
| Jack Burnett | Taunton |
| Freddie Campbell | Bristol |
| Harry Cooper | Weybridge |
| Toby Day | Bristol |
| Oli Day | Bristol |
| Matt Dicker | Southampton |
| Kaden Draysey | Southampton |
| Mikey Eldridge | Weybridge |
| Sebastian Friessner-Day (GK) | Bristol |
| Will Gravestock | Weybridge |
| Louis Greig (GK) | Weybridge |
| Oli Gribble | Taunton |
| Will Harvey | Taunton |
| Taheem Javaid | Weybridge |
| Henry Swan | Bristol |
| Cam Wallace | Taunton |
| Teddy Warner | Weybridge |
| Ed Wheeler | Weybridge |

Non-travelling reserves:

| | |
| --- | --- |
| Player Name | Player Centre |
| Ben Christie | Southampton |
| Fin Graham | Weybridge |
| Ellis James | Taunton |
| Rishi Khanna | Weybridge |
| Wilf Bartlett (GK) | Taunton |
| Rohan Mehmi (GK) | Weybridge |




| | |
| --- | --- |
| Player Name | Player Centre |
| Noa Armelin | Weybridge |
| Martha Barratt | Bristol |
| Lena Brewer | Bristol |
| Ruby Butterfield (GK) | Bristol |
| Isobel Collin | Bristol |
| Amy Cornfield | Taunton |
| Katherine Don-Wauchope (GK) | Weybridge |
| Tilly Edwards | Bristol |
| Jazzy Finney | Southampton |
| Emily Gilbert | Weybridge |
| Rosie Johnson | Weybridge |
| Pollyanna Jones | Southampton |
| Emily Jury | Taunton |
| Tiana Nhamoinesu | Southampton |
| Bella Payton-Jones | Taunton |
| Amelie Rees | Weybridge |
| Caitlin Thompson | Bristol |
| Katerina Xenoudakis | Weybridge |

Non-travelling reserves:

| | |
| --- | --- |
| Player Name | Player Centre |
| Beau Barrington-Hibbert | Taunton |
| Grace Harwood | Bristol |
| Emma Howitt | Bristol |
| Ella Robinson | Weybridge |
| Izzy Radford (GK) | Taunton |
| Cecily Wood (GK) | Weybridge |




| | |
| --- | --- |
| Player Name | Player Centre |
| Daman Bansal | Weybridge |
| Dylan Coleman | Southampton |
| Henry Crompton | Southampton |
| Ben Fitzherbert | Taunton |
| Tom Fox | Weybridge |
| Dan Hitchcox (GK) | Weybridge |
| Dan Hunt | Weybridge |
| Euan Jones | Taunton |
| Ollie King | Bristol |
| Oli Lander | Southampton |
| Ollie Mallett | Taunton |
| Sam Parkes | Weybridge |
| Dylan Parry | Weybridge |
| Theo Pawsey-Persaud | Weybridge |
| Sammy Pratt | Taunton |
| Edward Stephens | Bristol |
| Ben Taylor | Weybridge |
| Harry Tufts (GK) | Weybridge |

Non-travelling reserves:

| | |
| --- | --- |
| Player Name | Player Centre |
| Bell Sam | Southampton |
| Jameson Ollie | Southampton |
| Schuback Nick | Bristol |
| Wickham Matt | Weybridge |
| England Alex (GK) | Southampton |
| Rowley Charlie (GK) | Bristol |




| | |
| --- | --- |
| Player Name | Player Centre |
| Georgie Boon | Southampton |
| Amy Cradden | Southampton |
| Lucy Day | Taunton |
| Anastasia Horlock | Southampton |
| Millie Isaacs | Bristol |
| Lily Johnson | Weybridge |
| Maya Kendell | Taunton |
| Ella King (GK) | Bristol |
| Saskia Lawrence | Bristol |
| Anna Morley (GK) | Southampton |
| Charlotte Mould | Southampton |
| Kea Murray | Weybridge |
| Anna Payne | Bristol |
| Freya Prodger | Taunton |
| Eleana Stevenson | Taunton |
| Florence Tuthill | Taunton |
| Leah Wiles | Weybridge |
| Lorna Wilmot | Bristol |

Non-travelling reserves:

| | |
| --- | --- |
| Player Name | Player Centre |
| Caragh Haspel | Weybridge |
| Izzy Heelis | Southampton |
| Imogen Sparrow | Bristol |
| Tottie Taylor | Bristol |
| Jaimee Burrage (GK) | Weybridge |
| Alice Patterson (GK) | Taunton |