Holcombe Hoping To Kickstart Vitality Women's Premier Division Season Against Clifton Robinsons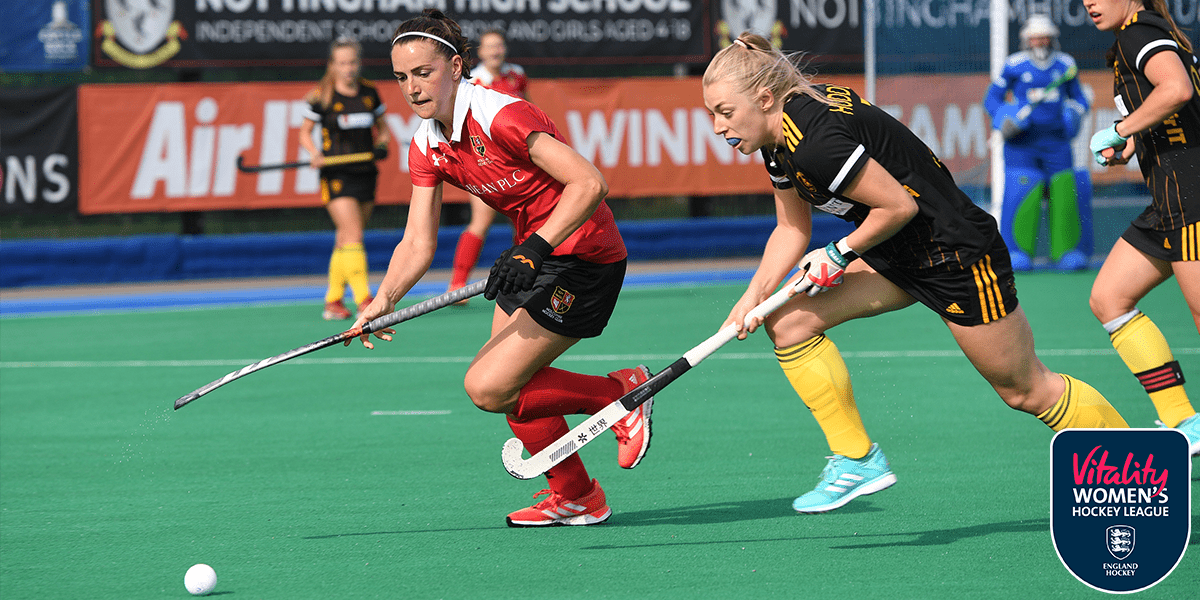 The action is coming thick and fast in the Vitality Women's Hockey League with another exciting weekend of matches ahead of us.
Surbiton and East Grinstead return from their European exploits in the Premier Division while there are a host of intriguing clashes across the divisions.
To see a full list of fixtures, results and tables for league across the country, click here.
Please note - unless stated, all games will take place on Saturday 9 October.
Holcombe host Clifton Robinsons in the Vitality Women's Premier Division this weekend aiming to record their first victory of the season.

It's been a difficult start for the team, who finished runners-up in the league on three consecutive occasions between 2017-2019, as they have suffered narrow defeats away to Beeston and Wimbledon either side of a draw with University of Birmingham.

But they'll be hoping to return to winning ways against a Clifton side they beat 3-2 in an exciting game last October.

Fresh from their EuroHockey League exploits, Surbiton return to action at home to Buckingham this weekend hoping to leapfrog them in the table.

Buckingham's first win of the season last Saturday moved them second, one point above Surbiton, but Brett Garrard's side will be looking to kick on from their European experience on their return to domestic action.

East Grinstead will likewise be wanting to show what they learned from competing in the EuroHockey Club Trophy when they visit Beeston in a game that will be streamed live on the host's YouTube channel.

Currently four points ahead of anyone else in the table, a fourth straight win for Hampstead & Westminster could further extend their advantage. However, it won't be easy as they host a University of Birmingham side currently unbeaten and full of confidence after victory over Swansea last weekend.

Wimbledon could also make it two wins in a row if they beat Swansea away from home, with the Welsh side searching for their first ever win in the English top flight.

Loughborough Students receive a bye for this weekend.

Surbiton v Buckingham – 13:30
Beeston v East Grinstead – 14:00
Hampstead & Westminster v University of Birmingham – 14:00
Holcombe v Clifton Robinsons – 14:00
Swansea v Wimbledon – 14:00

Bowdon host Stourport in what promises to be a high scoring affair in the Women's Division One North this weekend.

Both teams recorded 6-1 victories last Saturday and will be full of confidence heading into this game, although Bowdon may hold the upper hand in the table having won both their games this season while Stourport lost their opener.

That was against the University of Nottingham, who sit just above Bowdon at the top of the league and will be hoping to make it three consecutive wins when they visit Belper.

Elsewhere, Ben Rhydding and Olton & West Warwicks will both be searching for their maiden wins when they face each other while Leicester City – who were second last year before the season was cancelled – are also hoping to pick up three points for the first time against Brooklands Poynton.

University of Durham v Gloucester City – 12:00
Ben Rhydding v Olton & West Warwicks – 13:30
Bowdon v Stourport – 13:30
Leicester City v Brooklands Poynton – 13:30
Belper v University of Nottingham – 14:00

Four teams currently boast a 100% record in Division One South and will all be hoping to improve on that in their matches this weekend.

Surbiton 2s currently sit top, ahead of Sevenoaks by virtue of goals scored, and face Trojans in the day's opening game, while Sevenoaks travel to Slough.

Cambridge City are third and host Harleston Magpies while fourth-placed Reading travel to Canterbury.

The day's other game sees Wimbledon 2s hosting Isca, with both teams looking to open their points tally for the campaign.

Trojans v Surbiton 2s – 11:30
Cambridge City v Harleston Magpies – 12:30
Slough v Sevenoaks – 12:30
Reading v Canterbury – 13:30
Wimbledon 2s v Isca – 14:00

Conference East table toppers Barnes will be hoping to repeat their 5-0 defeat of Horsham from last season when the two meet again this weekend.

In their first season competing in the National League, London Wayfarers have made an impressive start, winning both of their opening games and not conceding a goal. They will be hoping to continue that momentum when they host Bromley & Beckenham.

Southgate beat Canterbury 2s 4-3 at home in an exciting game last season but face a trip to Kent for this game, while East London travel to Essex to take on Chelmsford.

Ipswich host Hampstead & Westminster in the day's other game hoping to secure their first points of the season.

Barnes v Horsham – 12:00
London Wayfarers v Bromley & Beckenham – 12:30
Canterbury 2s v Southgate – 14:00
Chelmsford v East London – 15:00
Ipswich v Hampstead & Westminster 2s – 17:30

After putting in an impressive display to beat Broxbourne 4-2 in their opening Conference Midlands game last weekend, Oxford University host Khalsa Leamington this time round aiming to repeat that performance.

Loughborough Students were also victorious in their opening game on Saturday and face University of Birmingham 2s, who have a win and a draw from their matches so far this season.

Sutton Coldfield currently sit top of the league and could extend their advantage by beating Broxbourne and hoping other results go their way.

St Albans, who are currently second, travel to Cannock full of confidence after a 5-0 win last Saturday, while Beeston 2s will be looking for a second win of the year when they visit Bedford.

Cannock v St Albans – 12:00
Sutton Coldfield v Broxbourne – 12:00
Oxford University v Khalsa Leamington – 12:30
Bedford v Beeston 2s – 13:30
Loughborough Students 2s v University of Birmingham 2s – 14:00

Timperley have started their Conference North campaign in thrilling fashion, including coming from behind to beat Wakefield on Saturday, and will be trying to make it three successive wins this weekend. They will have their work cut out though against a Didsbury Northern side who are solid defensively, having yet to concede a goal this year.

Fylde have also kept two clean sheets so far and will be aiming for a third when they take on Wakefield, the team who sat top of this division last season but have lost both of their opening games in 2021/22.

National League newcomers Neston travel to Doncaster hoping to return to winning ways while Leeds will be at home against University of Durham 2s. Elsewhere, Alderley Edge will be hoping to build on their momentum following victory last time out against a Pendle Forest side searching for their first points of the season.

Didsbury Northern v Timperley – 12:00
Doncaster v Neston – 12:00
Alderley Edge v Pendle Forest – 14:00
Wakefield v Fylde – 15:30
Leeds v University of Durham 2s – 18:00

A total of four draws in the second round of fixtures showed how competitive the Conference West could be this year, with plenty more close affairs expected this weekend.

Five teams currently sit on four points at the top of the table, with second-placed Basingstoke hosting Bristol Firebrands – who are third – in the standout clash.

Team Bath Buccs are currently top and face a tricky trip to Witney, while fourth-placed Cheltenham travel to the University of Bristol, who are searching for their first win of the season.

Clifton Robinsons 2s and Penarth meet with both teams seeking a maiden victory, while Exe hope to return to action after their game last weekend was postponed as they travel to Oxford Hawks.

Oxford Hawks v Exe – 12:00
Witney v Team Bath Buccs – 12:30
University of Bristol v Cheltenham – 13:00
Basingstoke v Bristol Firebrands – 14:00
Clifton Robinsons 2s v Penarth