Local Derby And Floodlit Spectacles Top England Hockey League Billing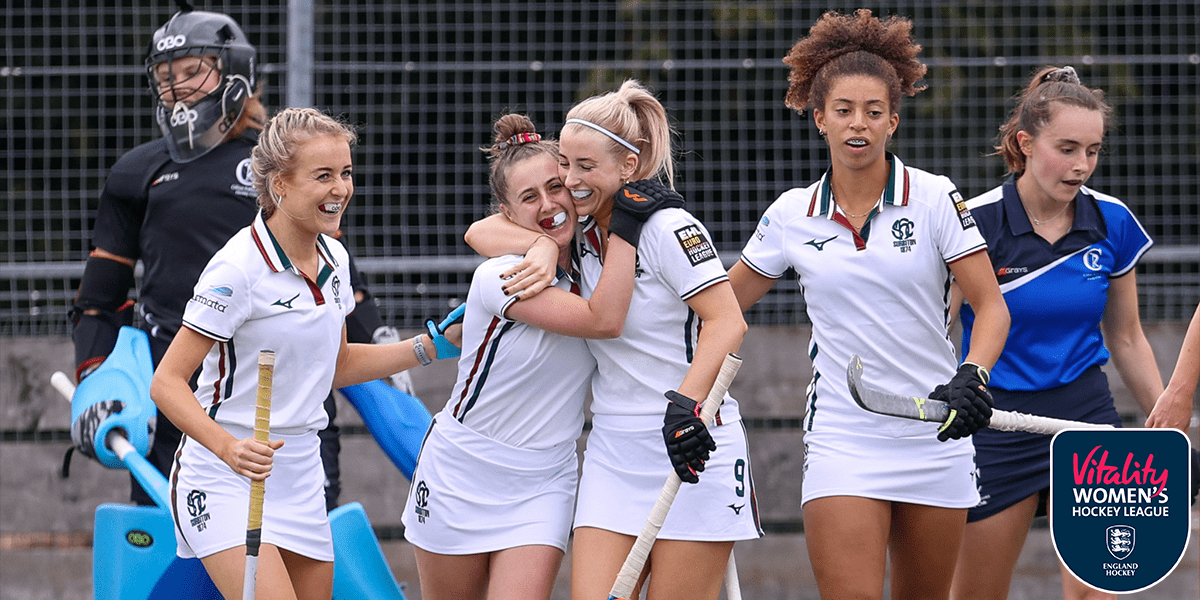 Photo credit: Peter Smith (@smifsports - Twitter)
To see a full list of fixtures, results and tables from across the country, click here.
A local derby between Surbiton and Wimbledon - second and third in the league respectively - is the standout clash in the Vitality Women's Premier Division this weekend.
In the Men's Premier Division, East Grinstead will be searching for their first win of the season as they visit Surbiton, who will be full of confidence after victory last weekend lifted them to the top of the division.
Click below to read the full previews from each division, which have been written by Rod Gilmour of The Hockey Paper.
(Please note - unless stated, all women's matches will be played on Saturday 23 October and all men's games on Sunday 24 October)
It will be a local derby to savour on Saturday night when Surbiton and Wimbledon, third and second in the league respectively, meet for the first time in their history.

The Vitality Women's Premier Division clash will be played under the lights at Sugden Road, with both clubs looking to keep up the pressure on Hampstead & Westminster.

The two sides had previously come close to meeting in 2008/09 when Wimbledon were relegated to South Division 2 and missed Surbiton, who were promoted to Division 1 before immediately moving into the top flight.

On Saturday, unbeaten Surbiton host a Wimbledon side with the tightest defence in the league, leaking just four goals in as many matches so far.

League leaders Hampstead & Westminster are at home to second bottom Holcombe and aiming for a sixth straight win to cement their status as England's form club.

With games in hand, fourth-placed East Grinstead will aim to make hay on Swansea, who have yet to register a win this season.

Meanwhile, University of Birmingham and Beeston will both be looking to stem losing runs when the two sides meet. Birmingham have lost their last two and Beeston three in a row.

Clifton Robinsons and Loughborough Students, who meet in Bristol, both won last weekend to kickstart their seasons. Buckingham, in fifth place, have a weekend off.

East Grinstead v Swansea - 13:30
Clifton Robinsons v Loughborough Students - 14:00
Hampstead & Westminster v Holcombe - 14:00
University of Birmingham v Beeston - 14:30
Surbiton v Wimbledon - 18:30

University of Nottingham have enjoyed a stunning start to the season and will look to make it five in a row when they host mid-table Leicester City.

Second-placed Bowdon Hightown, also with a 100%, head to Brooklands Poynton, while third-placed University of Durham are on the road at bottom side Belper.

Elsewhere, Gloucester City and Ben Rhydding meet each other and Stourport host Olton & West Warwicks.

Brooklands Poynton v Bowdon Hightown - 11:45
University of Nottingham - Leicester City - 12:00
Gloucester City v Ben Rhydding - 13:00
Belper v University of Durham - 14:00
Stourport v Olton & West Warwicks - 18:00

The top two push back against each other on Saturday afternoon when leaders Sevenoaks host Reading, both unbeaten so far this season.

Third and fourth will also face each other when Cambridge City entertain Surbiton 2s.

Meanwhile, Isca host Trojans, old rivals Slough and Canterbury meet in Berkshire and Wimbledon 2s host Harleston Magpies.

Cambridge City v Surbiton 2s - 12:30
Slough v Canterbury - 12:30
Sevenoaks v Reading - 13:30
Wimbledon 2s v Harleston Magpies - 14:00
Isca v Trojans - TBC

London Wayfarers, who remain top, travel to Horsham on Saturday as they look to maintain their fine start to life in the Conference East.

Both teams have only shipped three goals between them from their four matches and expect this one to be equally tight.

Second-placed Southgate host Hampstead & Westminster, Barnes meet Chelmsford at Dukes Meadow while East London travel to Bromley & Beckenham. The bottom two clubs, Canterbury 2s and Ipswich, also meet.

Barnes v Chelmsford - 12:00
Bromley & Beckenham v East London - 12:30
Horsham v London Wayfarers - 13:30
Canterbury 2s v Ipswich
Southgate v Hampstead & Westminster 2s

In-form Sutton Coldfield travel to Loughborough Students 2s on Saturday as the only unbeaten side left in the division.

The league leaders have a three-point cushion on three clubs, including second-placed St Albans who travel to Beeston 2s.

Meanwhile, Khalsa Leamington travel to Broxbourne in a battle of the bottom two, Oxford University host Cannock and Bedford travel to University of Birmingham 2s.

Oxford University v Cannock
University of Birmingham 2s v Bedford
Broxbourne v Khalsa Leamington
Beeston 2s v St Albans
Loughborough Students 2s v Sutton Coldfield

Timperley, the only team with an unblemished record in the Conference leagues, aim to keep their form intact on the road at University of Durham 2s.

Fylde, in second, are also away at Leeds, while third and fourth face off when Doncaster host Didsbury Northern.

Meanwhile, Wakefield host Alderley Edge and Neston entertain Pendle Forest.

Doncaster v Didsbury Northern - 12:00
University of Durham 2s v Timperley - 13:00
Neston v Pendle Forest - 13:30
Leeds v Fylde - 14:30
Wakefield v Alderley Edge - 15:30

League leaders Bristol Firebrands host Clifton Robinsons 2s in a local derby on Saturday lunchtime.

Second-placed Witney will aim to close the gap at the top when the Oxfordshire side play at home to bottom team University of Bristol.

Elsewhere, Cheltenham host Basingstoke, Penarth are away at Exe and Team Bath Buccs entertain Oxford Hawks.

Bristol Firebrands v Clifton Robinsons 2s - 12:00
Team Bath Buccs v Oxford Hawks - 12:30
Witney v University of Bristol - 12:30
Exe v Penarth - 13:00
Cheltenham v Basingstoke - 14:00

East Grinstead host Surbiton and play under the lights at Saint Hill on Saturday evening, searching for their first win of the season in the Men's Premier Division.

The west Sussex side have one point from four matches as Dave Beckett's team bid for a first win in 10 in the top flight to lift them from second bottom in the table.

However Surbiton will be buoyed by their 9-1 home win over Brooklands MU last Saturday - the first time they had scored nine in a match for 15 years - as they aim for five successive wins.

Brooklands MU have a bye weekend, while University of Exeter will be looking to register their first points of the season when Wimbledon head west on Saturday afternoon.

With points in their sights, Exeter have shipped late goals in their last two games, while Wimbledon scored six second-half goals last weekend in their 8-0 win over University of Durham.

Two clubs who also found late goals last weekend also face each other when Beeston host Oxted at Nottingham Hockey Centre.

Following their last-gasp strike at the weekend, Oxted have three wins from their opening five matches and head to Beeston looking to make further inroads behind the four Premier Division big guns ahead of them.

Meanwhile, Hampstead & Westminster, unbeaten this season, host Holcombe as the corner threats summoned by the Guise-Brown brothers, Matt and Tim, come up against each other for the first time this season.

Like Surbiton, Old Georgians will also be vying for their fifth win in a row at the weekend when Durham visit for a Sunday lunchtime pushback.

Old Georgians will be missing top scorer Sam Ward, who is recovering from surgery on his hand.

University of Exeter v Wimbledon - 16:30 (Sat 23 Oct)
East Grinstead v Surbiton - 18:00 (Sat 23 Oct)
Old Georgians v University of Durham - 13:00
Beeston v Oxted - 14:00
Hampstead & Westminster v Holcombe - 14:30

Three university sides sit atop the Men's Division One North, with Loughborough Students hoping to take advantage of a home clash on Sunday against fourth-placed Cambridge City to cement their status at the top.

Loughborough have four opening wins, as do Cardiff & Met - who have a better goal difference - and University of Nottingham.

Nottingham travel to University of Birmingham, who have yet to record a win this season, while Cardiff visit Olton & West Warwicks. Meanwhile, Bowdon host Sheffield Hallam and City of Peterborough travel to Deeside Ramblers.

Deeside Ramblers v City of Peterborough - 13:30
Olton & West Warwicks v Cardiff & Met - 13:30
Loughborough Students v Cambridge City - 14:00
Bowdon v Sheffield Hallam - 14:30
University of Birmingham v University of Nottingham

After losing to league leaders Reading last weekend, bottom-placed Havant, who have lost all four of their opening matches, will aim to kickstart their season when they host Team Bath Buccs on Sunday.

Goal hungry Reading will be searching for their fifth straight victory when they play at home to Old Cranleighan on Saturday evening, while second-placed Canterbury entertain Southgate at Polo Farm.

Brighton & Hove will be looking to salvage league pride following their 8-0 defeat to Canterbury last weekend when they travel to Teddington, while Oxford Hawks face Sevenoaks.

Oxford Hawks v Sevenoaks - 17:00 (Sat 23 Oct)
Reading v Old Cranleighan - 18:30 (Sat 23 Oct)
Teddington v Brighton & Hove - 12:00
Canterbury v Southgate - 12:45
Havant v Team Bath Buccs - 14:00

The only side left unbeaten, Old Loughtonians are aiming for their fourth win in five when they host second-bottom West Herts on Sunday afternoon.

Bromley & Beckenham are sitting fifth and travel to third-placed Richmond this weekend hoping to muscle in on the top three. Richmond are looking for their fourth win on the bounce.

Elsewhere, second-placed London Edwardians travel to Indian Gymkhana, Hampstead & Westminster 2s are away to Spencer and Wapping host London Wayfarers.

Richmond v Bromley & Beckenham - 12:15 (Sat 23 Oct)
Wapping v London Wayfarers - 13:30 (Sat 23 Oct)
Spencer v Hampstead & Westminster 2s - 16:00 (Sat 23 Oct)
Indian Gymkhana v London Edwardians - 14:00
Old Loughtonians v West Herts - 14:30

It's first against third in the match of the weekend in the Men's Conference Midlands.

Table toppers Harleston Magpies are at home to Harborne, with both sides maintaining unbeaten starts to the season thus far.

Meanwhile, Barford Tigers travel to Khalsa Leamington, Lichfield entertain Loughborough Town, Bedford are away to University of Birmingham 2s and St Albans and Cambridge University meet at Oaklands.

Harleston Magpies v Harborne - 16:30 (Sat 23 Oct)
Lichfield v Loughborough Town - 17:00 (Sat 23 Oct)
University of Birmingham 2s v Bedford - 12:30
Khalsa Leamington v Barford Tigers - 13:30
St Albans v Cambridge University - 14:00

The clash of the weekend sees leaders Belper head north to Didsbury Northern, who sit two points behind in second.

Bottom side Alderley Edge travel across the M62 hoping to finally open their account against fellow strugglers Wakefield on Saturday.

Meanwhile, unbeaten Doncaster head to Timperley, Leeds host Beeston 2s and Preston travel to University of Durham 2s.

Wakefield v Alderley Edge - TBC (Sat 23 Oct)
University of Durham 2s v Preston - 13:00
Didsbury Northern v Belper - 14:00
Timperley v Doncaster - 14:00
Leeds v Beeston 2s - 14:30

Fareham kickstarted their campaign with a first victory last weekend and host leaders Clifton Robinsons on Sunday.

Ashmoor, in fourth, have won three on the bounce and meet Cheltenham, who have endured a tough start with four successive defeats.

University of Bristol, who lost their first match in 10 last weekend, host Plymouth Marjon. Elsewhere, Cardiff University host Chichester and Isca travel to University of Exeter 2s.

University of Exeter 2s v Isca - 12:00
Ashmoor v Cheltenham - 13:00
Fareham v Clifton Robinsons - 13:30
University of Bristol v Plymouth Marjon - 13:30
Cardiff University v Chichester - 14:00