Loughborough Students Determined To Claim First Vitality Premier Division Points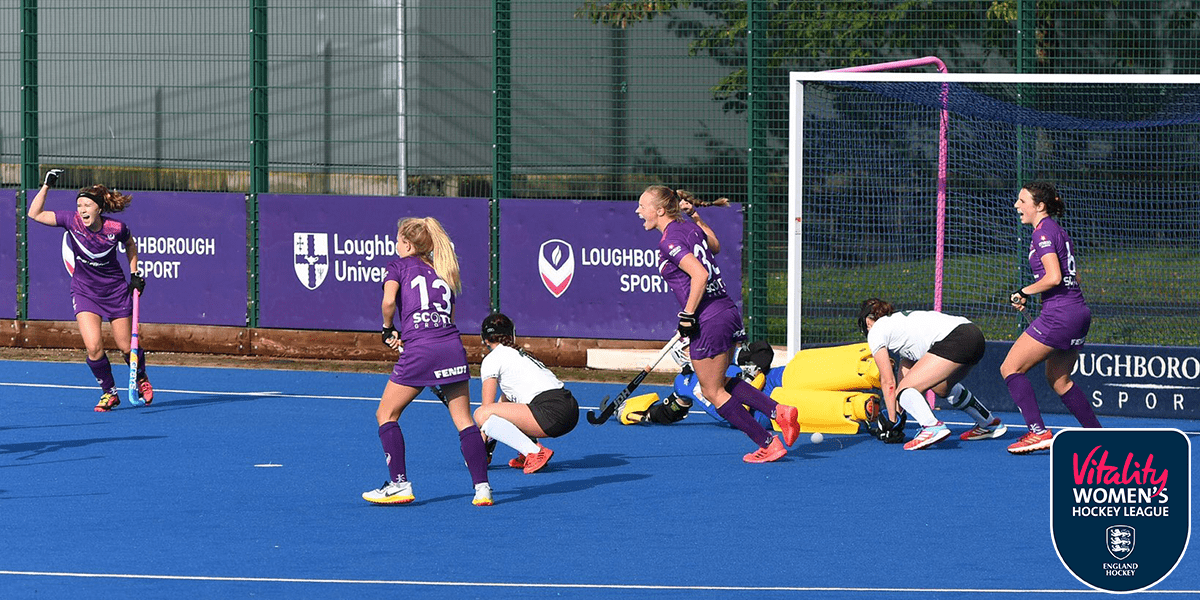 Photo credit: Loughborough Students Women's Hockey Club (@lswhc_ - Twitter)
We are well into the thick of the action now across the Vitality Women's Hockey Leagues, with leaders beginning to emerge in each division and the intensity starting to ramp up.
There's plenty to play for in the Premier Division this weekend, with Loughborough Students aiming to get their campaign up and running, Hampstead & Westminster seeking another win and those close behind hoping to make ground on the leaders.
Click here to see a full list of fixtures set to take place across the country this weekend.
Please note - unless stated, all games will take place on Saturday 16 October.
Loughborough Students will want to secure their first points of the season when they host Holcombe in the Vitality Women's Premier Division this weekend.

Having sat third in the standings before the 2020/21 season was cancelled, Loughborough suffered two defeats in their only games in the league so far this year.

However, they have won both of their previous two Premier Division matches against Holcombe and will be aiming for a third success in a row to get off the mark.

Yet to drop a point so far this season, Hampstead & Westminster travel to Buckingham aiming to make it five wins from five. They face a tough task though against an opponent who also haven't tasted defeat in the league this season, with one win and three draws to their name so far.

Clifton Robinsons travel to Swansea hoping to repeat the 3-0 victory they earned away against the Welsh side last season. Swansea have proved a tough nut to crack in their opening games though and will believe they can secure a maiden Premier Division victory.

Currently third in the table, Wimbledon could move above East Grinstead – who receive a bye for this weekend – by beating Beeston, while Surbiton will be hoping to move themselves back into the top four by recording a win over the University of Birmingham.

Buckingham v Hampstead & Westminster – 12:00
Swansea v Clifton Robinsons – 12:00
Loughborough Students v Holcombe – 14:00
Wimbledon v Beeston – 14:00
University of Birmingham v Surbiton – 14:30

It's been a stunning start to the season for University of Nottingham as they've registered maximum points from their opening three games, scoring 19 goals along the way. They face a tough test in Division One North this weekend though as they host Gloucester City, a side they lost 1-0 to last season.

Bowdon Hightown have been in similarly imperious form and will be looking for a fourth successive win when they visit Leicester City, while University of Durham could remain firmly on their heels if they beat Olton & West Warwicks.

Stourport will want to avenge last weekend's heavy defeat to Bowdon when they face Ben Rhydding, while Belper will try to secure their first points of the season in the day's early game against Brooklands Poynton.

Brooklands Poynton v Belper – 11:45
Olton & West Warwicks v University of Durham – 12:00
University of Nottingham v Gloucester City – 12:00
Stourport v Ben Rhydding – 14:00
Leicester City v Bowdon Hightown – 15:30

There are two eye-catching games in Division One South this weekend, with the teams currently first (Reading) and third (Surbiton 2s) in the table meeting at the same time that second-placed Reading host Cambridge City, who are fourth.

Having seen a gap open up ahead of them in the table after the first three rounds, Harleston Magpies could close back up to the top four by beating Isca, with Slough also hoping to regain group in the fight for promotion against Trojans.

The day's other game sees Canterbury host Wimbledon 2s, both teams still searching for their first win of the season.

Trojans v Slough – 12:00
Harleston Magpies v Isca – 13:30
Reading v Cambridge City – 13:30
Surbiton 2s v Sevenoaks – 13:30
Canterbury v Wimbledon 2s – 14:00

Ipswich will be looking to cause a shock this weekend when they host London Wayfarers in the Conference East. The Suffolk-based team are yet to register a point while their opponents are three points clear at the summit of the table and are yet to concede this season. But with both sides new to the league this season, Ipswich will believe they can pull off a big win.

Barnes and Hampstead & Westminster 2s are two of four teams currently sitting on six points and will both be looking to break away from the others when they meet this weekend. Southgate top that small group on goal difference and host Bromley & Beckenham, while Horsham are the other team involved and will welcome a visit from Chelmsford.

With both sides suffering defeat last weekend, East London and Canterbury 2s will be hoping to get back to winning ways in the late game.

Ipswich v London Wayfarers – 12:00
Horsham v Chelmsford – 13:30
Southgate v Bromley & Beckenham – 14:00
Hampstead & Westminster 2s v Barnes – 14:30
East London v Canterbury 2s – 18:00

Unblemished in the league so far this season, Sutton Coldfield will feel confident of making it four Conference Midlands wins in a row against Beeston 2s. They showed their goalscoring capabilities by putting seven past Broxbourne in their last game and Beeston will need to be at their absolute best if they are going to keep Sutton out.

Loughborough Students 2s also boast a perfect record so far (they've played two games to Sutton's three) and will look to continue that run on Saturday. They face a tough test though as their opponents St Albans are currently third in the table and keen to re-establish their winning momentum after defeat to Cannock last time out.

Khalsa Leamington recorded their first victory of the season last weekend and will want to make it two in a row at home to Bedford, with Cannock aiming to do likewise against Broxbourne. Oxford University travel to University of Birmingham 2s in the day's other game.

Khalsa Leamington v Bedford – 12:00
University of Birmingham 2s v Oxford University – 12:30
St Albans v Loughborough Students 2s – 13:00
Broxbourne v Cannock – 13:30
Beeston 2s v Sutton Coldfield – 14:00

In order to guarantee their place at the top of the Conference North for at least another week, Timperley will need at least a point when they play Leeds on Saturday.

Doncaster have two wins from two games so far and will feel confident about adding to that record and keeping up the pressure on Timperley when they travel to Pendle Forest, while fourth plays fifth as Fylde host Alderley Edge.

After victory in their first game, England Hockey League newcomers Neston have lost two in a row since and will be hoping to arrest that form against Didsbury Northern, while Wakefield – who didn't drop a point last season but lost their first two games of this one – will want to build on last week's win when they play University of Durham 2s.

Pendle Forest v Doncaster – 11:30
University of Durham 2s v Wakefield – 12:00
Fylde v Alderley Edge – 13:30
Neston v Didsbury Northern – 13:30
Timperley v Leeds – 16:00

Cheltenham, currently second in the table, play third-placed Witney in the standout fixture in the Conference West. Both teams were victorious in the last round of fixtures and will be full of confidence heading into this important clash.

League leaders Bristol Firebrands have been deadly in front of goal so far this season but will have their work cut out against a Penarth team who have drawn twice and were narrowly defeated in their other league game this year.

Team Bath Buccs will be aiming to return to winning ways against a Basingstoke side they beat 4-0 last season, with Exe and Clifton Robinsons 2s both aiming to go one better after their 2-2 draw back in October 2020. University of Bristol remain without a point from their opening two games but will hope to change that when they play Oxford Hawks.

Team Bath Buccs v Basingstoke – 12:30
Penarth v Bristol Firebrands – 13:00
Cheltenham v Witney – 14:00
Clifton Robinsons 2s v Exe – 14:30
University of Bristol v Oxford Hawks – 14:30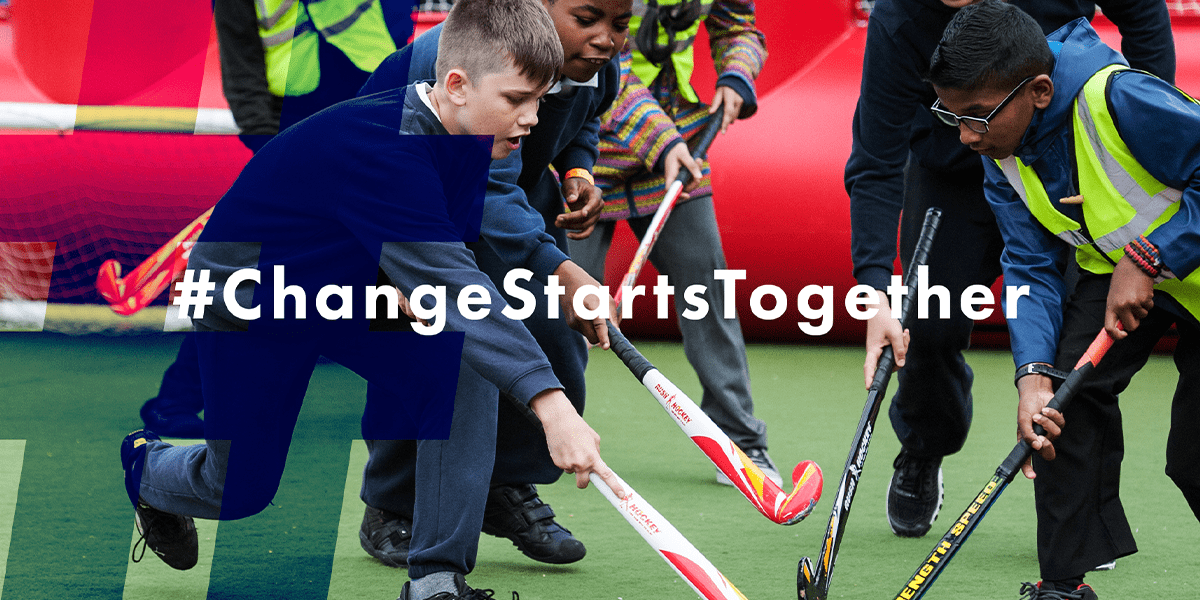 #ChangeStartsTogether Conference
Join our virtual ED&I conference on 2 November to help make hockey more inclusive
Book Now