Play Masters Hockey - How You Can Get Involved!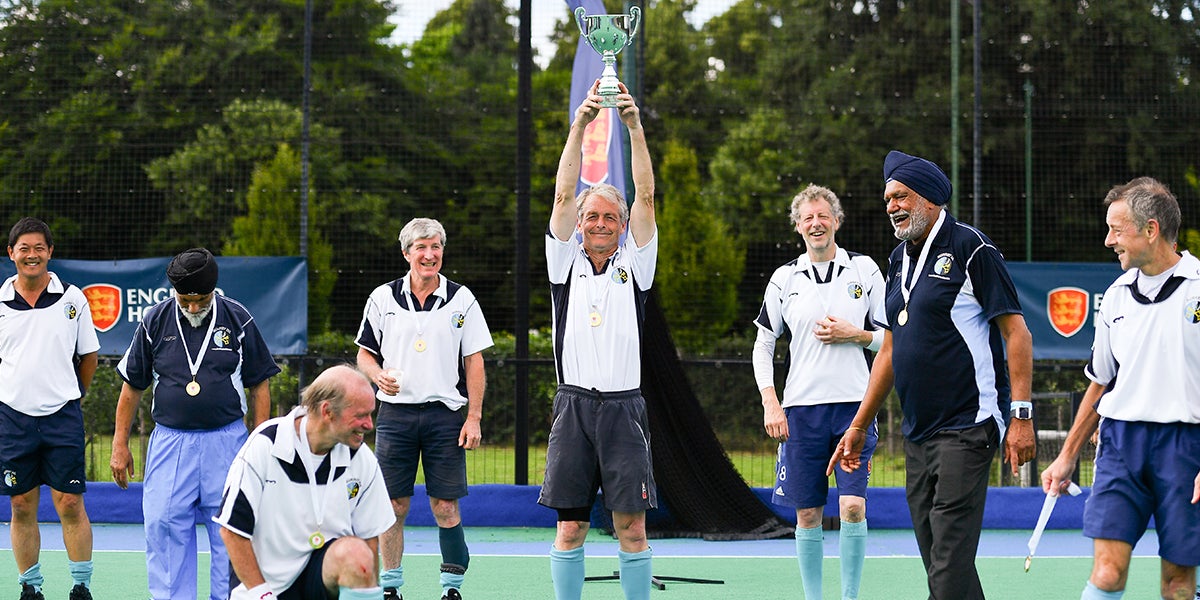 Masters' hockey is available for all players aged 35 and upwards. It's great fun, achieves high standards of play and provides opportunities for us more mature players to play with those in our own peer groups.
England and World Hockey organise tournaments and knockout competitions based on 5 & 10-year age bands, from Over 35 up to O-65 for Women and O-35 up to O-80 for men. A brilliant feature of this is that every 5 years you transform from being an old lag in your age group into a sprightly young spring chicken in the next age group up. Depending on your aspirations there are opportunities for both men and women:
To enjoy SOCIAL hockey with your peers in age. As we get older [and wiser?] we find our Saturdays spent in lower club teams chasing 18-year-olds around the pitch in order to win the ball, then passing it to a 14-year-old who dribbles until they lose it, and we're back to chasing again! We all want to support our clubs and help youngsters to learn, but it is a joy to play in a more mature group where all appreciate the finer skills of hockey at a manageable speed. The range of activities available to you will depend on where you live. As you approach retirement age the opportunities proliferate with a wide assortment of both local and national clubs that play and tour both within and beyond the UK.
To COMPETE for your Club, County or Area in local, Area and National competitions. The new 8 Areas will compete with each other at each age group level at an Area tournament to be held in the spring/early summer every year. Some Areas have well-developed inter-county competitions and/or leagues for both men and women. England Hockey run Masters' Cup and Plate competitions open to clubs or groups of clubs/Counties annually for Men's O40s, O50s and O60s and Women's O35s, O45s and O55s age groups; there may well be a team near you who would love to have you come down and try out if your own club can't put out its own Masters' team. The mix of opportunities will again depend on where you live.
At the ELITE level – to trial for England and represent your country.  Annual "4 Nations" tournaments and bi-annual World and European Cup events both outdoor and indoor are organised at each age level. As interest in Masters' hockey gathers pace, there are moves to extend "Spirit of Masters" competitions at World and European events to admit additional teams and create more opportunities for players to represent their Country. Some England players played at the highest level in their 20's or 30's, but there are plenty of others who never dreamt of representing England in their youth but have maintained fitness, continually improving their hockey and now proudly sport the 3 Lions on their shirts.
If you're not already involved in Masters' hockey and would like to know more about what's going on in your area, please click on the Form link below to let us know your key details. We will pass these on to your local Area Masters' coordinator and ask them to contact you with more local information.
Note:- Under EH guidance, the 8 new Areas are all in the process of setting up new websites and Area Masters' pages may not all be available as yet, your Area Coordinator will be able to let you know the latest information on these.