Players Taken Forward to England Age Group Assessment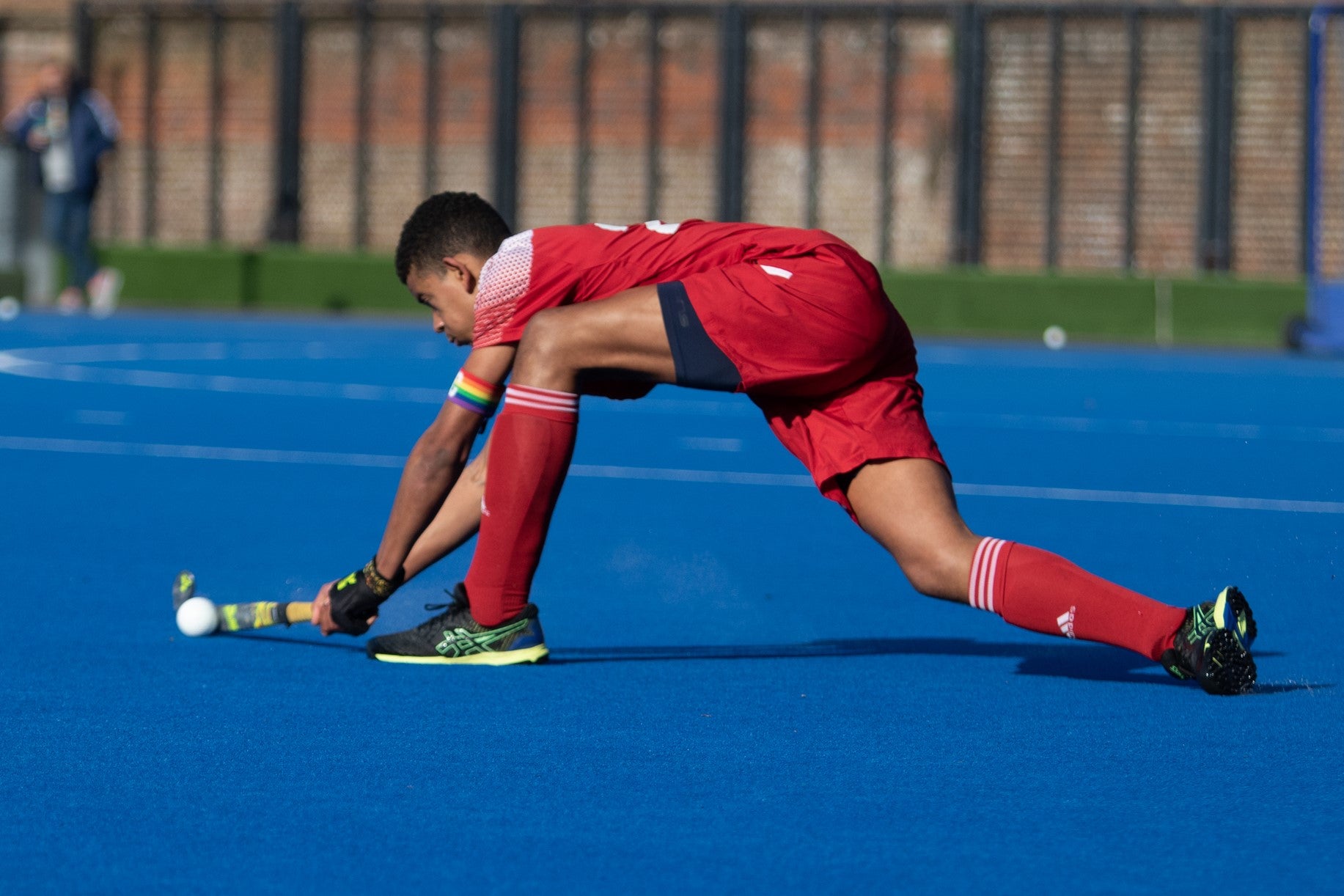 Players will be taken forward for initial assessment into the England Age Group squads from the Talent Academy Festival, DiSE Cup, previous England Age Group squads and Open Nominations.
After a fantastic inaugural Talent Academy Festival in Nottingham in July, England Hockey would like to thank everyone who played, supported, coached, volunteered, umpired, officiated and hosted over 850 young players. We hope that all players enjoyed the experience, soaking up the atmosphere and making memories with their squads.
After a rigorous selection process by England Age Group coaches and a team of scouts, including watching all games, an individualised goalkeeper selection process and detailed conversations with Talent Academy coaches, the England Hockey Age Group management teams have selected players to be taken forward from the Talent Academy Festival to the initial phase of assessment for the England U16 and U18 teams in September 2023.
These players will be joined by players selected from England Age Group Open Trials, which took place in July and August, after players were nominated by club, school and county coaches. England Age Group scouts were also present at the DiSE Cup to select players from this competition.
It has been a highly competitive process and the coaches would like to emphasise how much thought and time has gone into the process.
Players who do not go forward now, or after the initial assessment phase, will continue to develop in their club, school or Talent Academy environments. Talent Academy coaches will remain in regular contact with England Age Group coaches and will discuss players who demonstrate considerable development. Open nominations will continue as a route for players in other environments to progress, if appropriate.
We would urge players who have not been selected at this stage to remember that you are still very young and will continue to grow mentally, physically and in your hockey. Everyone develops at different rates and whilst, for now, we have not selected you for further engagement with the programme, it does not mean the same would happen in subsequent seasons. Some of our best senior internationals have had an early selection setback and gone on to become Olympians.
Players highlighted for U21 assessment by the coaches and scouts at the Talent Academy Festival are also listed and will be contacted separately by the England U21 and Great Britain EDP programme.
A small number of players who were injured or absent at the time of the Talent Academy Festival and Open Trials will be assessed in September or when fully fit, on a case-by-case basis. These players have not been listed below, as they have not been selected at this point.
The following players will be taken forward to England Age Group Initial Assessment for 2023-24 and will receive a call up letter with more information about the process:
| | | | |
| --- | --- | --- | --- |
| | First Name | Last Name | Route |
| 1 | Carsten | Andersen | Open Nomination |
| 2 | Sam | Bagley | Guildford TA |
| 3 | Nathaniel | Ball | Beeston TA |
| 4 | Josh | Barlow | Timperley TA |
| 5 | Ben | Barnett | University of Exeter TA |
| 6 | Ryan | Bennett | Stourport TA |
| 7 | Dillon | Bhogal | Durham University TA |
| 8 | Jack | Boden | Open Nomination |
| 9 | Benedict | Cannon | Open Nomination |
| 10 | Tom | Chapman | Guildford TA |
| 11 | Alec | Clayton-Jones | Guildford TA |
| 12 | Lucas | Collier | Open Nomination |
| 13 | Tom | Cox | Surbiton TA |
| 14 | Ambrose | Davis | England U16 Boys |
| 15 | Henry | Dawson | Open Nomination |
| 16 | Charlie | Day | Open Nomination |
| 17 | Nick | Du Toit | University of Exeter TA |
| 18 | Isaac | Edwards | Open Nomination |
| 19 | Harry | Founds | Open Nomination |
| 20 | Adam | Franks | Surbiton TA |
| 21 | Charlie | Fuschillo | Open Nomination |
| 22 | Will | Galloni | Sevenoaks TA |
| 23 | Ollie | Gibson | Guildford TA |
| 24 | Jake | Glew | Hampstead & Westminster TA |
| 25 | Ethan | Goodhind | Wimbledon TA |
| 26 | Archie | Goodrem | Open Nomination |
| 27 | Matt | Haines | England U16 Boys |
| 28 | Zac | Hartley | Oxford Hawks TA |
| 29 | Josh | Higgin | Timperley TA |
| 30 | Moritz | Hippe | England Age Group Development Group |
| 31 | Noah | Jones | Open Nomination |
| 32 | Noah | Lakin-Hall | England Age Group Development Group |
| 33 | Alex | Martinez-Lewis | Old Loughtonians TA |
| 34 | Dom | Marval | Open Nomination |
| 35 | Sebastian | Mortimer | England U16 Boys |
| 36 | Mathis | Neir | Wimbledon TA |
| 37 | Ben | Pickles | Yorkshire TA |
| 38 | Ben | Sawtell | Open Nomination |
| 39 | Tom | Small | Open Nomination |
| 40 | Ethan | Smythe | Cambridge TA |
| 41 | Will | Upton | Open Nomination |
| 42 | Rory | Wallace | Open Nomination |
| 43 | Herbie | Walton | Stourport TA |
| 44 | Ed | Wilkins | Open Nomination |
| 45 | Khai Ren | Wong | South Coast TA |
| 46 | Tom | Wood | Open Nomination |
| 47 | Sam | Wood | Wimbledon TA |
| 48 | Josiah | Woods | East Grinstead TA |

| | | | |
| --- | --- | --- | --- |
| | First Name | Last Name | Route |
| 1 | Magdalen | Archer | Stourport TA |
| 2 | Freya | Ashford | University Of Exeter TA |
| 3 | Cate | Aylwin | Open Nomination |
| 4 | Phoebe | Barnett | Wimbledon TA |
| 5 | Mollie | Beeton | England Age Group Development Group |
| 6 | Isabel | Bertram | Guildford TA |
| 7 | Alexandra | Braid | Cambridge TA |
| 8 | Isla | Campbell | Cambridge TA |
| 9 | Boadicea | Cannon | England U16 Girls |
| 10 | Georgia | Carroll | England U16 Girls |
| 11 | Amelie | Carter | England U16 Girls |
| 12 | Maya | Christopher | Cambridge TA |
| 13 | Evie | Cronin | Yorkshire TA |
| 14 | Fran | Davies | England U16 Girls |
| 15 | Sophie | Dickinson | University Of Exeter TA |
| 16 | Baggett | Elena | Durham TA |
| 17 | Connie | Fenwick | Open Nomination |
| 18 | Sophie | Godwin | Holcombe TA |
| 19 | Martina | Grace | Stourport TA |
| 20 | Evie | Grindal | England U16 Girls |
| 21 | Holly | Hartley | Cambridge TA |
| 22 | Maia | Hendrickx | Wimbledon TA |
| 23 | Bella | Hinde-Smith | England U16 Girls |
| 24 | Georgia | Howe | Reading TA |
| 25 | Lettie | Hughes | Sevenoaks TA |
| 26 | Isobel | Johnson | Cambridge TA |
| 27 | Victoria | Kern | Open Nomination |
| 28 | Jessica | Lamprell | Open Nomination |
| 29 | Jenny | Lee | East Grinstead TA |
| 30 | Jessica | Liddell | Reading TA |
| 31 | Sophie | Litchfield | Oxford Hawks TA |
| 32 | Charlotte | Malone | Reading TA |
| 33 | Freya | Matthews | Hampstead & Westminster TA |
| 34 | Biba | Mills | England U16 Girls |
| 35 | Cecily | Moorhead | England U16 Girls |
| 36 | Mara | Morrison | Durham TA |
| 37 | Eloise | Nickson | Timperley TA |
| 38 | Sophie | Osborne | Surbiton TA |
| 39 | Meg | Parry | Wimbledon TA |
| 40 | Lisa | Perry | North West TA |
| 41 | Cora | Seth | Yorkshire TA |
| 42 | Ava | Shaw | Open Nomination |
| 43 | Katie | Southorn | Open Nomination |
| 44 | Charley | Warren | England Age Group Development Group |
| 45 | Evie | Whitehead | Open Nomination |
| 46 | Milicent | Wright | Sevenoaks TA |
| 47 | Matilda | Wright | Timperley TA |
| 48 | Izzy | Yonge | England U16 Girls |
| 49 | Evie | Younger | England U16 Girls |

| | | | |
| --- | --- | --- | --- |
| | First Name | Last Name | Route |
| 1 | Morten | Andersen | England Age Group Development Group |
| 2 | Ehsan | Anwar-Khan | England U18 Boys |
| 3 | Adam | Ball | North West TA |
| 4 | Will | Barber | England U16 Boys |
| 5 | Ollie | Bennett | England U18 Boys |
| 6 | Jake | Bennett | DiSE |
| 7 | Sam | Carleton | Guildford TA |
| 8 | Charlie | Cook | England U18 Boys |
| 9 | Isaac | Dale | England U16 Boys |
| 10 | Toby | Day | England U16 Boys |
| 11 | Sahib | Dhillon | England U18 Boys |
| 12 | Mathew | Dicker | South Coast TA |
| 13 | Kayden | Draysey | South Coast TA |
| 14 | Douglas | Duffus-Hodson | Durham TA |
| 15 | Mikey | Eldridge | England U18 Boys |
| 16 | Will | Ferguson | Durham TA |
| 17 | Ollie | Foot | England U16 Boys |
| 18 | Seb | Friessner-Day | England U16 Boys |
| 19 | Will | Grant | England U18 Boys |
| 20 | Will | Gravestock | England Age Group Development Group |
| 21 | Harry | Grinham | England Age Group Development Group |
| 22 | Lars | Hansen | Surbiton TA |
| 23 | Ben | Hanson | Surbiton TA |
| 24 | Charlie | Harrison | England U16 Boys |
| 25 | William | Harvey | England Age Group Development Group |
| 26 | Will | Haspel | Surbiton TA |
| 27 | Ben | Hegan | South Coast TA |
| 28 | Jack | Hobkirk | England U18 Boys |
| 29 | Rohit | Jakhu | England U18 Boys |
| 30 | Taheem | Javaid | England U18 Boys |
| 31 | Louis | Jordan | England U16 Boys |
| 32 | Marcus | Lake | England U16 Boys |
| 33 | Caspar | Lea | Birmingham TA |
| 34 | Ben | Mayes | England U16 Boys |
| 35 | Tom | Mead | England U16 Boys |
| 36 | Toby | Morris | Timperley TA |
| 37 | Jonah | Pedrette | Reading TA |
| 38 | Louis | Powell | England U16 Boys |
| 39 | Marco | Riley | England U16 Boys |
| 40 | Eddie | Rowney | England Age Group Development Group |
| 41 | Lucas | Smart | England U16 Boys |
| 42 | Olly | Stone | England U16 Boys |
| 43 | Nathan | Sumner | England U16 Boys |
| 44 | Ed | Wheeler | England U18 Boys |
| 45 | Laurie | Wildman | Open Nomination |
| 46 | Conor | Yap | England U16 Boys |

| | | | |
| --- | --- | --- | --- |
| 1 | Katie | Alexander | England U18 Girls |
| 2 | Caitlin | Ampleford | University Of Exeter TA |
| 3 | Noa | Armelin | Open Nomination |
| 4 | Martha | Bainbridge | England U16 Girls |
| 5 | Kate | Barker | England Age Group Development Group |
| 6 | Lucy | Barker | Yorkshire TA |
| 7 | Emily | Barrett | England U16 Girls |
| 8 | Beau | Barrington-Hibbert | University Of Exeter TA |
| 9 | Rosie | Bowman | Beeston TA |
| 10 | Liv | Breed* | England U18 Girls |
| 11 | Ruby | Butterfield | England U16 Girls |
| 12 | Anna | Cogdell | England U18 Girls |
| 13 | Siobhan | Daley | Old Loughtonians TA |
| 14 | Anna | Faulstich | England U18 Girls |
| 15 | Jazzy | Finney | Reading TA |
| 16 | Gemma | Footit | Guildford TA |
| 17 | Lily | Freeman | Hampstead & Westminster TA |
| 18 | Beth | Gardens | England U16 Girls |
| 19 | Ines | Gascoyne-Day | Open Nomination |
| 20 | Emily | Gilbert* | England U18 Girls |
| 21 | Lexie | Haig | England Age Group Development Group |
| 22 | Tayla | Harvey | Open Nomination |
| 23 | Josefina | Hippe* | England U18 Girls |
| 24 | Laila | Hollis | Cambridge TA |
| 25 | Lilly | Holmes | England U16 Girls |
| 26 | Amie | Hunt | England U18 Girls |
| 27 | Carys | Isherwood | England U16 Girls |
| 28 | Anya | Jackson* | England U18 Girls |
| 29 | Pollyanna | Jones | South Coast TA |
| 30 | Emily | Jury | University of Exeter TA |
| 31 | Shakila | Keable | England U16 Girls |
| 32 | Carlotta | Kern | Sevenoaks TA |
| 33 | Isy | Key | England U16 Girls |
| 34 | Summer | Knight Thompson | England U16 Girls |
| 35 | Tula | Knowles | England Age Group Development Group |
| 36 | Lucy | Mangat | Surbiton TA |
| 37 | Ruby | Massey | England U16 Girls |
| 38 | Charlie | Milsom | Open Nomination |
| 39 | Mia | Moore | England U18 Girls |
| 40 | Bella | Muñoz | England U16 Girls |
| 41 | Tiana | Nhamoinesu | South Coast TA |
| 42 | Emilia | Puddicombe | Team Bath Buccaneers TA |
| 43 | Milly | Reading | East Grinstead TA |
| 44 | Maelona | Rees | Surbiton TA |
| 45 | Maddie | Richardson | Holcombe TA |
| 46 | Katie | Rimmer | North West TA |
| 47 | Ella | Robinson | Open Nomination |
| 48 | Charlotte | Salmon | Stourport TA |
| 49 | Leila | Scott | Birmingham TA |
| 50 | Evie | Smith | England U16 Girls |
| 51 | Ash | Stephenson | England Age Group Development Group |
| 52 | Caitlin | Thompson | England U16 Girls |
| 53 | Jessica | Tuff | Open Nomination |
| 54 | Alessia | Turner | Open Nomination |
| 55 | Tabby | Vaughan | England U18 Girls |
| 56 | Monica | Watkins | England U18 Girls |
| 57 | Charlotte | Watkins | England Age Group Development Group |
| 58 | Sophie | Watts | Cambridge TA |
| 59 | Martha | Wong | England U16 Girls |
| 60 | CJ | Wood | Surbiton TA |
| 61 | Tilly | Woodhead* | England U18 Girls |