Team Of The Month - October 2021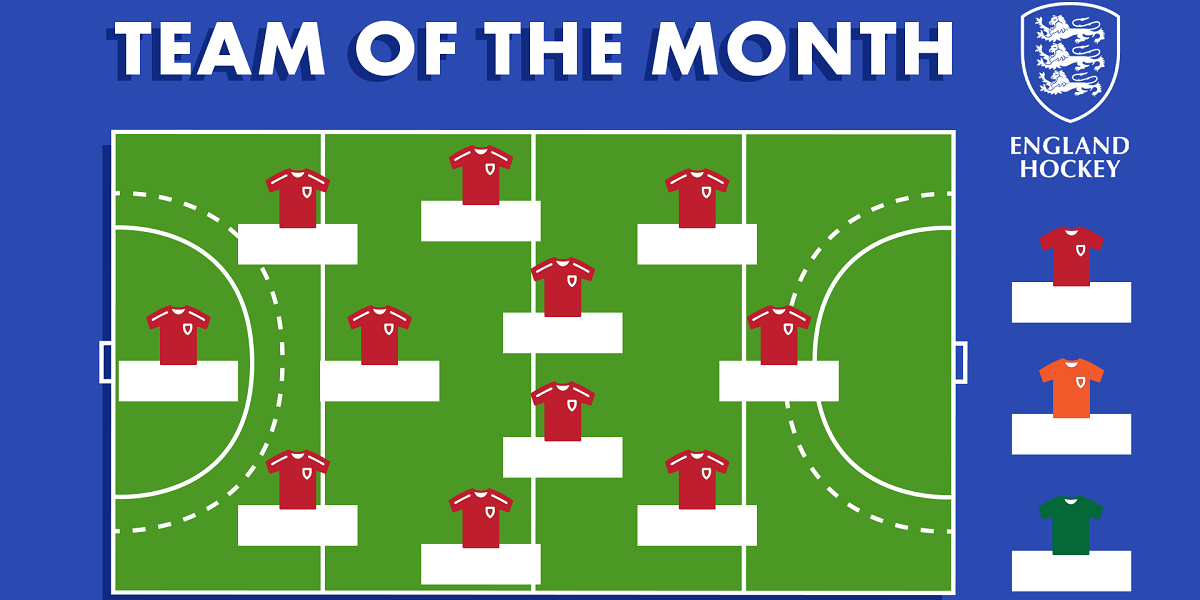 Following the completion of the first full month of the 2021/22 season, here's a reflection on some of the outstanding performances on and off the pitch across the country.
With all clubs returning to the pitch after the pandemic to enjoy what is hoped to be an uninterrupted year of hockey, we asked you to nominate those who have gone above and beyond.
We received some outstanding nominations too, from youngsters making the grade at the highest level to true club all-rounders, lethal goalscorers and a life-saving umpire too.
Team Of The Month will return for its second instalment in early December so make sure you keep an eye out to submit your nominations on England Hockey's Facebook and Twitter pages.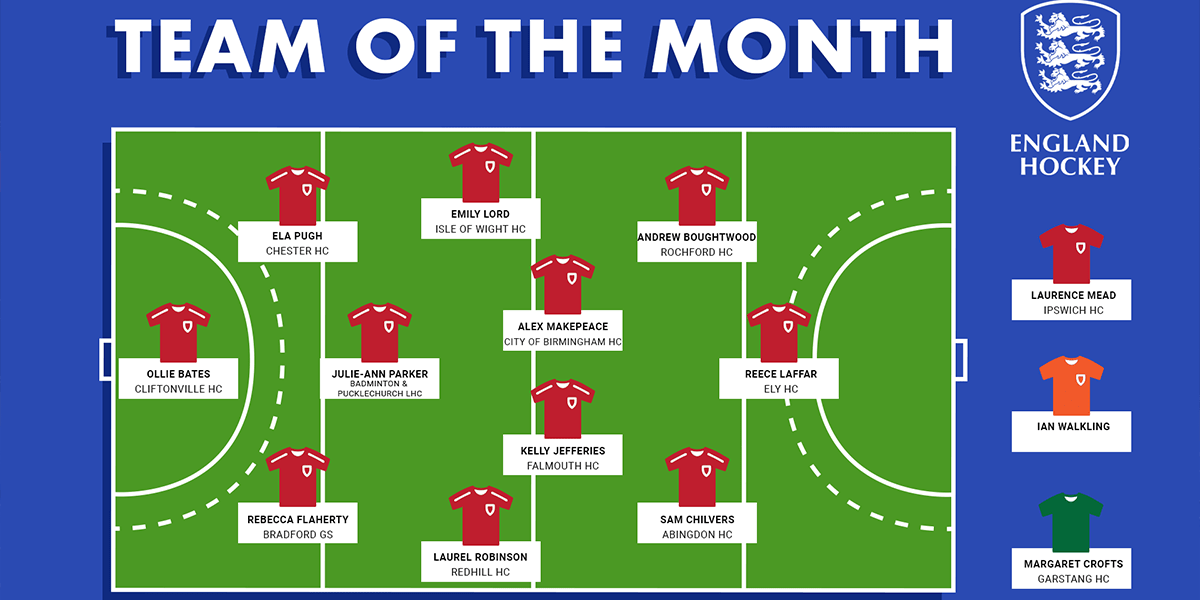 Goalkeeper

Ollie Bates (Cliftonville HC) – Ollie may only be 16 but he's been promoted to his club's 1st XI this season and is thriving. Playing three leagues above where he had been previously, Ollie kept two clean sheets from his four games in October and was named Player Of The Match twice

Defenders

Rebecca Flaherty (Bradford Grammar School) – October certainly was a fine month for Rebecca as she represented England in cross country whilst also scoring her first senior goals for her school, one of which was a winner
Julie-Ann Parker (Badminton & Pucklechurch LHC) – Julie has been unable to play this season as she receives treatment for an illness but that hasn't stopped her from supporting her team-mates each week on the sidelines or even umpiring some games. Her club and England Hockey would like to wish Julie-Ann all the best in her recovery and hope she's back on a hockey pitch very soon
Ela Pugh (Chester HC) – Ela, despite being just 17, is thriving at 1st XI level, having been described as 'calm and fierce' and growing in confidence each week

Midfielders

Kelly Jefferies (Falmouth HC) – Kelly is an important figure in midfield for the club's 1st XI as well as being head coach of junior section. In addition, she also helps organise who is on umpiring duty for the club and also picks up a whistle herself too. Kelly is the epitome of a true club all-rounder
Alex Makepeace (City of Birmingham HC) – Alex, the captain of the 1st XI, has helped the club extend their unbeaten league run to 13 months now after it began back in September 2020. In one game, he also scored a hat-trick from midfield and provided an assist too
Laurel Robinson (Redhill HC) – Laurel stepped in as captain for a game in October whilst she can also be found regularly leading the warm-ups before matches. In addition, Laurel supplies teas, helps cook and clean up and is described by her nominator as 'generally fabulous'
Emily Lord (Isle of Wight HC) – Emily has been named Player Of The Match twice already this season and is also a star off the pitch too. She promotes the club on social media and in local news, has organised new hoodies for the entire club and is also the social secretary, organising a great Halloween event

Forwards

Sam Chilvers (Abingdon HC) – Sam has truly been on fire this season, notching 15 goals in October alone to take his tally for 2021/22 so far up to 20. How many do you think he'll end with?
Reece Laffar (Ely HC) – Reece is another who has been scoring goals for fun for his club. He is currently the top goalscorer for his team and is also described as the most consistently dependable player in the team. His nominator expects him to have notched at least 30 strikes by the end of the season – that would be some effort!
Andrew Boughtwood (Rochford HC) – after taking some time out of the game, Andrew has come back with a bang and scored 11 goals in just five matches

Laurence Mead (Ipswich HC) – Laurence took over as head coach of the women's 1st XI this season and is already making a big impact. At the end of the month, they secured their first England Hockey League win since 2015 as they recorded a 1-0 victory in the Vitality Women's Conference East. They followed that up with another three points last weekend to extend their unbeaten run to three games and move up to seventh in the table.

Ian Walkling – Ian performed heroics during a game in October as he performed CPR and saved the life of an opponent who was suffering a heart attack. If you would like some more information about what to do in a similar situation, you can read the British Heart Foundation's guide here.

Margaret Crofts (Garstang HC) – Margaret is treasurer and membership secretary for Garstang HC but her role extends way beyond that. Throughout the early stages of the pandemic, Margaret was responsible for collating all the attendance records and, following a surge in new youngsters wanting to be part of the club, she also co-ordinates their availability for various tournaments. Margaret also put in a huge kit order for the junior section so they all look smart and truly feel part of the club