Victors Decided In Opening Day Of EH Champs Finals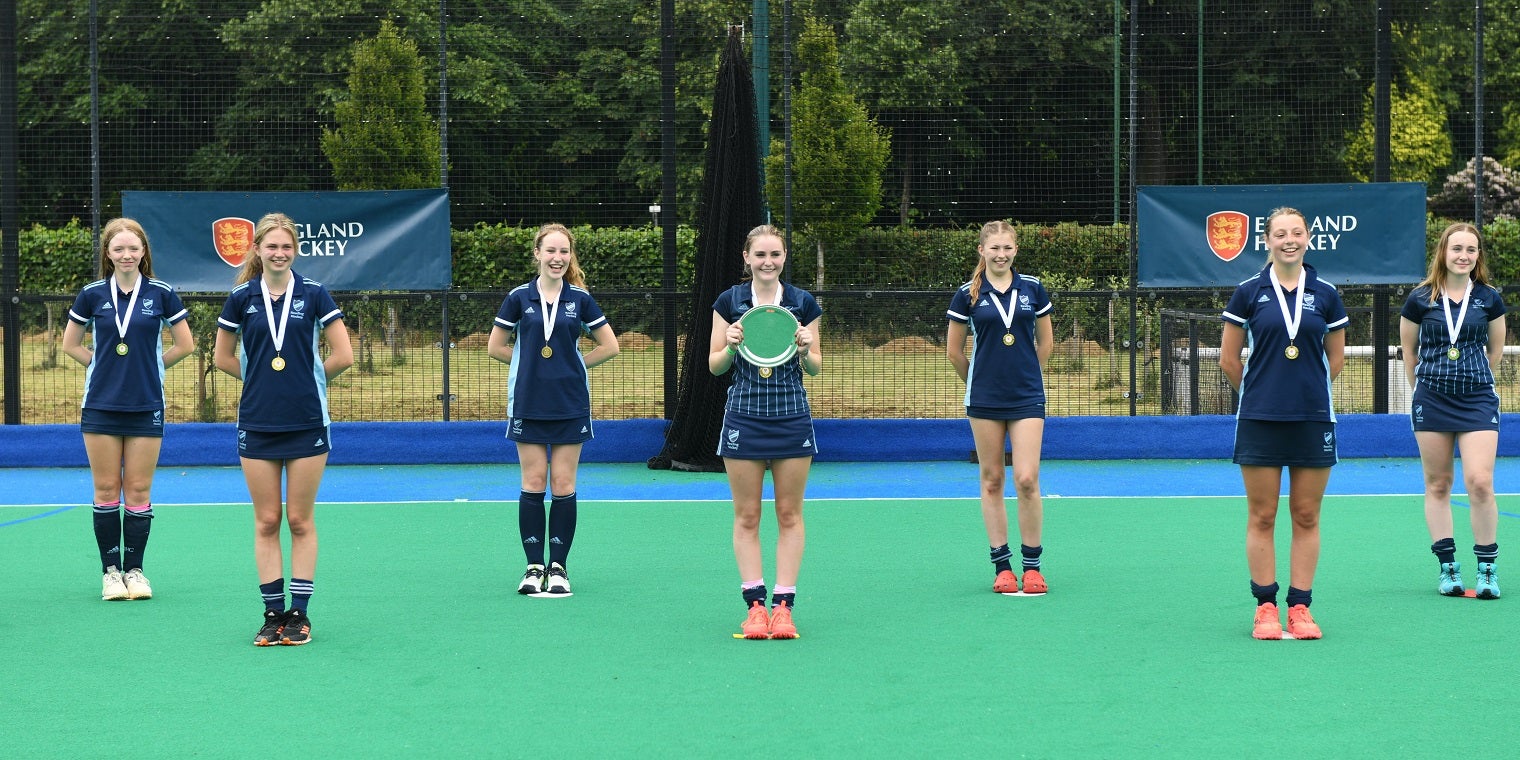 The first day of EH Championships Finals has reached its conclusion as 18 titles were awarded in the Junior Champs Finals.
With 77 goals scored across the day, there's been plenty of excitement at Nottingham Hockey Centre, click below to see which side came out on top in each competition.
There's more to look forward to on Saturday 10 July as the Adult and Masters Champs Finals head to Nottingham Hockey Centre with a further 16 matches yet to be played, click here for more information.
The opening match of the day saw Beeston claim victory on home soil with a 2-0 victory over Guildford in the Girls U14 Plate as Antonia Fraser and Darcie Wilson both found the target.

Guildford bounced back in their second match with a 3-1 win over East Grinstead. Three different scorers in the form of Ottalie Taylor, Martha Ralph and Liza Semenko cancelled out Connie Penlington's lone strike to keep things close in the hunt to be crowned champions.

However, it was Beeston who prevailed as they made it two wins from two games in the final encounter of the day in the Girls U14 Plate as the team took the title with victory over East Grinstead. Goals from Alice Hartley, Marley Taylor and two from Antonia Tommasi bagged the team a 4-0 victory and the trophy as Guildford took second spot ahead of East Grinstead in third place.

The Boys U14 Championship got off to a tense start as Surbiton bagged a narrow 1-0 victory over Harrogate, Joseph Duggan's strike proving decisive to ensure his team would start the day well.

Surbiton again were limited to just the one goal in their second match of the day, this time the team unable to keep a clean sheet as they recorded a 1-1 draw against Trojans. Matthew Dicker notched the goal for Trojans whilst Lars Hansen struck for Surbiton.

Fresh off the back of the earlier draw, Trojans clinched the Boys U14 Championship with a 2-0 win over Harrogate in the final match of the competition. Charlie Cook's superb finishing proved to be the difference with his brace of field goals meaning his side would take the title ahead of Surbiton in second, with Harrogate finishing third.

In the first of three U14 Girls Championship matches, Trojans, who were competing in three competitions through the day, stared well with a 2-0 victory over Repton as Laura Kortekaas and Sophie Kent fired the team to an opening game win.

The second match was a real nail-biting affair as Knole Park held firm to defeat Trojans 1-0. Natalya Harvey's solitary strike earning her side a slender win and put them in a promising position heading into their final game.

Knole Park ensured that earlier victory would pay dividends as they defeated Repton 4-1 in the final match of the competition to clinch the U14 Girls Championship title.

A superb first-half hattrick from Summer Knight-Thompson, two of which came in the opening ten minutes, gave the team the perfect start to the match. Though Beth Phillips' strike had brought Repton back into the game, Evie Smith secured Knole Park's lead with the only goal of the second-half to take the title as Trojans finished second, with Repton coming third.

Reading were the first team of the day to lift a trophy as they emerged victorious in the U16 Girls Plate. Mia Moore's superb hattrick of field goals, alongside further strikes from Kitty Nutt and Anastrasia Horlock gave the team an emphatic 5-0 over Leeds to take the title.

In a gripping match, Thirsk took a thrilling victory over Knole Park to secure the Girls U16 Championship with a 3-2 win.

Knole Park had twice taken the lead, on both occasions Polly Brownlow the one finding the target, but Thirsk kept themselves in the game and found a late winner to secure the title – Amelia Pollock, Lexie Haigh and Marnie Scatchard scoring the all-important goals.

Brooklands Manchester University were in fine form as they topped Canterbury 4-0 in the Boys U18 Championship.

Goals from James Burley, Seb Yates and a Felix Tully brace, coupled with a robust defence, earned the team an emphatic victory as they claimed the trophy.

There was plenty of action, excitement, and goals in the Boys U16 Plate as an inspired second-half performance gave Canterbury a 9-3 victory over Cheltenham.

The first-half was an entertaining tussle as both sides continued to find the net in a balanced half that ended with Cheltenham finding themselves at a slender 3-2 disadvantage.

Canterbury roared into life in the second-half to take the game away from Cheltenham, Josh Pebble proving unstoppable with five goals through the course of the match whilst Callum Conlaon, Charlie Jan and two from Josh Kitson added to the scoresheet for the victors. Willoughby Cooke, George Isles and Paddy Jackson had recorded goals for Cheltenham, but it wasn't to be enough to stop Canterbury from earning victory.

Bowdon fought hard to take the Girls U18 Championship title with a battling 3-2 victory over Harleston Magpies.

Harleston Magpies had taken the lead through Grace Gowling's strike, but a quick response from Beth Alexander and two goals in the final fifteen minutes from Ava Dempsey and Anna McKay gave Bowdon the edge. Though Harleston Magpies pushed to get back into the game, Eva Harness' penalty corner goal in the final minute was too little too late as Bowdon earned the trophy.

The Girls U18 Plate couldn't be settled in regular time as Taunton Vale and Trojans played out a gripping 1-1 draw. Alice Partridge's first-half effort had given Taunton Vale the lead, but Charlotte Tom's late goal would send the match into a penalty shootout. In a nervy shootout, Trojans eventually came out as winners with a 2-1 win after the first round of sudden death to take the title - Charlotte Mould scoring both goals for Trojans in the shootout.

Knole Park secured their second trophy of the day as they lifted the Boys U14 Plate with a 9-0 victory over City of York.

It was a ruthless showing in which Louis Van de Risje grabbed a hattrick, Isaac Dale and Indy Morris bagged braces, and Oscar Osbaldeston and Ignacio Munoz also struck to earn a comprehensive victory.

In a feisty affair that saw several cards dished out, Winchester topped Bowdon 6-2 in the Boys U16 Championship.

Goals from Ollie Macnicol and Ted Graves weren't enough for Bowdon as Henry Crompton, Alfie Marsh, Max Wedderburn, Harry Wilson, and two from Oliver Lander fired Winchester to the title.

It was a thrilling conclusion to the first day of EH Champs Finals as a shootout was required to decide a victor. Nathan Dean and Matthew Sells were on target for Stone, whilst Julian Blaszkiewicz and Filippo Varda's goals for Woking meant that the teams couldn't be separated in regular time with the scores locked at 2-2. In a tense finale, Woking maintained their composure and took a 3-0 victory in the penalty shootout to ensure they would be victorious in the Boys U18 Plate.