Carson Brothers Propelling Their Clubs Into Super 6s Premier Division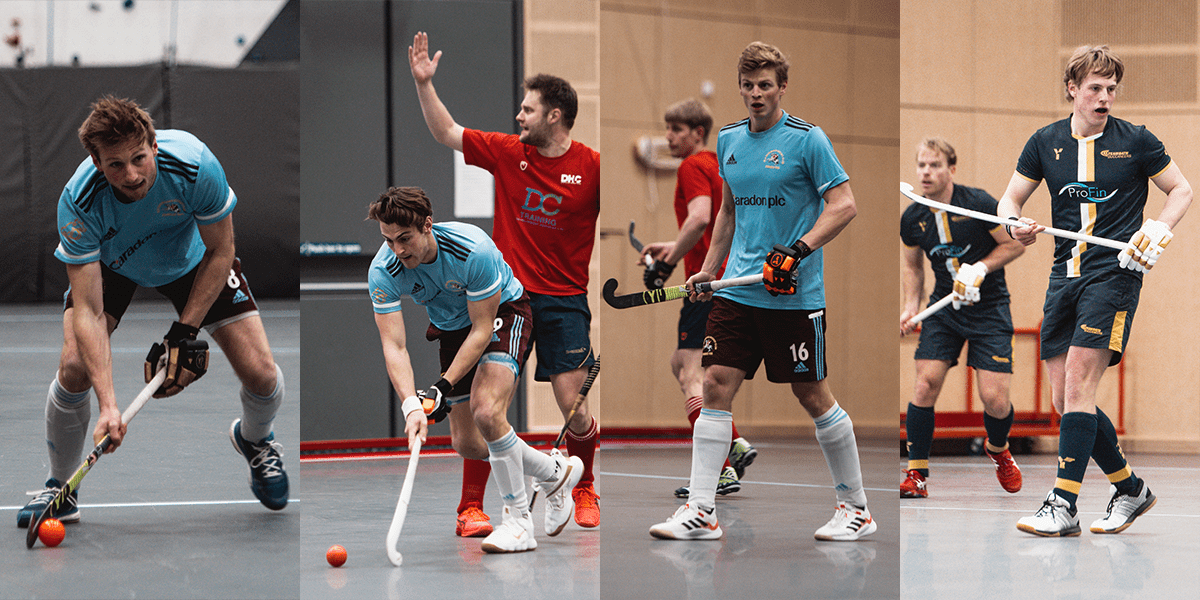 Photo credit: Jack Stanley
Rod Gilmour from The Hockey Paper spoke to another of hockey's sibling dynasties - the Carson quartet - about their hopes of helping their sides gain promotion to the Men's Super 6s Premier Division this weekend.
You can follow live scores from all the action by clicking here.
They may not be on the same team, but four Carson brothers could help their clubs reach the Men's Super 6s Premier Division this weekend.
While undefeated Old Georgians are all but assured of their place in the top flight for the first time next season due to superior goal difference, Team Bath Buccaneers lie in second place in Division One. They need a win and a draw from their final two matches to make sure of promotion.
With Old Georgians trio Ed, James and Tom Carson - the latter heading the scoring with 10 goals last weekend - set for the Premier Division, youngest brother George, who has six goals to his name, is looking forward to a tough two final games with his side, Team Bath Buccaneers.
The west country outfit play Canterbury and University of Exeter, George's former side, with both clubs in position to strike should Bath slip up on Saturday at Addlestone. "Exeter will be a tough game but it will be all good fun," said George.
Last weekend saw Bath lose 8-1 to table toppers Old Georgians. The Carson quartet were last on the same pitch in 2019, during an invitational tournament in California when they were on the same side.
When George and James were at University of Exeter and Ed and Tom at Old Georgians, the brothers were scheduled to meet each other in top flight hockey before Ed was injured. Spool further back, George believes they last lined up together in a Somerset county hockey or a summer league match.
But last weekend represented their biggest national league match. George, the youngest brother at 24, said: "Ed, Tom and James have played a lot together at Reading and OGs and so it was nice to come off the court against them, especially on an indoor pitch where there are limited places to hide. There are a lot of one-on ones and big tackles being put in and it's all good fun.
"Just attending the indoor weekends, it's incredible for basic skills but also having all the teams together, you get chatting to people you wouldn't at indoor hockey and everyone watches the games. It is also highly competitive hockey in a short amount of time."
George left Exeter before making the move to play outdoor and indoor with Team Bath Buccaneers, who reached the Super 6s Finals in 2018. However, this weekend will represent his last matches for Bath after moving to London last week to be closer to his job at Y1, the sports brand company co-founded by his brother Tom.
It begs the question of whether there could be four Carsons lining up at Old Georgians for the second half of the outdoor season in the men's Premier Division? "Unfortunately not. The conversation was floated amongst the brothers but it is just too far from where I am living," said George.
"I would love to end up back in Bath one day though. The club is so friendly and there are a plethora of talented youngsters and the experience in JJ (John Jackson) and Stuart Loughrey and I have learned a lot from them."
Irishman Jackson missed last weekend's opening games through Covid, while the 35-year-old captain, who joined in 2016, remains a class act both outdoors and indoor. "He does some things you think 'how on earth'. He's a pioneer and incredibly talented," said George.
Just like the four Carson brothers, who are all one step away from promotion.
Super 6s Finals Day - 'Hockey's Big Day In' - returns to the Copper Box Arena on Sunday 30 January 2022. Tickets are on sale now. For more information and details on how to save 20% when booking as a group, click here.