Super 6s Finals Day Qualifiers Confirmed As Buckingham And Surbiton Keep Title Defences Alive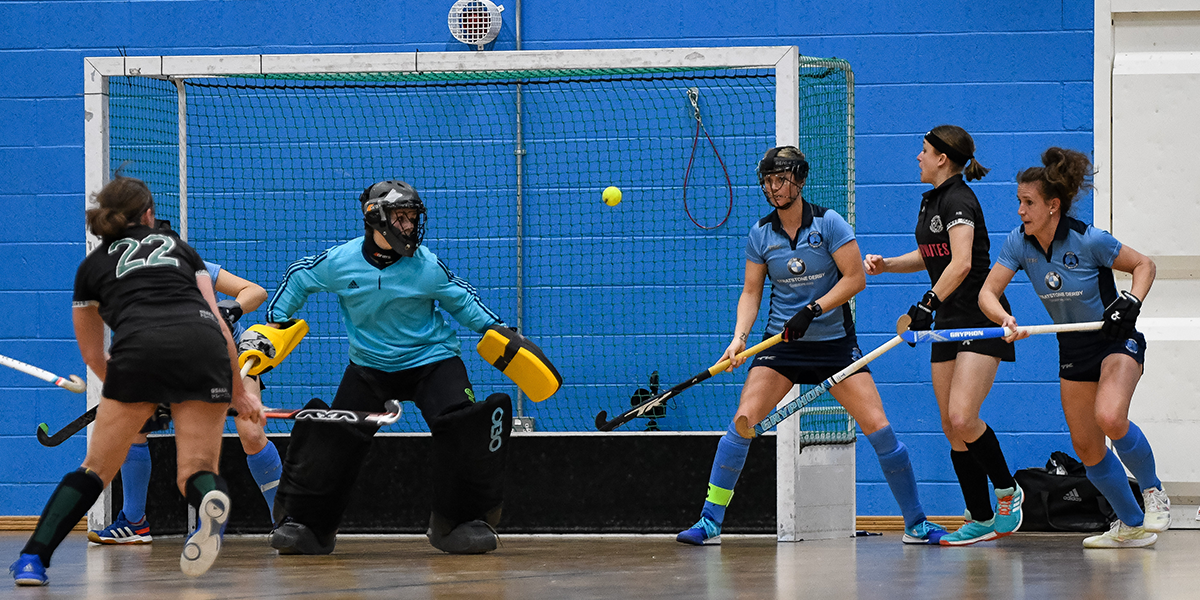 Photo credit: Graeme Wilcockson
You can view full the full set of results from this weekend's games as well as the tables and the upcoming fixtures for the Super 6 Championships by clicking here.
Another enthralling day of wall-to-wall Super 6 Championship action saw the top four teams from the men's and women's Premier Divisions confirm their place at Finals Day.
In the women's Premier Division, East Grinstead had already become the first team to officially qualify on Saturday for Hockey's Big Day In with an unbeaten record through six games.
But they ensured they finished top of the league standings with back-to-back victories on Sunday at Repton School, beating Sutton Coldfield 3-2 before prevailing 3-1 against Holcombe.
Eliza Wheeler's brace and a strike from Robyn Bentley got the job done against Sutton Coldfield, while Amy Thompson, Sophie Bray and Chloe Brown scored in the win over Holcombe.
Repton also confirmed their Super 6s Finals Day qualification in their debut season in the Premier Division with a 4-2 win over Slough after an entertaining 6-6 draw with Buckingham.
Buckingham had raced into a 4-0 lead in the second match of the day, with Rebecca van Arrowsmith, Abbie Brant, Maddy Newlyn and Natasha James all on target.
Eleanor Watton and Sally Walton responded for Repton but a second for Brant and a penalty corner from Alex Naughalty saw Buckingham maintain their four-goal lead.
But four goals in ten minutes from the hosts snatched a remarkable draw against the odds, with Walton completing her hat-trick either side of goals from Watton and Svea Boker.
And Walton continued her fine form in front of goal against Slough, scoring twice more in addition to a brace from Boker, to rubber-stamp Repton's qualification with a 4-2 win.
Meanwhile, defending champions Buckingham followed up the draw with Repton by also being held 2-2 by Slough - a result that proved enough to secure third place in the table.
A brace from Van Arrowsmith had put Buckingham in control at 2-0 up but two goals in the final quarter from Lizzy Totten and Imogen Brown rescued a point for Slough.
Buckingham's reward will be a semi-final rematch with second-placed Repton at the Copper Box Arena on Super 6s Finals Day as they look to retain the title they won in 2020.
Slough complete the semi-finalists in the women's Premier Division, finishing just one point ahead of Bowdon Hightown to set up a Super 6s Finals Day showdown with East Grinstead.
Bowdon Hightown could have overtaken Slough with a win in their last game against Wimbledon but were held to a 3-3 draw, having lost 7-3 to Leicester earlier in the day.
Wimbledon led that game 3-0 thanks to goals from Ruth Hampson, Megan Batchelor and Olivia Chilton before Charlene Mason's double helped Bowdon Hightown avoid defeat.
Earlier in the day, Sutton Coldfield came from 3-0 behind to beat Holcombe 7-4 thanks to four from Vicky Woolford as well as goals from Laura Groves, Emma McCabe and Beth Peers.
Sutton Coldfield finished sixth in the final standings while Leicester were seventh, having lost 5-3 to Wimbledon before Jordan Homann's four goals fired them to victory over Bowdon Hightown.
In the men's Premier Division, reigning champions Surbiton defeated Hampstead & Westminster 7-6 in the day's final game at Whitgift School to go through to Finals Day top of the table.
Surbiton, who had beaten Sevenoaks 4-3 in their first match of the day with a Jamie Golden hat-trick, stormed into a 3-0 lead with goals from Golden, Tim Nurse and Jack Middleton.
But Hampstead & Westminster hit back with five consecutive goals to go 5-3 ahead before Arjan Drayton-Chana, Golden, Middleton and Jonny Gall secured the three points for Surbiton.
East Grinstead await Surbiton on Super 6s Finals Day thanks to back-to-back wins on Sunday, beating Reading 7-3 and Brooklands MU 11-5 to sneak the fourth qualifying place.
Kyle White and Daniel Faulkner both scored twice against Reading before White, Jarryd Jones, Ben Mackey and Niall Stott all bagged braces in the thumping win over Brooklands MU.
The other semi-final on Super 6s Finals Day at the Copper Box Arena will see Hampstead & Westminster take on Wimbledon after they finished second and third, respectively.
Hampstead & Westminster preceded their narrow defeat to Surbiton with a 2-1 victory over Sevenoaks, with goals from Joe Sharp and Josh Kelly proving decisive.
Wimbledon, on the other hand, were held to a 3-3 draw by Holcombe in their opening game for the day before beating Repton 2-1 with goals from Ed Horler and Evan Kimber.
Elsewhere, Repton finished their first season in the Premier Division in seventh place with three wins from their eight games, including Sunday's 4-3 success over Holcombe.
Harry Stone and a brace from Ross Vides put Repton 3-1 ahead before Robert Field and Jake Owen drew Holcombe level, only for Simon Claris to strike the winner at the death.
Brooklands MU also claimed their first win of this season's Super 6 Championship in their last game, prevailing 8-5 over fellow strugglers Reading to finish their campaign on a high.
David Flanagan scored four times in the victory while Andrew Rusbridge also grabbed a brace as Tom Minall's double for bottom-placed Reading proved to be in vain.
Super 6s Finals Day - 'Hockey's Big Day In' - returns to the Copper Box Arena on Sunday 30 January 2022. Tickets are on sale now. For more information and details on how to save 20% when booking as a group, click here.