Surbiton Seal Super Bronze Medal While East Grinstead And Hampstead & Westminster Also Prevail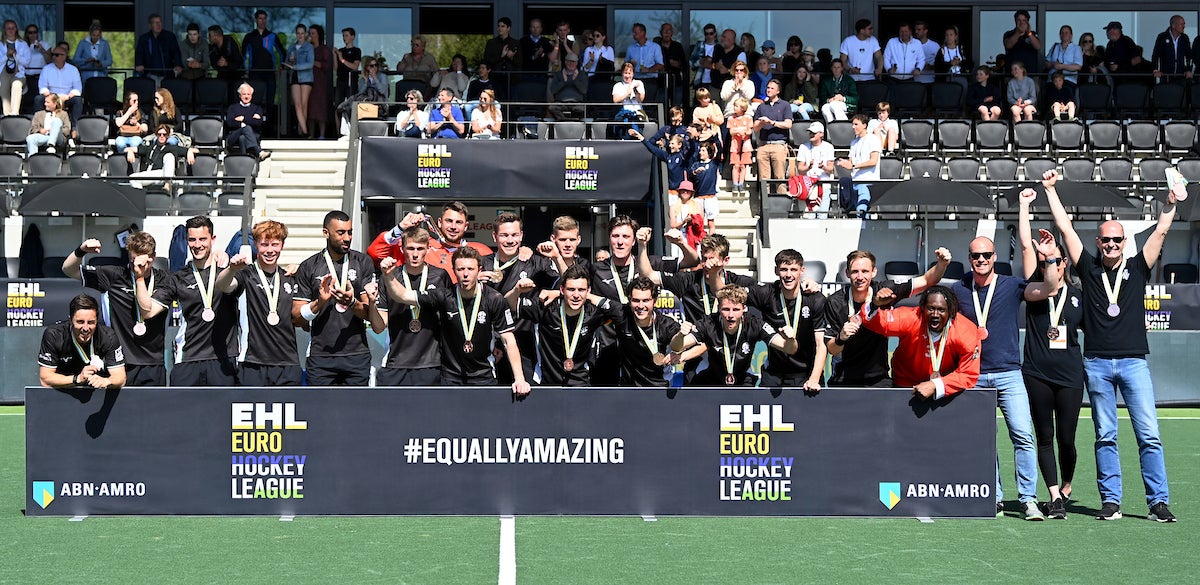 Surbiton Men sealed a historic third-place finish while East Grinstead Women and Hampstead & Westminster Men were also victorious on a thrilling day of European hockey action for English sides.
After yesterday's last four defeat to Rot-Weiss Koln, Surbiton entered today's bronze medal match against Club de Campo aiming to become just the second English men's side to medal in the Euro Hockey League.
And they sealed a bronze medal - a first for an English team since Reading in 2012 - with a thrilling 2-1 victory over Club de Campo.
After the first two quarters Surbiton were 2-0 up, goals from David Goodfield and Gareth Furlong handing them the lead.
But a 51st minute goal from Ignacio Rodriguez pulled Club del Campo back into the contest as they looked to draw level.
The Spanish side continued to create opportunities but some superb saves from Surbiton keeper Ore Ogunlana kept them in front.
And that proved to be enough for Surbiton to seal a hugely impressive bronze medal in Amsterdam.
Ogunlana, who was named man of the match for his heroics, said: "As a team, I think given yesterday's performance we knew we had to come out and just show everyone how good we actually are.
"I think we owed it to ourselves but all the injured players that we've got, the fans that we've got here, our juniors, our coaches, just to come out and perform.
"We did - so we're very happy!"
Elsewhere, East Grinstead Women sealed a third-place finish in the Club Trophy thanks to a dominant 6-2 win over HC Argentia in Italy.
East Grinstead held a narrow 3-2 lead at half-time, though scored three goals without reply in the third and fourth quarters to seal victory and a bronze medal.
Sophie Bray's hat-trick helped power them to victory, with Ellie Rayer netting a brace and Guada F Lacort also on the scoresheet.
And there was further success for Hampstead & Westminster Men, who sealed fifth-place in the League Ranking Cup thanks to a 7-1 victory over Three Rock Rovers in Spain.
Braces from Sam French and Matthew Guise-Brown helped seal a comfortable victory for the London side, with Matthew Ramshaw having opened the scoring and Rupert Shipperley and Teague Marcano also on the scoresheet.
Assistant coach Huw Stevens said. "It's always good to finish well and do what we know we can do.
"It was nice to make the most of our chances today."
Surbiton's superb European run in the ABN AMRO Men's Euro Hockey Finals came to an end with a 5-1 semi-final defeat to Rot-Weiss Koln in Amsterdam on Easter Sunday but they still have a chance of a medal.

Two goals apiece for Maximilian Siegburg and Christopher Rühr gave the German side a 4-0 half-time lead.

Captain Mats Grambusch stretched the advantage after the break when he smashed into the bottom corner before Surbiton got one back through Luke Taylor from a penalty corner.

The scoreline reflected Rot-Weiss Koln's ruthlessness in front of goal and they got off to a flying start with a quick-fire double inside five minutes.

Siegburg broke the deadlock before Rühr raced clear down the left and fired home to almost immediately double the lead.

Siegburg added another before the end of the first quarter and Rühr also completed a double in the second quarter to put his side firmly in control.

Grambusch's goal came in the 35th minute and was followed by Taylor's thumping effort in the final period but Surbiton had left themselves too much to do to make the 2022 Euro Hockey League final.

Instead, they will face Club Campo de Madrid in the bronze medal match on Easter Monday with Rot-Weiss Koln and Bloemendaal contesting the final.

East Grinstead's women will also play for a chance to finish third on Easter Monday after a 3-1 win over HC Olten in their final pool match.

Olympic gold medallist Sophie Bray opened the scoring before further strikes from Autumn Bowden and Hannah Cozens were enough to secure second place in Pool B behind Belgium's unbeaten KHC Dragons.

Surbiton's U14 girls finished as runners-up in the Junior Euro Hockey League as they went down to a 3-1 defeat to Harvestehuder in the final.

After beating Belgian side Waterloo Ducks 1-0 in the semi-final to book their spot in the showpiece game, the young Surbiton girls finished as runners-up while their male counterparts missed out on bronze after a 2-1 defeat to Royal Leopold.

Louis Reynolds-Lloyd equalised for Surbiton's U14s after Charly Delahaye's opener before Oscar Leeuw's strike proved to be the winner.

How to follow

ABN AMRO FINALS Euro Hockey League Finals, 13th - 18th April, Amsterdam, The Netherlands:

An EVENT PASS is available to watch all 23 games live or relive.

Euro Hockey League Ranking Cup, 15th - 18th April, Terrassa, Spain:

This event is free to watch on www.eurohockeytv.org

EuroHockey Club Trophy 2022 Women, 15th - 18th April, Cernusco sul Naviglio, Italy:

Thanks to hosts HC Argentia (ITA), this event is free to watch on www.eurohockeytv.org

EuroHockey Club Trophy I 2022 Men, 15th - 18th April, Paris, France:

This event will not be streamed, but you can keep updated with live scoring here:

Easter Saturday saw the Euro Hockey League matches continue to come thick and fast, with a trio of senior English clubs in action across the continent.

East Grinstead's hopes of reaching the women's Club Trophy final suffered a blow after a 3-1 defeat to KHC Dragons in Milan.

Full of confidence after Friday's 5-2 win over MSC Sumchanka, the English side started well and deservedly took the lead when Ellie Rayer found the back of the Dragons net in the second quarter.

But the attacking Belgium side, who won 10-0 on Friday, responded swiftly after half time with Magali Roumen's field goal and Stephanie De Groof's penalty corner turning the game on its head.

East Grinstead tried to force an equaliser but Abigail Raye wrapped things up for the Dragons with 12 minutes left to play to secure the win.

That means the Dragons are now in pole position to reach the final, as they top Pool B.

The West Sussex outfit will now need to win their final pool match tomorrow against HC Olten and hope the Dragons slip-up against MSC Sumchanka in the early game, to stay in the running for the trophy.

Elsewhere, after Surbiton men won their quarter final on Friday, the women's team were back in action for the final match of their European adventure in the ABN AMRO Finals.

The 2022 Vitality Women's Premier Division champions signed off in perfect style with a 2-1 win over Belfast-based club Pegasus in a play-off ranking match.

Brett Garrard's side bounced back impressively from their quarter-final defeat against Gantoise just over 24 hours before, creating most of the chances in the early going against the 2019 Irish league champions.

They were forced to wait until the third quarter to break the deadlock, but did so when Meg Dowthwaite converted after good work from Holly Payne.

Sarah Evans then fired home after a well-worked penalty corner just two minutes later to give her side breathing space.

Although Katie McKee's late field goal meant they were denied a clean sheet, it was no more than a consolation, with Surbiton ensuring they leave Amsterdam with a win.

Later on Saturday, Hampstead & Westminster's men were looking to bounce back after their dramatic penalty shootout defeat to Mannheimer HC in the League Ranking Cup quarter-final the day before.

They switched attentions to the 5th-8th play-offs and a 'battle of Britain' tie against 2019 Scottish league champions Grange HC.

Grange opened the scoring in Terrassa through Fraser Heigh's field goal four minutes into the second quarter.

Hampstead & Westminster responded well in the second half, putting the Grange goal under huge pressure, only to find opposing goalkeeper David Forrester in top form.

But Forrester could do nothing about Matt Guise-Brown's equaliser with just five minutes remaining, the second time in two games H&W have found a late leveller.

And the London club weren't done there, completing the turnaround when Matthew Ramshaw fired home with just seconds remaining on the clock to win the match.

They will now have the opportunity to fight for fifth place on Monday against Dublin-based side Three Rock Rovers (10:45 BST).

And while Surbiton's senior sides are impressing in the senior Euro League, the club's respective under-14 teams were also in European action in Amsterdam on Saturday.

The boys started their tournament with a 2-1 defeat to SV Kampong, Olly Bennett finding the net from a penalty corner for Surbiton's goal.

But they later responded with an impressive win over Der Club an der Alster in Pool A, goals from Louis Lloyd-Reynolds and another from Bennett ensuring a 2-0 win.

Over on pitch 5, the girls were also in top form, securing a 3-0 with over HC s-Hertogenbosch with the goals coming from Kate Coursey and a double from Amelie Carter.

They were beaten 4-2 by Harvestehuder THC in their second pool game later in the day, despite strikes from Sophie Osborne and Isabelle Yonge.

Both did enough to qualify from the pool stage and will go again in their respective semi-finals on Sunday.

Surbiton men's European run in the ABN AMRO Finals will go on after a narrow 1-0 quarter-final victory over Belgium side KHC Dragons in Amstelveen on Friday.

Luke Taylor's goal in the third quarter proved decisive, converting a penalty corner to break the deadlock and eventually decide the match, knocking out the 2013 runners-up in the process.

Fresh from Wednesday's 7-2 preliminary round victory over Saint Germain which booked their slot in the last eight, the English side were once again at the top of their game in the Netherlands and deservedly reached the semi-finals.

It was a tense affair at Wagener Stadium but with just over six minutes to play in the third quarter Taylor found the corner of the net with a powerful stroke from a PC, for his third goal of the tournament.

What followed was a heroic Surbiton defensive effort to see out the tie, Jamie Golden saving a certain equaliser with a remarkable clearance on the goal-line and goalkeeper Ore Ogunlana also making some crucial stops.

Despite a tense final few minutes Surbiton survived, and the 2020 domestic champions will now face the winner of the clash between Rot-Weiss Koln and Kampong for a place in the 2022 Euro Hockey League final.

Meanwhile, Friday morning saw Surbiton women suffer a closely fought 2-1 defeat to Gantoise HC in Amsterdam to exit the women's ABN AMRO Finals.

The newly crowned Vitality Women's Premier Division champions put up a strong performance against the number one side in Belgium but bowed out in the first quarter-final.

It was a difficult start for the Surrey-based side with their opponents converting a penalty stroke inside the first minute, Stephanie Vanden Borre firing past Sabbie Heesh.

However, Brett Garrard's team responded in the best way possible ten minutes later, Darcy Bourne with a fantastic field goal, intelligently spinning away from a defender before levelling the score.

Surbiton were level for only a minute, Emilie Sinia finishing off a classy counter-attack for Gantoise to make it 2-1, all goals coming within the first quarter.

Good chances came and went, in a thoroughly entertaining tie, but unfortunately for the English outfit that is where the scoring ended, with the task made harder when Steph Elliott received a late red card.

Gantoise progress to semi-finals, while Surbiton's European adventure will conclude against Pegasus in tomorrow's ranking match.

Over in Italy, the women's Euro Hockey League Club Trophy competition got underway with East Grinstead getting off to a dream start with a 5-2 win over MSC Sumchanka of Ukraine.

An Ellie Rayer hat-trick and field goals from Sophie Bray and Autumn Bowden proved decisive, sending Jason Lee's team to second spot Pool B.

They are back in action in Milan tomorrow, taking on Belgium's KHC Dragons who also started their campaign with a win, with a 1.30pm push back time.

East Grinstead will need to top the table to reach the final, with the format of the Club Trophy seeing the two sides who finish first in Pool A and B going straight through to the final on April 18.

Last of the English quartet to take to the field were Hampstead & Westminster, flying the flag in the Men's EuroHockey League Ranking Cup.

But their chances of lifting silverware in Terrassa, Spain ended after a shootout defeat following a 3-3 draw against an impressive Mannheimer HC.

The London outfit can be proud of their performance having produced a remarkable comeback to take the tie to the wire.

Huw Stevens' team refused to give up, reducing a three-goal deficit at the halfway stage back to 3-2, thanks to penalty corner strikes from Sam French and Matt Guise-Brown.

Their efforts looked to be in vein as the match entered the dying minutes.

But with just two seconds left on the clock Teague Marcano scored a last-ditch field goal to level the match at 3-3, and send the quarter-final to a shootout.

On this occasion it was not to be for the English side, losing cruelly 5-4 despite conversions from Will Calnan (twice), Rupert Shipperley and Marcano.

Surbiton made a superb start to their ABN AMRO Finals campaign in Amstelveen, cruising into the quarter-finals courtesy of a 7-2 win over Saint Germain.

The tone was set inside the first minute, Luke Taylor opening the scoring from a penalty corner, and he repeated the trick later in the first quarter to open up a two-goal cushion.

Ben Boon, James Gall and David Goodfield made it 5-0 by half time to put the result beyond doubt and the second half was more even.

The French side pulled one back only for Jack Middleton to score Surbiton's sixth, and it was seven in the 45th minute when Boon netted his second.

Saint Germain had the final word through Hugo Genestet but that did little to take the shine off a superb performance from the English side, who will now face Belgian side Dragons in Friday's quarter-finals.

Surbiton are one of a quartet of English teams going in search of continental glory this week as Euro Hockey's elite competitions reach a knockout climax.