Team Of The Month - November 2021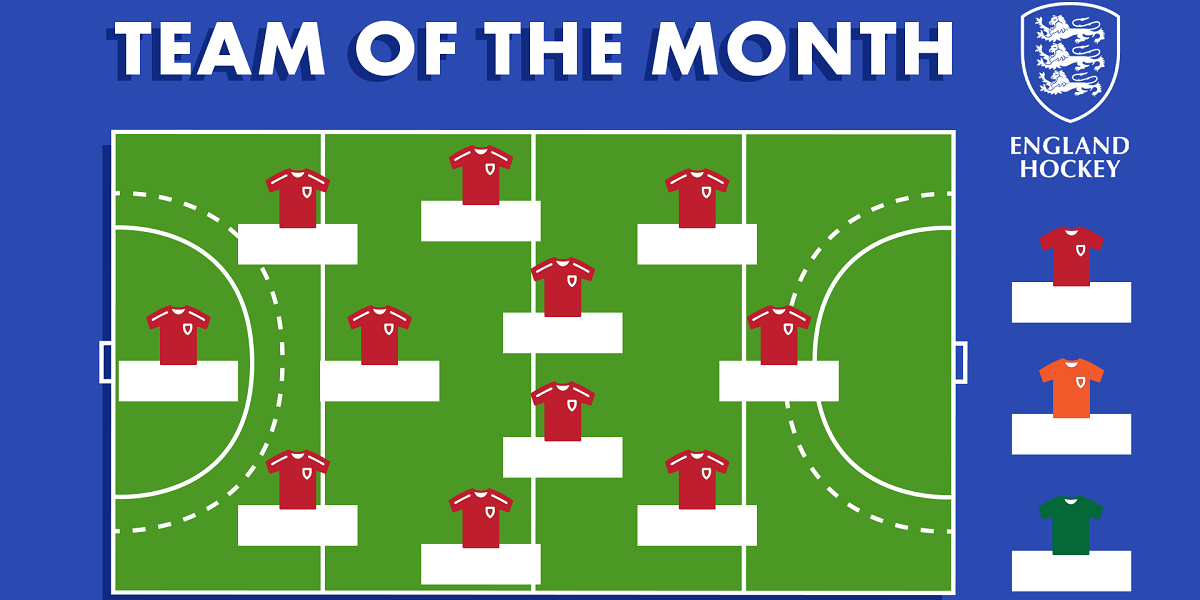 Team Of The Month returns for the second time in the 2021/22 season and once again there was a very strong list of brilliant nominations from up and down the country.
There's a goalkeeper who had the perfect month, players who have been scoring goals for fun this season, youngsters making their mark in adult and national competitions both on and off the pitch and much more.
Keep your eyes on our channels for the next opportunity to submit your nominations in the coming weeks.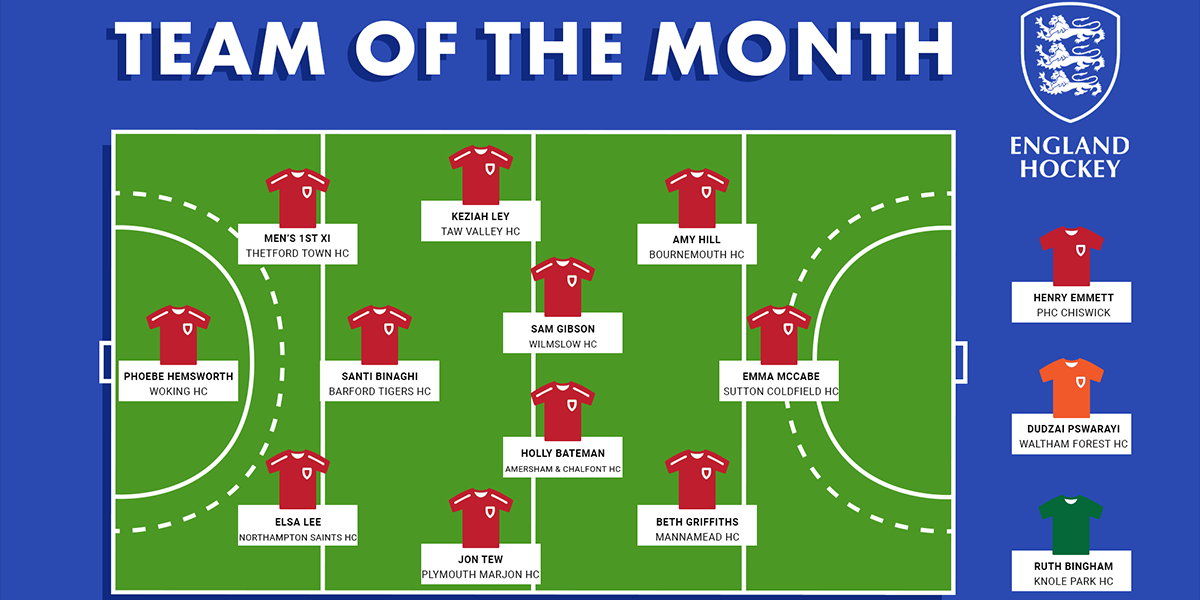 Goalkeeper

Phoebe Hemsworth (Woking HC) – November could not have gone much better for Phoebe as she didn't concede a single goal throughout the entire month and was named Player of the Match on three separate occasions

Defenders

Elsa Lee (Northampton Saints HC) – Elsa may only be 13 but she is flourishing in adult hockey. She's played in several different positions already this season, scored her first adult goal and is going from strength to strength, always taking in advice and trying her best to implement it
Men's 1st XI (Thetford Town HC) - Despite only having eight players this season so far, the squad have continued to show incredible spirit, turned up to each match and fulfilled all of their fixtures despite some difficult results
Santi Binaghi (Barford Tigers HC) - Santi, alongside Peter Jackson of Harborne HC, is one of just two players to have scored in every fixture in the Men's Hockey League this season. He scored twice in each of the games he played in November, taking his season's tally to 20 and making him the top scorer across the top three men's tiers

Midfielders

Jon Tew (Plymouth Marjon HC) - Jon almost single-handedly inspired his team to a remarkable victory in November. Trailing 3-0 down just 10 minutes left, Jon stepped up and scored a hat-trick within five minutes to lead Plymouth to a 4-3 victory.
Holly Bateman (Amersham & Chalfont HC) – In an U14 cup game, Amersham & Chalfont were drawing 2-2 against Reading when they won a corner just as the final whistle was about to blow. On their second attempt, Holly managed to recover from an initial mis-trap at the top of the circle, beautifully spinning past one defender before firing into the net to send her team through to the next round.
Sam Gibson (Wilmslow HC) – Sam only started playing adult hockey this season but is already smashing it. An U15 player but fully fledged in senior teams now, he consistently trains well and scored four goals in 5-0 win at the weekend.
Keziah Ley (Taw Valley HC) – Previously a footballer, Keziah joined the club in February 2021 having never picked up a stick before. In just a few months, she's transformed into a very valuable player and has pace, skill and foresight, always plays with respect and has come a long way in a short space of time.

Forwards

Beth Griffiths (Mannamead HC) - After having a baby, Beth returned to form in fine style by scoring hat-tricks in both of her first two games back as Mannamead won 6-0 and 7-0. Welcome back Beth!
Emma McCabe (Sutton Coldfield HC) – The top scorer across the Vitality Women's Hockey Leagues, Emma hit a period of exceptional form in November as she scored 13 goals in just four games during the month to take her season's total to 20. This included three in the first weekend, four in the third and then five in Sutton Coldfield's last game before the winter break.
Amy Hill (Bournemouth HC) - Known as 'French', Amy was on fire for Bournemouth during one game in November as she scored seven times in an 8-1 win.

Henry Emmett (PHC Chiswick) – At just the age of just 22, Henry is the youngest men's head coach in the top four tiers in England but has incredible knowledge, passion and is a very exciting prospect for the future.

Dudzai Pswarayi (Waltham Forest) – Having spent Thursday and Friday in A&E, Dudzai was unable to play at the weekend but still umpired for Waltham Forest in the middle of Storm Arwen in a show of remarkable determination! We hope you're able to also play again soon Dudzai.

Ruth Bingham (Knole Park HC) – Ruth really is a true club all-rounder. Not only is she the club chair, Ruth also played in women's and mixed teams and is a coach, umpire, team manager, mum and also a role model to every single person at the club.