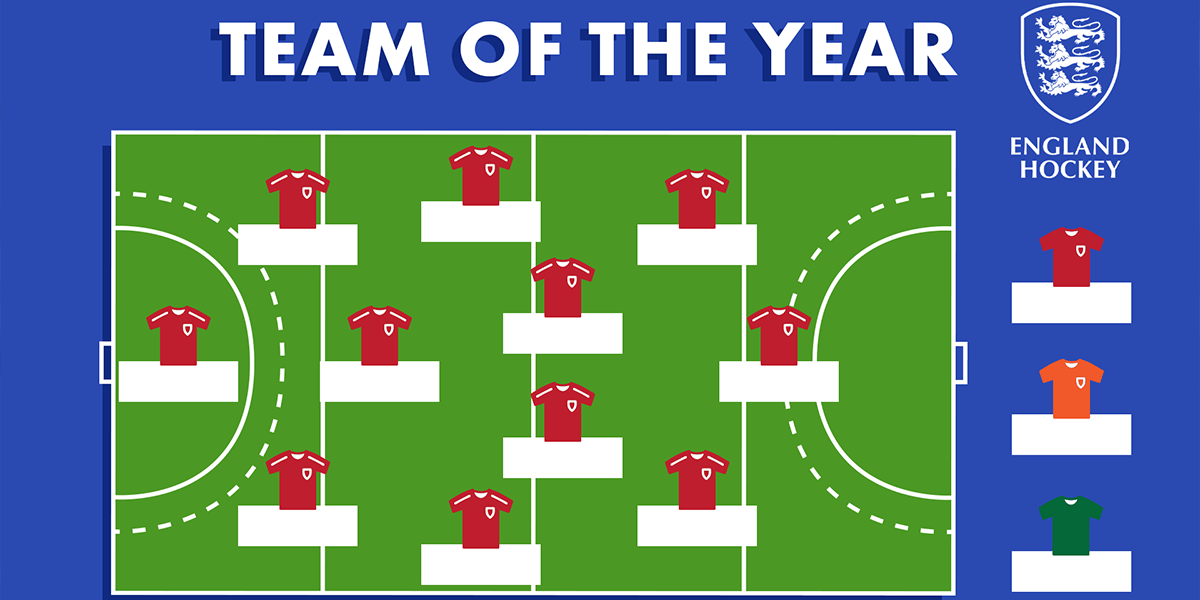 No-one will have played as much hockey as they would have liked in 2021 but that didn't stop you sending in some excellent nominations for the Team Of The Year.
The squad includes a coach who won a national award, several players who have excelled in many positions, countless club heroes and a few names you may recognise from previous editions of Team Of The Month.
With indoor hockey well and truly underway and the return of the outdoor game imminent, we'll be running our first Team Of The Month for 2022 in early February so get your thinking caps on about who you'd like to nominate.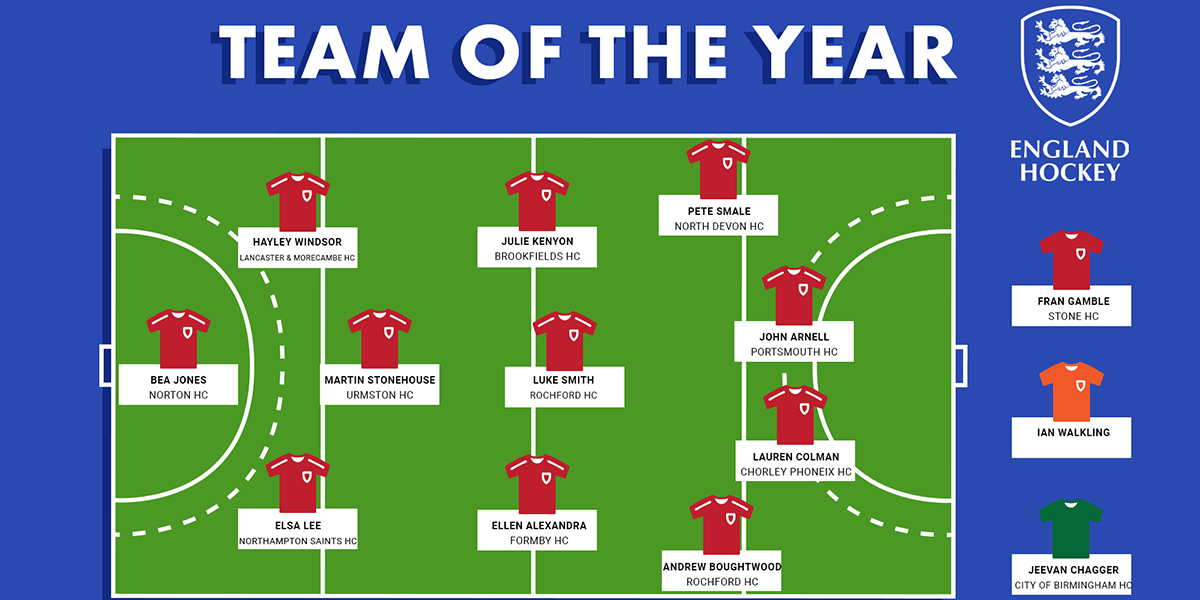 Bea Jones (Norton HC) – Bea is a highly promising 20-year-old goalkeeper who has not conceded a single goal for her club in the league or cup so far this season, making numerous vital saves along the way. In her last BUCS game of 2021 for Teeside University, she also saved two flicks and, off the pitch, is determined to help teach the young goalkeepers at Norton the tricks of the trade

Hayley Winder (Lancaster & Morecambe HC) – Not only is Hayley an 'amazing' defender for the women's 1st team, she is also a hugely important figure across the club. She is always ensuring that all three women's teams have enough players each weekend and also spends much of her time inspiring and coaching the club's junior players
Martin Stonehouse (Urmston HC) – A left back for the men's 1st and 2nd teams, Martin also does so much off the field for the club. He helps recruit and welcome new players to Urmston, arranges pitches, chases subs, writes match reports, ensures each team has a full squad each weekend and so much more
Elsa Lee (Northampton Saints HC) – Elsa, who was named in November's Team Of The Month, may only be 13 but she is flourishing in adult hockey. She's played in several different positions already this season, scored her first adult goal and is going from strength to strength, always taking in advice and trying her best to implement it

Julie Kenyon (Brookfields HC) – Alongside her role as women's 1st team captain, Julie has been crucial in growing the club. In the last two years alone, she's been influential in seeing the women's section grow from one to three teams while has also started up and grown a junior section as well. In her spare time she also manages vaccination programmes and is often on call during matches
Luke Smith (Rochford HC) – Luke is Rochford HC's club captain who leads by example on and off the pitch. As well as being a dependable midfielder, he volunteered to become Umpire Liaison Officer at the start of the season and when his team lost their coach, he completed his coaching course just to take on that role as well
Ellen Alexandra (Formby HC) – Ellen is one of those players every club dreams of – she can play in every position on the field! She started the season as a forward for the women's 2nd team but, having featured across the pitch in at least one game each, is now a promising goalkeeper for the women's 1s

Pete Smale (North Devon HC) – With his club in desperate need of a striker, Pete came out of a six-year retirement and has scored 15 goals in just seven games. He has loved being back and is helping progress the club's young players alongside providing great camaraderie
John Arnell (Portsmouth HC) – 2021 has been quite the year for John. He started it as a forward for Portsmouth HC as well as being a frontline nurse, offering important care for those in need throughout the pandemic. However he had a cancer diagnosis that led to him needing chemotherapy and surgery. Despite that though, he has continued to play and umpire at the club when he can and, when they suffered a goalkeeping crisis, dusted off his old kit and has ensured that the 3rd team has been unbeaten since he became a feature between the goalposts. His nominator said: "What an absolute inspiration John Arnell has been to his fellow club mates, the junior section and hockey as a whole. A complete hero who has proven time and again that he will not be beaten!"
Lauren Colman (Chorley Phoenix HC) – The club may only be in its infancy but already Chorley Phoneix boasts one of the top goalscorers not just in the north, but potentially the whole country. Already this season, Lauren has bagged a phenomenal 34 goals – how many will she add in the second half of 2021/22?
Andrew Boughtwood (Rochford HC) – Andrew was included in October's Team Of the Month having scored 11 goals in five games after returning following a break. He's since taken that tally to somewhere between 30-40 goals in just 20 matches and looks on course to score many, many more in the season half of the season

Fran Gamble (Stone HC) – driving force behind inspiring the juniors at the club despite limited access to the pitch over the last two years. Set them a series of fun challenges to do at home during lockdowns and has increased junior membership by 200%. 'Fran-tastic' Fran was announced as the winner of the 2021 BBC Sports Personality Unsung Hero of the Year award for the Midlands

Ian Walkling – Ian performed heroics during a game in October as he performed CPR and saved the life of an opponent who was suffering a heart attack. If you would like some more information about what to do in a similar situation, you can read the British Heart Foundation's guide here.

Jeevan Chagger (City Of Birmingham HC) – When it comes to hockey, there is pretty much nothing Jeevan can't do. Having already been selected as November's Volunteer Of The Month, he's continued his amazing work with City Of Birmingham HC. Not only is he chair of the club, Jeevan also plays, coached and umpires. He's helped increase membership by 50% during lockdown to set up a new men's 2nd team, ensured training for all, established good networks off the pitch and been selected as a 'Hometown Hero' for the Birmingham 2022 Commonwealth Games